Are you planning a trip and trying to find things to do New River Gorge National Park and Preserve? We're here to help with planning! We recently had the pleasure of visiting this fantastic spot and had an amazing time.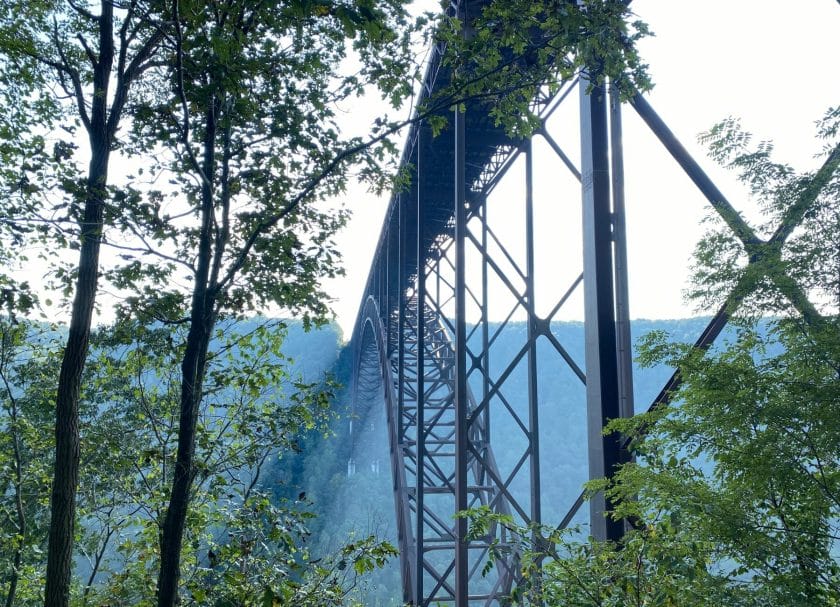 Oddly, New River Gorge National Park and Preserve is one of the newest additions to the national parks lineup. It was established as a national river in 1978 but wasn't redesignated by the National Park Service as a full-fledged national park until 2020. This is surprising because the park is rich in cultural and natural history and offers an abundance of scenic and recreational opportunities, meaning there is something for everyone in this gorge-ous place (pun totally intended).
The park features the New River, which—despite its name—is actually one of the oldest rivers in the United States. It also includes over 70,000 acres of land, deep canyons, the iconic New River Gorge Bridge, densely forested areas, and opportunities for hiking, rock climbing, riding the mountain biking trails, and whitewater rafting. If you visit in October be sure to check out Bridge Day, West Virginia's largest festival.
Feeling overwhelmed by it all? Read on for a three-day itinerary that tells you exactly what to do on your New River Gorge National Park adventure!
Day 1: Canyon Rim Area
Our explorations began in the Canyon Rim Area. This area was an excellent starting place, and I definitely recommend you do the same. Here's what to do there!
Stop 1: Visit Canyon Rim Visitor Center
Definitely stop in the Canyon Rim Visitor Center to get oriented first. The rangers here are incredibly helpful, and there are a few small exhibits and a movie to help you get acquainted with the area's history. To add to the experience, check out the gorge views from the back deck of the center!
There's also a little shop where you can purchase souvenirs or things you forgot. Restrooms and water bottle refill stations are also available.
Note: If you're visiting with kids, make sure to pick up your Junior Ranger Books at this center! There is a book for ages 6–12 and Junior Junior Ranger booklets for ages 2–5, which our little one really loved.
Stop 2: See the New River Gorge Bridge
Once you've looked around the visitor center, the next step is to check out the famous New River Gorge Bridge. This bridge is incredible in person and offers a view that will stay with you for years to come.
There are a number of ways to see the bridge. One of the easiest and best ways is to head down the short boardwalk that descends into the gorge from the visitor center. From this boardwalk, you will get unobstructed views of the enormous bridge.
We didn't actually do the boardwalk. Instead, we headed down into the gorge by car and saw the bridge from the Bridge Buttress Trail. If you go this route, be aware that you must climb a steep hill using a rope with grips to get to the fantastic view at the end. It's worth it! Or take a scenic drive along Fayette Station Road will also provide you with stunning views of parts of the river and a view of the New River Gorge Bridge.
Stop 3: Do Some Rock Climbing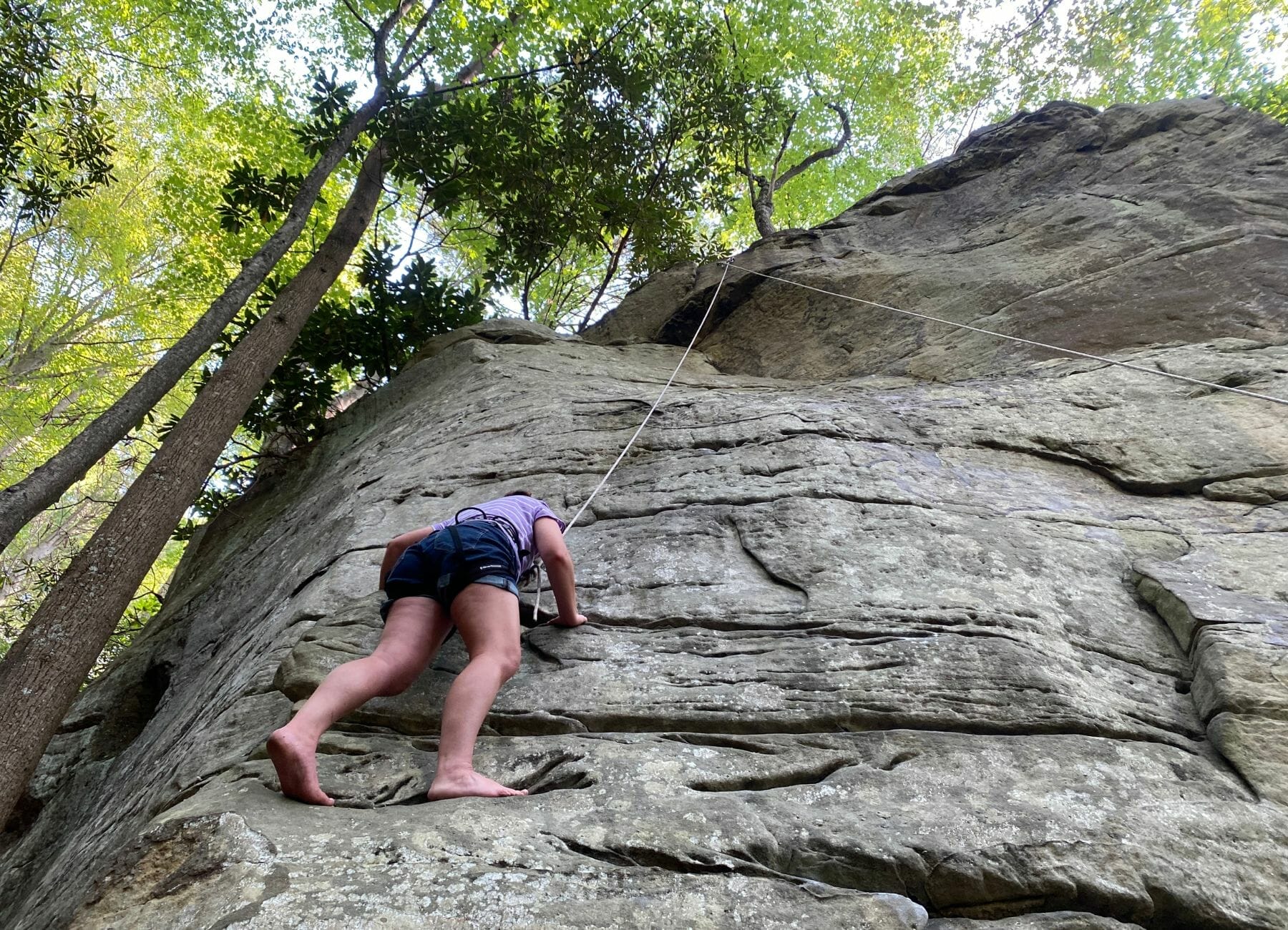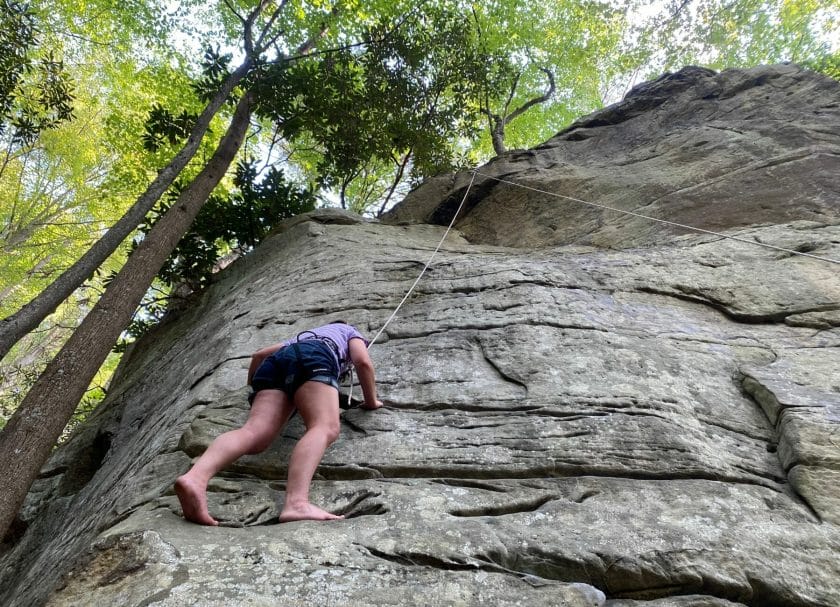 The next stop for us was one of the more accessible rock climbing routes along the Bridge Buttress Trail. Rock climbing is hugely popular in the New River Gorge because the sandstone cliffs offer some incredible 1,400 established climbing routes, so I knew we needed to give it a go.
We were lucky enough to visit with a friend with rock climbing gear and experience, and he helped my son and me try our hand at rock climbing. I didn't get super far, but I got higher up than I thought I might and had a fantastic time doing it. I can't wait to try again!
If you aren't visiting with an experienced rock climbing friend, I recommend climbing with a guide. New River Climbing School is recommended by many.
Stop 4: Hike to Diamond Point Overlook
The last adventure of our first day in the park was a 2.4-mile hike along the Endless Wall Trail to watch the sunset at Diamond Point Overlook.
This trail is rated moderate on AllTrails, but it was easy enough for everyone in our party (including a toddler). It has 308 feet of elevation gain and offers some spectacular views, including the absolutely stunning views of the river, train tracks, and gorge at Diamond Point Overlook.
Day 2: Grandview and Sandstone Areas
We did these activities over two days, and if you have time, you could do the same. That said, all of these things could easily fit into a single day.
Stop 1: Check Out Sandstone Visitor Center
This is actually what we did on our third day in the park. That said, it's best to do it in the morning of your second day if you try to fit everything in, as the visitor center closes at 5 pm.
Sandstone Visitor Center is open seven days a week, so you won't need to worry about whether it's a weekend or a weekday when you go. It is a little out of the way compared to other parts of the park but is a very nice visitor center with some exhibits that are worth checking out.
Be sure to watch the park film while at this visitor center!
Stop 2: Gaze at Sandstone Falls
Once you're done at the visitor center, you have a choice: You can either head to the Sandstone Falls viewing area 7 minutes away or drive 35 minutes to the Sandstone Falls Boardwalk.
The viewing area allows you to look at the falls from above. It's beautiful and probably a good option if you're looking to cut back on driving and don't want to add more walking to the day.
Meanwhile, the Sandstone Falls Boardwalk is a short 0.2-mile stroll to see the falls up close. The view is definitely better from the boardwalk than it is from above, but to be honest, we're not sure it's worth the long drive.
Stop 3: Admire the Grand View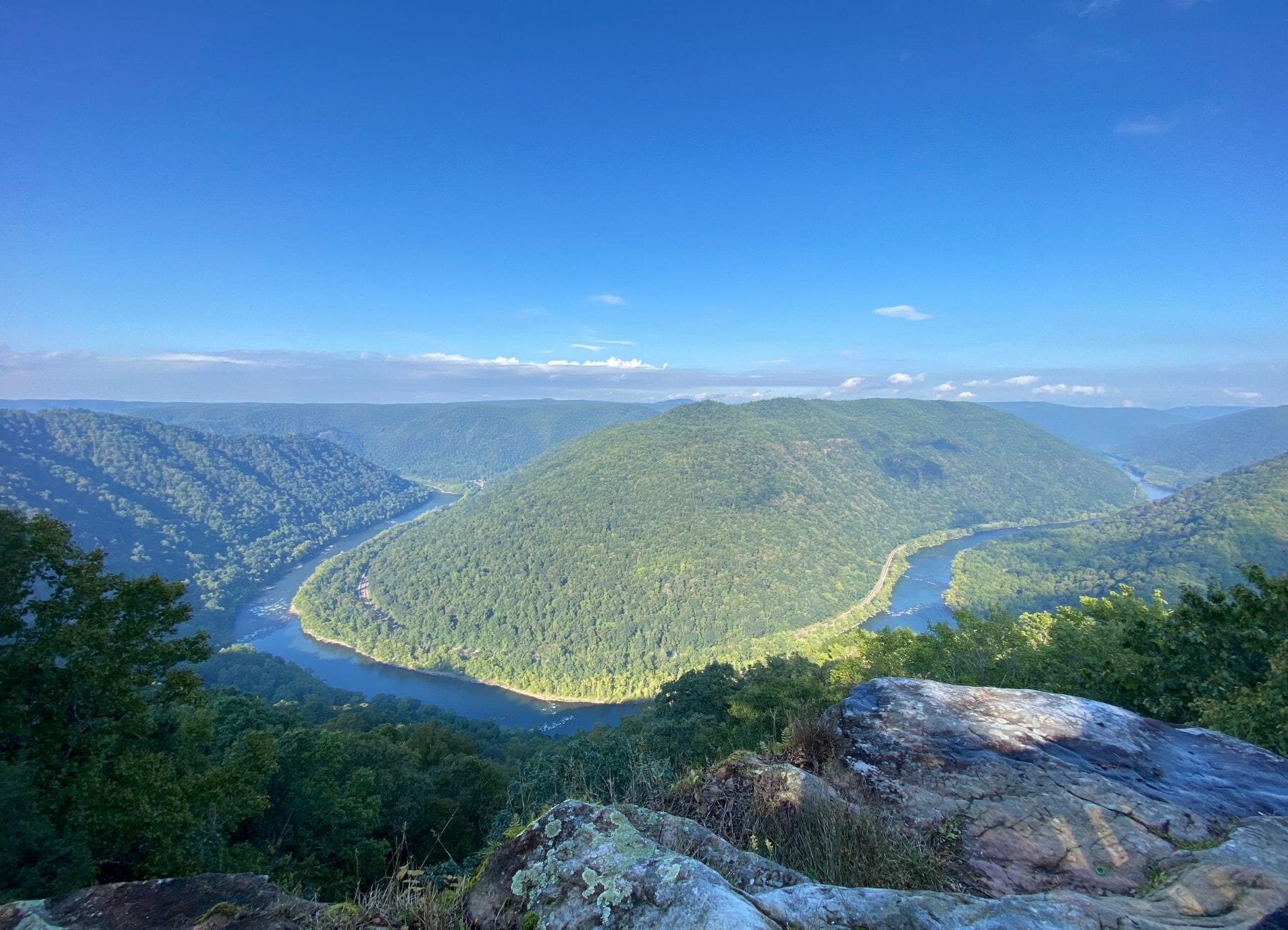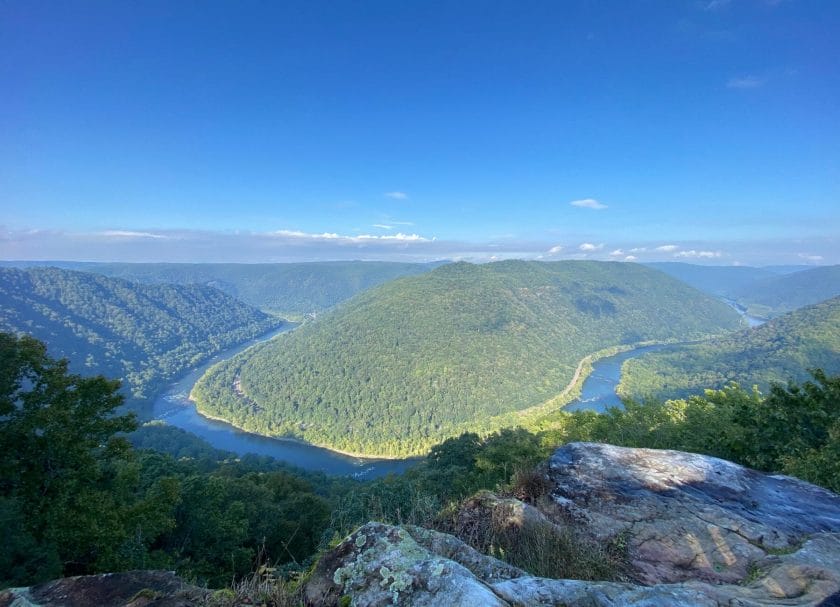 Your next stop will be the Grandview Visitor Center. This center is closed during the week, so we didn't get to go inside, but it seemed pretty small, and that wasn't really why we were there anyway.
In addition to the visitor center, this parking lot also has a restroom building that is usually open every day but was closed for repairs while we were there. We had to use (surprisingly clean!) porta-potties instead. A playground is nearby for the kids, with access to a viewing area as well as and a few trailheads can be found just a short walk from the lot.
The first thing we did after parking was head to the viewing area. This was definitely one of the best views we got while in the park, so be sure to stop. We were lucky enough to arrive right after a short rain, so there was lots of mist coming off Backus Mountain, creating puffy little clouds all around it. Super cool to see! As cool as it was, though, I still preferred the clear view we got when we visited again on the way back to the car.
Stop 4: Walk the Tunnel Trail
Next, we headed down the Tunnel Trail. This is a super easy 0.5-mile trail that the kids absolutely adored. There were places to boulder, small "caves," and even some rock tunnels all along the trail. While many of the caves and tunnels were gated off at a certain point for safety, we could still go far enough inside of them for the kids to feel like they were on an adventure. Take flashlights or headlamps, so you do the same!
The trail had some muddy spots thanks to the rain, but nothing we couldn't walk around. Besides that, this is one of the most fun trails we've done in a while.
Stop 5: Hike Castle Rock Trail
We also checked out the mile-long Castle Rock Trail, which is located across from the Tunnel Trail. While this trail doesn't have any of those awesome caves or tunnels, it does have some pretty cool rock formations, including some outcroppings that the kids enjoyed climbing up to.
All that said, the main attractions on this trail are the views you get once you loop around to the top of the rock wall. Make sure you stop at the various viewing points so you can see them all!
In addition to pretty views and cool rocks, we also saw a few animals along this trail, including deer and salamanders, so keep your eyes peeled. You'll also want to keep an eye out for mud—which was definitely abundant along the way—as well as rocky spots where you will want to take it slow. The mud, rocks, and small elevation gain make this a moderate trail, but I still think most people could handle it.
Day 3: Thurmond Area
This last day is more easy-going and might even be a half-day rather than a full day of adventure. We plan things this way so we have extra time to catch something we may have missed earlier in the trip.
Stop 1: Check Out Thurmond Depot Visitor Center
Unfortunately, we didn't get to see this visitor center, as it's only open on weekends in the fall, and we were there during the week. That said, it looks like a totally cool little visitor center and would be worth checking out.
The building is actually the old Thurmond Train Depot, and the exhibits inside explore the history of railroading in the area. Being a bit of a train nerd, this would be fun to see, even if the museum is on the smaller side.
Note: If you have kids in tow, this is the point when you will want to grab your Junior Ranger Badges, as it's your last visitor center stop for the trip!
Stop 2: Try White Water Rafting
Okay, so we didn't go whitewater rafting while we were in the park. We had our three-year-old with us, and rafting trips just weren't going to fit into our plans very well. I did watch some rafters, though, and it looks like a total blast! This is on the top of my to-do list for next time, even if it means my husband and I have to take turns watching our youngest.
According to the NPS website, the stretch of river between Hinton and Thurmond is ideal for less experienced rafters, and companies like West Virginia Adventures specialize in taking visitors (including total newbies) out on rafting adventures.
When to Visit New River Gorge National Park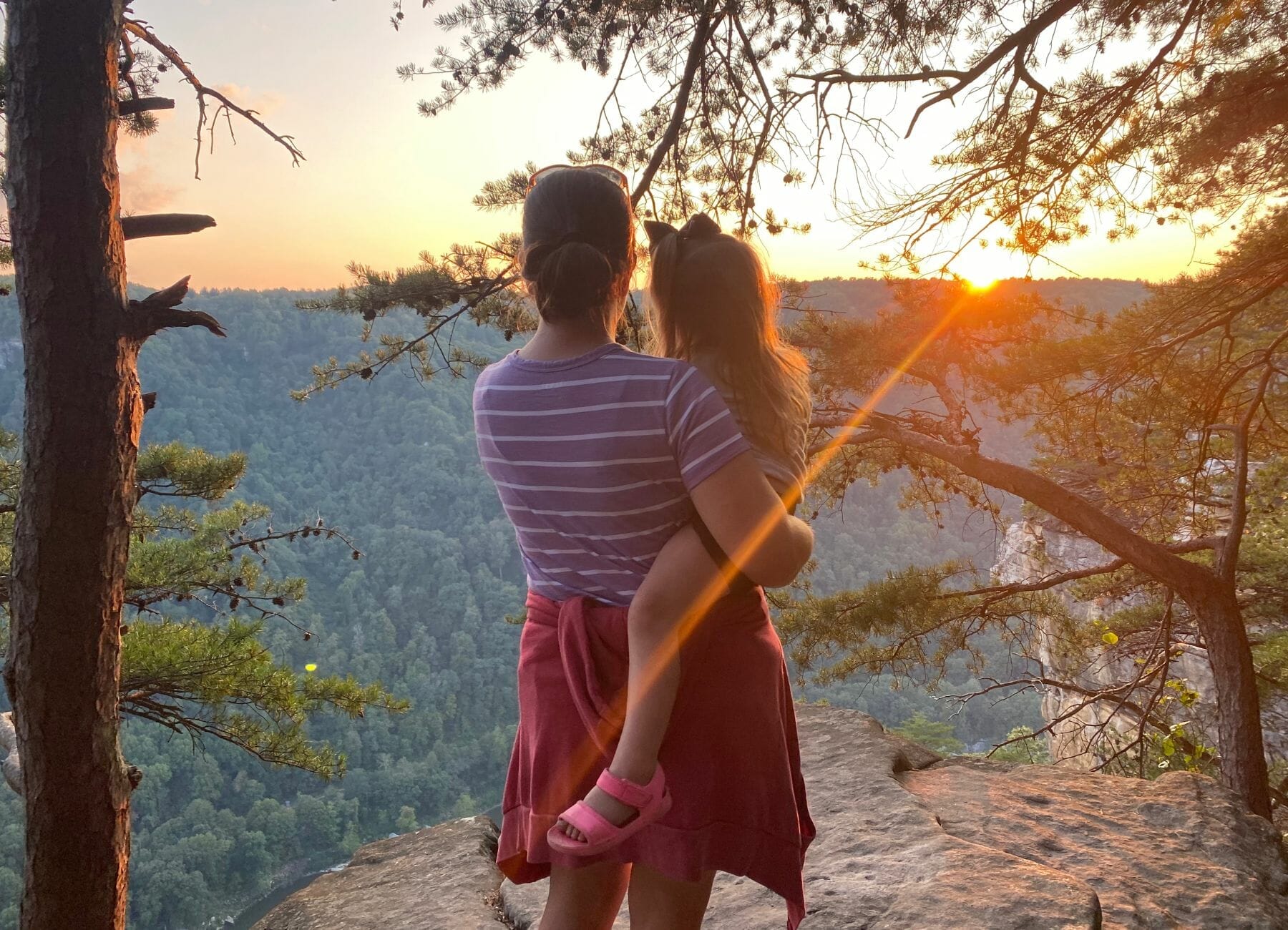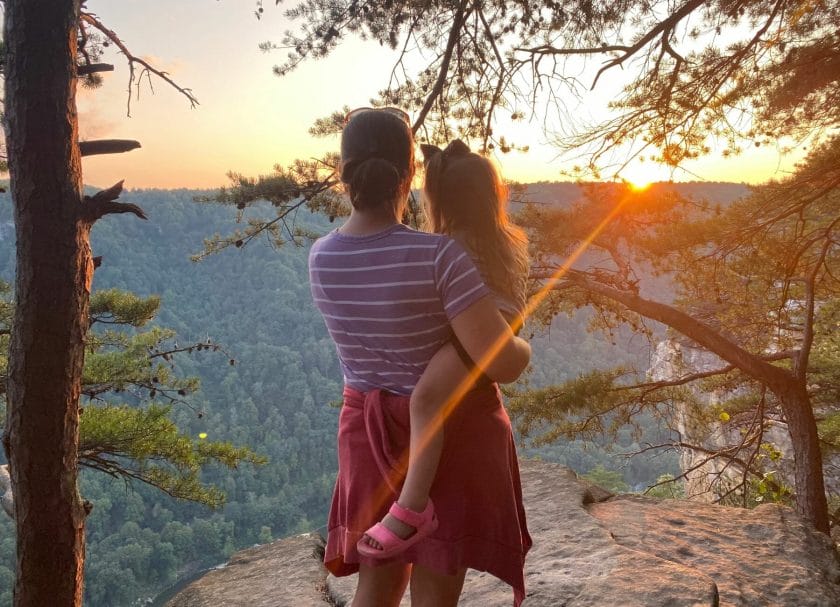 New River Gorge National Park and Preserve is open year-round and is beautiful no matter when you visit. That said, West Virginia does get some super cold winters, and cold weather isn't ideal for the activities offered in the park. Therefore, we highly recommend visiting in the spring, summer, or fall.
April through October are the best months, and we could narrow that down further by saying we would choose to avoid the heat and crowds during the months of July and August. We visited during September, and even though there were festivals happening in the park on the weekend before and after our visit, we did not have any trouble with crowds, and we experienced nearly perfect weather.
What to Eat Near New River Gorge National Park
The town of Beckley is right outside of the park and is chock-full of pretty much any chain restaurant you could want. Since we hadn't seen some of our favorite chains for months at the time of our visit, we took advantage of the opportunity to eat some of our tried-and-true favorites. We won't list those because anyone can find their favorite chain restaurants.
That said, we did try a few local places worth noting!
Cathedral Cafe & Book Store
This Fayetteville cafe is located in an old cathedral, making it a totally cool place to dine. The decor is artsy and eclectic, and the vibe is laid-back and welcoming. I could spend an afternoon working here.
The menu at Cathedral Cafe is quite extensive. You can just grab a coffee and a pastry for an afternoon pick-me-up, of course, or you can order a full meal (of which there are many options). We recommend the bagel sandwiches for a quick and filling breakfast before a hike or climb. No matter what you order, you're sure to appreciate the quality of food offered here.
Note: This place is super popular! Visit with time to wait for your food. It is worth it.
Pies and Pints
This is actually a regional chain with locations in North Carolina, Kentucky, and Alabama, meaning if you love it as much as we did, you might just have a chance to visit on a future vacation.
The location we visited was in Fayetteville. We loved that there was a small playground out back for the kids to use while we waited for our table, which took about 30 minutes.
Our party ordered a pulled pork and bacon pizza, a pepperoni pizza, and a mushroom and garlic pizza. The adults loved the pulled pork and mushroom pizzas, but the kids thought the pepperoni was too spicy. Once we pulled the pepperoni off, they did like the actual pizza. I also got a simple salad with the house dressing, and it was delicious.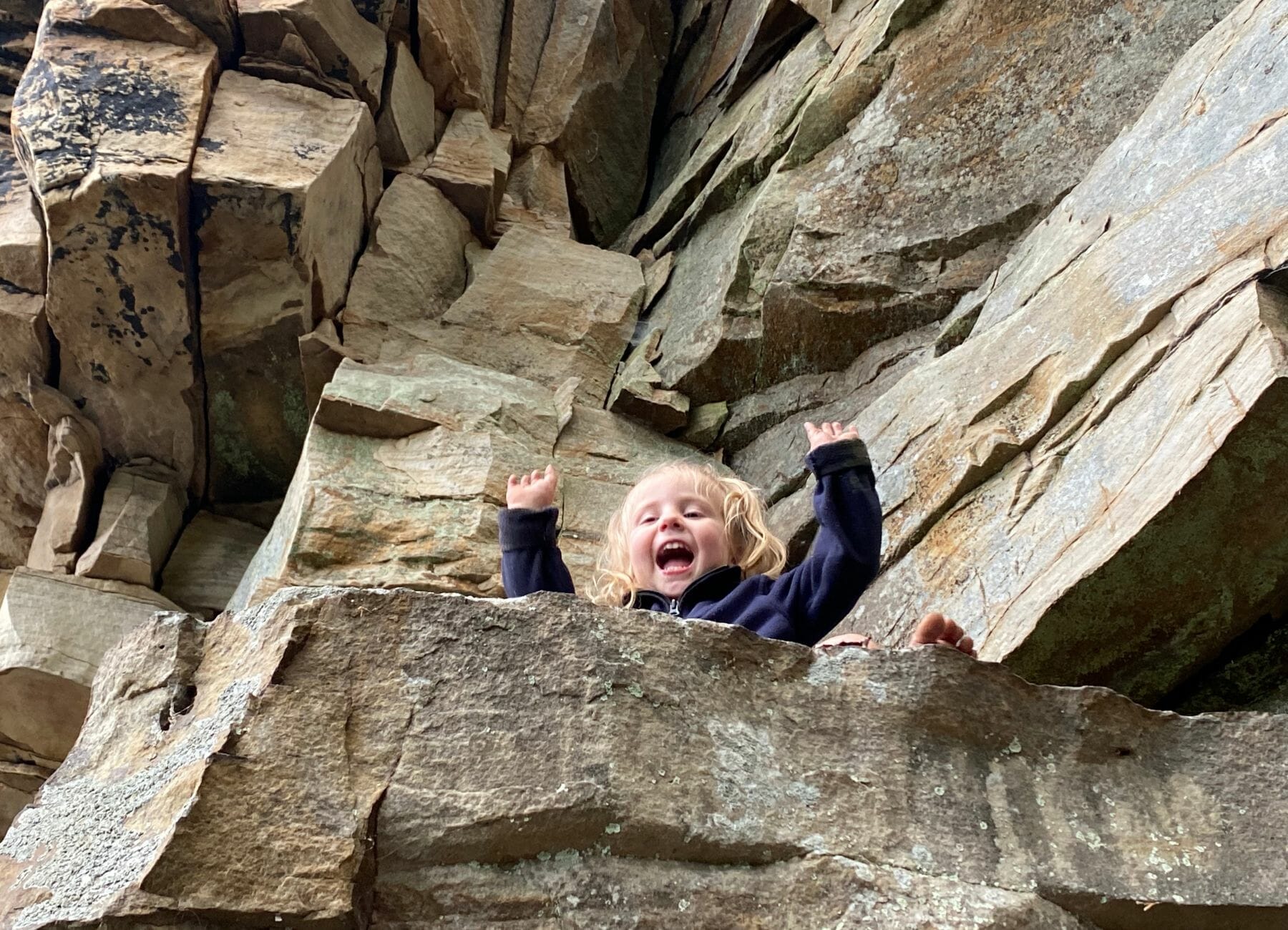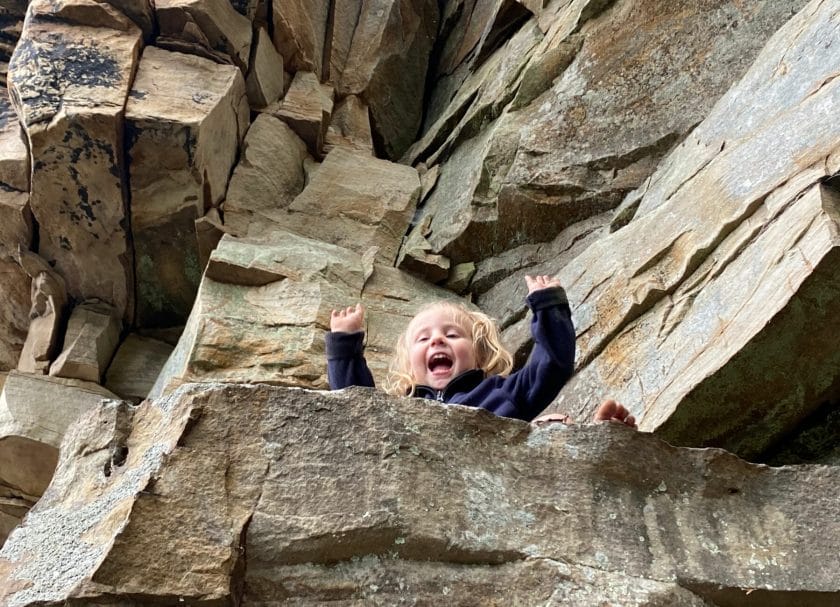 Where to Stay Near New River Gorge National Park
Lastly, we should talk about where to stay during your time in New River Gorge National Park. We had our RV with us, meaning we chose an RV camping option. That said, camping is not the only option, so rest assured you can stay in comfort whether you have an RV or not.
Campgrounds
From state parks to fancy RV resorts, there are all kinds of camping options in and around New River Gorge National Park. Below we've listed some of our favorite options.
National Park Primitive Campgrounds
The NPS actually runs many primitive campgrounds throughout the park. All of these are totally free to use, and a few allow RV camping, meaning you could stay in New River Gorge National Park in your rig without paying a dime.
Unfortunately, we couldn't find a primitive campground that could fit our rig, so if your RV is longer than about 30 feet, you will need to look elsewhere. Still, I wanted to mention this for the van lifers and small RV owners out there who don't mind camping without amenities.
The Outpost at New River Gorge
Looking for something for a bigger RV? Prefer to stay somewhere with hookups? The Outpost at New River Gorge might just be your spot!
This campground has tent sites, cabins, and RV sites with both partial and full hookups. Restrooms with showers are available, as is a clubhouse. The best part? The campground is just minutes from the national park!
Hotels
Prefer the comforts offered by a traditional hotel? As mentioned above, there are quite a few lovely hotels in the town of Beckley. The two below are wonderful choices.
Tru by Hilton Beckley is a favorite Beckley hotel for a reason. The property offers free parking and free Wi-Fi and is even pet-friendly. There are a variety of rooms available, so finding one that suits your needs is no problem. You are also surrounded by great places to eat, and the drive to the park is a short and easy one.
Another great Beckley hotel, Hampton Inn Beckley, offers a swimming pool, gym, and pet-friendly rooms. The business center is perfect for those who need to get work done during their trip, and the included breakfast buffet is the ideal way to start your day. Of course, you'll also love the location near dining, shopping, and the national park!
Vacation Rental Properties
Those who want to spread out might want to have an entire home to themselves. In this case, a rental home is the best option. We really like the two rental properties listed below.
Want to fully immerse yourself in the beauty of the area? Why not stay right on the river at this lovely riverfront cabin?
This cabin sleeps up to 8 people so that you can bring the whole family. A fireplace is included for those chilly nights, and the bathroom and kitchen are fully stocked. Games and books are available for entertainment purposes, and the national park is just minutes away when you want to get active. 
Ready to experience New River Gorge National Park and Preserve for yourself? Book your lodging today, pack your bags, and get ready for an incredible outdoor adventure!
Check out More National Parks!
Top 14 Maine National and State Parks
11 East Coast National Parks You Will Want to Visit
Things to Do in Cuyahoga Valley National Park
Best Things to Do in the Smoky Mountains National Park
6 Epic National Park Road Trip Ideas
Pin to Your National Parks Board to Save for Later!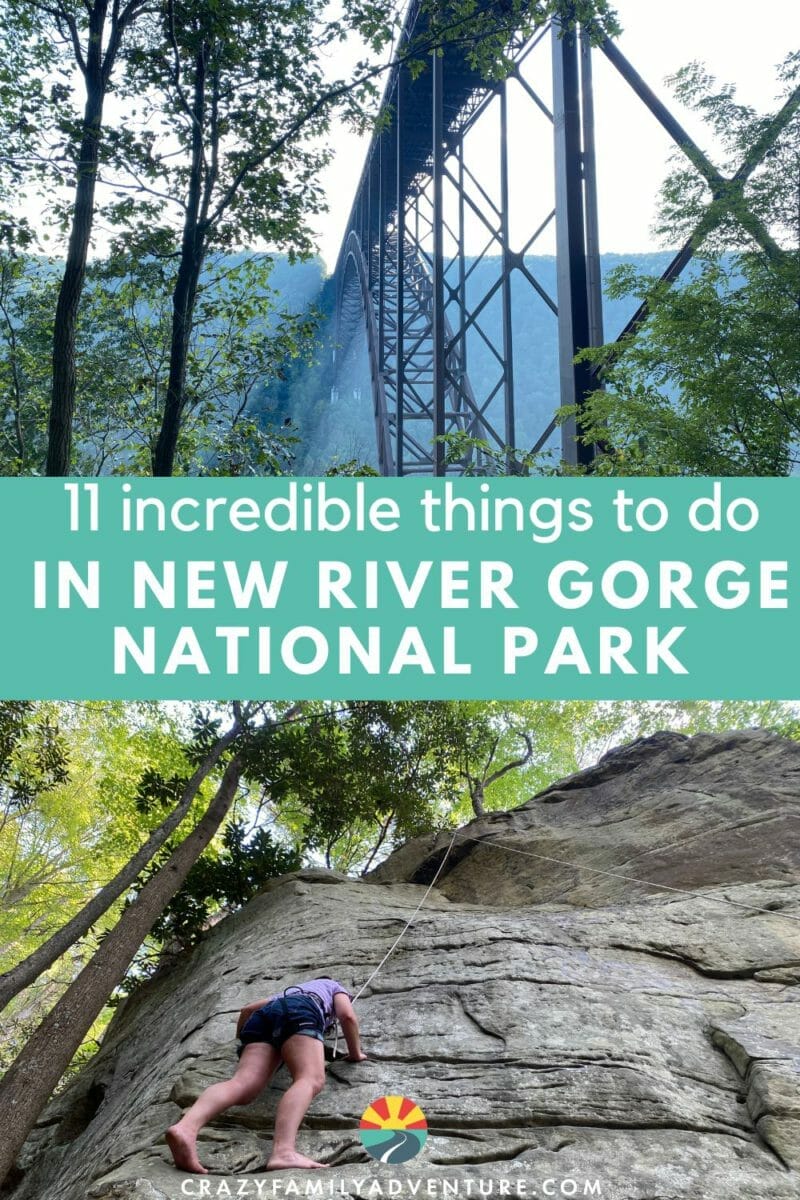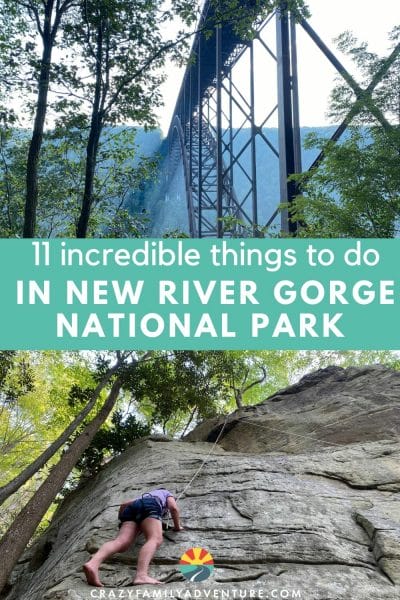 Latest posts by Chelsea Gonzales
(see all)
DISCLOSURE: This post may contain affiliate links, meaning I get a commission if you decide to make a purchase through my links, at no cost to you. Please read my disclosure for more info.