With all the options out there for toys and homeschool gifts, it's hard to decide what to get for whom. Here's a tried and true list of our top 10 gift ideas for homeschoolers. They are perfect gifts for homeschooled kids and homeschool parents!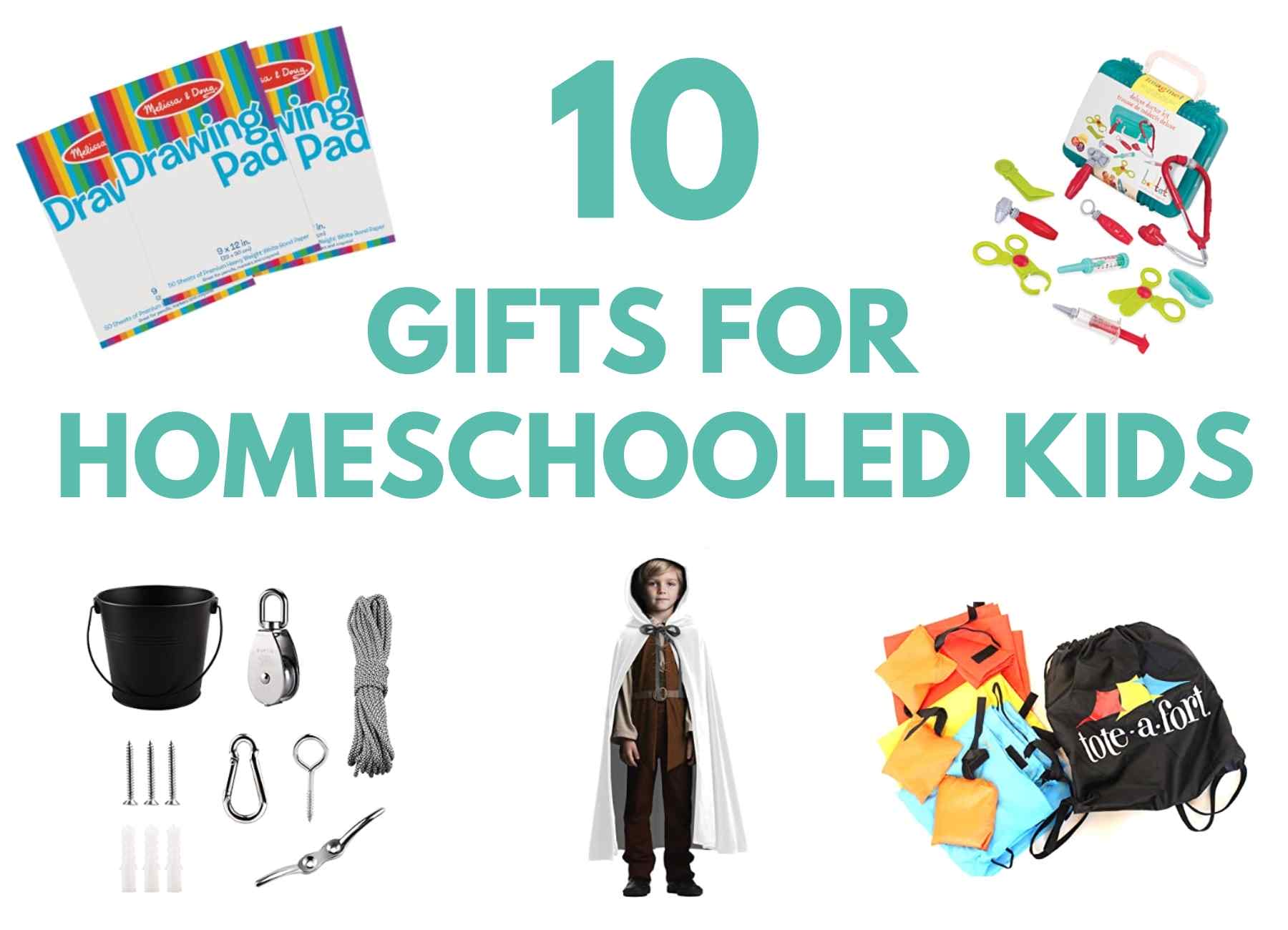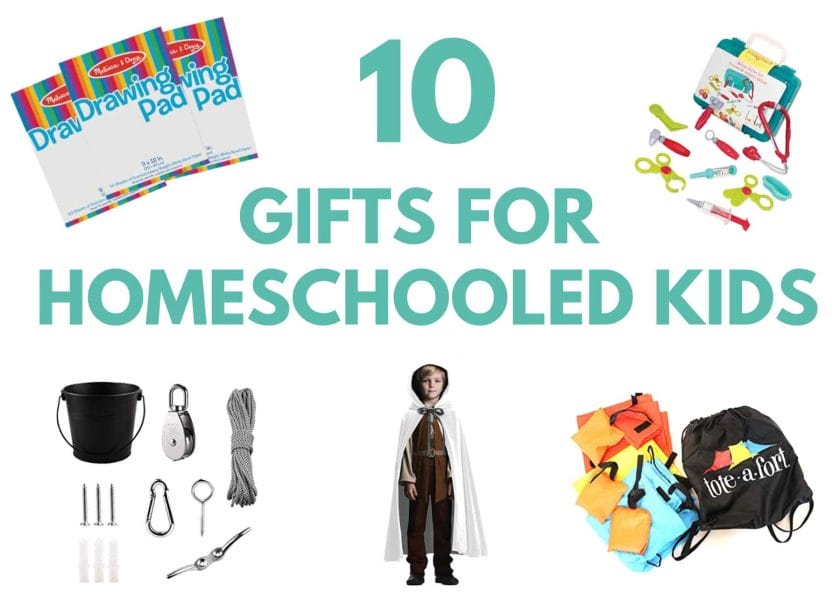 1. Magnatiles
Magnatiles are magnetic building tiles that do nothing but inspire creativity. Our kids love building animal habitats, buildings and houses for their toy figurings or Lego guys. They're even fun to clean up!
Our 4 year old loves these, but our 9 year old still plays with them. That's why Magnatiles are our number 1 of the top 10 gift ideas for homeschoolers.
2. Snap Circuit Kit
Sale
Snap Circuits Jr. SC-100 Electronics Exploration Kit, Over 100 Projects, Full Color Project Manual, 28 Parts, STEM Educational Toy for Kids 8 +
SO MANY TOYS IN A SNAP: Make dozens of cool electronic gadgets – all from one box! A safe and fun way to introduce children ages 8+ to the basics of electrical engineering! Build exciting projects and toys using the included colorful instruction book!.Ideal for ages:8 years and up
PROJECTS THEY'LL LOVE: So many fun electric-powered projects you can make and play! Ages 8 to 108 will love building 100+ projects! Have fun while building practical skills and learning the basics of circuitry. Build a flying saucer in a snap and watch it take off and sound the alarm! Kit includes 29 Snap Circuits parts.
This Snap Circuit Kit shows your child how circuits work and they're able to follow some simple instructions to see how it all works. Then let them have at it and see what they can come up with on their own. This is a great Educational gift.
My kids would enjoy this IF we were doing it with them. They never got into it on their own. But it was fun to do together!
3. Science Kit
Another great kit to give your little scientist in training is a Science Kit. These kits include several fun and educational science experiments that will demonstrate some great science while also providing tons of fun.
Our kids liked following the instructions in the box. But also just enjoyed coming up with their own experiments.
4. Fort Building Kit
Sale
Our kids love building forts, both inside and outside. This inspires role playing games, which is one of their favorites. Having a handy Fort Building Kit leaves all of your clean sheets in the hall closet. This is a must on any kids gift guide!
5. Magic School Bus DVD Collection
Sale
Any teacher that encourages to "take chances, make mistakes, and get messy" is a great one in my book. That's Ms. Frizzle for you. Our kids love these educational, yet very entertaining DVD's. The Magic School Bus DVD Collection is a definite add to your homeschool DVD library.
6. Cape or Cloak
Having a cape or a cloak in your dress-up basket is a must. They're super versatile, you can be a superhero, an investigator, a wizard, a pirate, etc. Our kids use their capes for pretty much anything they can imagine.
7. Medical Kit
Sale
During their role playing fun, usually someone ends up hurt, not actually hurt, but within their game. So, having a medical kit on hand is a great idea. And we recommend also adding athletic tape, ace bandages and band-aids – lots of band – aids!
8. Pulleys and Ropes
Our kids love tying knots or lassoing up a wild animal or setting up a zip line for a stuffed animal or other figurine. Having plenty of pulleys and ropes, or better yet, a Pulley Kit, helps get their constructive juices flowing!
FUQUN Treehouse Accessories for Kids,Pulley with Bucket Cable, Kids Playhouse Accessories, Pulleys for Kids, Pirate Ship Accessories Outdoor, Kids Playhouse Accessories, Bucket for Treehouse(Black)
▣【Pulley Gardening Tool Set】Classic lever transportation toy, pulley set allows children to enjoy classic lever operation and learning activities; very suitable for space operation, stimulate creativity, hand-eye coordination and problem solving; encourage children to develop more fields in the garden Cognition and creativity
▣【Educational Toys 】Increasingly, doctors and child development experts around the world are recognising the value of hands-on, imaginative play.Research shows play promotes self-confidence, social and cognitive skills, resilience, and more.Our toys are launch pads, igniting imagination and wonder, and inspiring children to come up with countless ways to play
9. Sketch Pad and Marker Set
Sale
All kids love to draw and doodle you can never have to any art supply ideas. Having plenty of paper and markers to do that is essential. We love these Melissa & Doug Sketch Pads as well as some good old fashioned Crayola markers. Washable, of course. Crafts supplies are always a good idea!
10. Kids Adventure Book
Sale
We love the Boys Adventure Handbook which gives great ideas for outdoor projects as well as useful information that every adventurer should know. Think Boyscout Handbook.
And to be honest we wish it didn't say Boys adventure book because our daughter loves the book too! If you want to buy it for your daughter or if you have a boy and girl then buy a sticker that says KIDS adventure book and cover up the word boy.
Extra Gift Ideas For Homeschoolers:
Here are 3 bonus gift ideas for homeschoolers.
Great option for the homeschooler in your family who loves to travel!
Minecraft Books
Our kids are really into Minecraft. Big time. They've got it on their tablets (spoiler alert), Xbox, and computer. These Minecraft Guide Books help them learn more about the game, has helped improve their reading ability and helps guide them to build some amazing worlds!
iPad or Tablet
Sale
Apple iPad (10th Generation): with A14 Bionic chip, 10.9-inch Liquid Retina Display, 64GB, Wi-Fi 6, 12MP front/12MP Back Camera, Touch ID, All-Day Battery Life – Silver
WHY IPAD — Colorfully reimagined and more versatile than ever, iPad is great for the things you do every day. With an all-screen design, 10.9-inch Liquid Retina display, powerful A14 Bionic chip, superfast Wi-Fi, and four gorgeous colors, iPad delivers a powerful way to create, stay connected, and get things done.
IPADOS + APPS — iPadOS makes iPad more productive, intuitive, and versatile. With iPadOS, run multiple apps at once, use Apple Pencil to write in any text field with Scribble, and edit and share photos. iPad comes with essential apps like Safari, Messages, and Keynote, with over a million more apps available on the App Store.
Either an iPad or a tablet makes a great gift for a homeschooler. This is obviously a bigger investment which is why this is an extra and not in the top 10. However, there are endless learning and entertainment ideas on a tablet.
Our first choice would be an Apple iPad, simply for the ease of use, tons of apps, and device and operating system quality. That being said, iPads are much more expensive than other tablets. We actually bought our kids a Samsung Galaxy Tab A. It was a cheaper option and has worked out great for them.
Hopefully this will gift list will give you some good ideas when shopping for the homeschooler in your life.
Here are also some great gifts for tweens and teens.
DISCLOSURE: This post may contain affiliate links, meaning I get a commission if you decide to make a purchase through my links, at no cost to you. Please read my disclosure for more info.