We enjoyed our time with family and friends and love being able to see everyone! Unfortunately starting on Christmas Day everyone got the flu – so that put a damper on our time at home. But at least we were in a house and not a RV during the flu! Sorry Mom and Dad – luckily my Mom didn't get sick but my Dad did and I think my Grandma caught it too :(. It was not fun.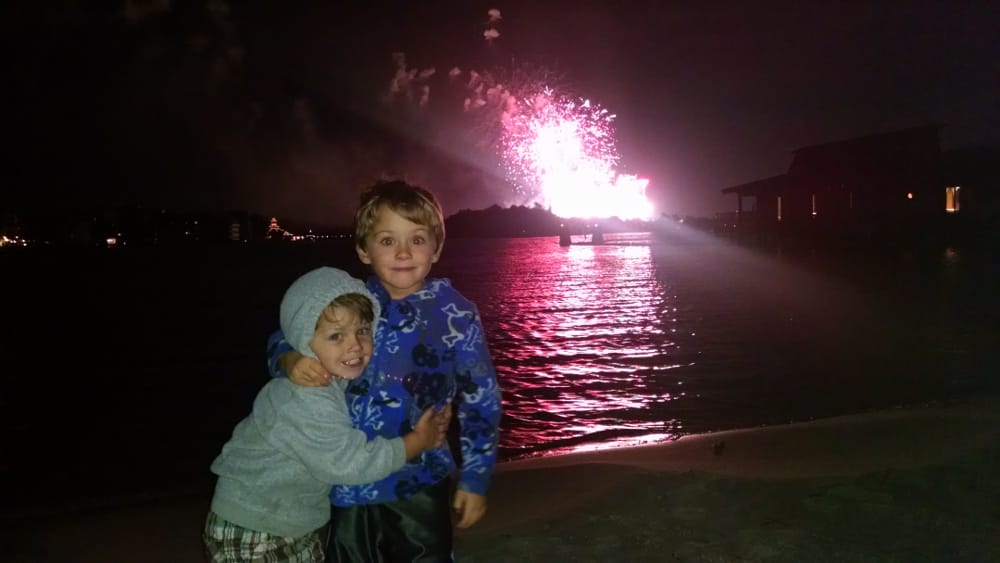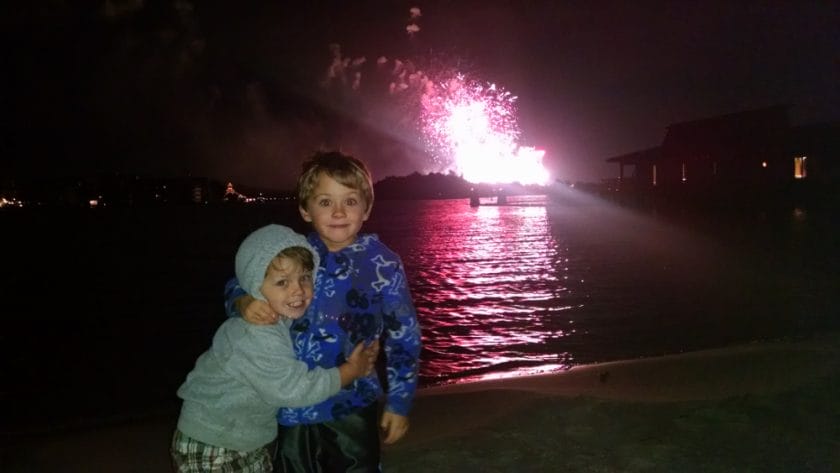 After the holidays we were anxious to get back out on the road! I ended up having to get a Root Canal and for insurance reasons had to wait until January to get it done. So January 2nd at 7am I was at the dentist getting a root canal. Getting it done was no fun – but was what it was. The bad part was then having to drive over 20 hours to get to our next place! I thought I was over the flu but I think doing the root canal put more strain back on my body and started to not feel good again. Craig had had a fever the day before we left. And amazingly he felt better the next day and was able to drive the majority of the time. I kept telling him I felt so bad!
Our first stop was back at Camp Gulf in Destin, FL. (read about our stay there here) We had stored our RV there and drove our car back up to Wisconsin. It was cheaper and easier to do that and with the weather in Wisconsin in didn't make sense to bring the RV back anyways. We left on a Friday at about 10am and it took us 16 hours to get to Destin. That meant we got there at about 2am. We weren't able to get into our RV until the next morning so we stayed at a La Quinta by Destin. La Quinta's allow pets – at no extra charge! Good to know if you are traveling with animals! So we got to the holiday and finally by about 3:30am we were all settled in and slept for a few hours before the kids woke up. We then headed down to the continental breakfast and then drove the 30 minutes to Camp Gulf to get our RV. It was so nice to be home!
We got there and the RV wouldn't start . . . luckily it was just the batteries so Craig took care of it , we unloaded our stuff from the car, got the bikes back on the car(we had left them in the RV when we took the car). And we headed for Wekiwa Springs by Orlando. It took about 8 hours in the RV to get there so we pulled in around 9pm and got all settled in.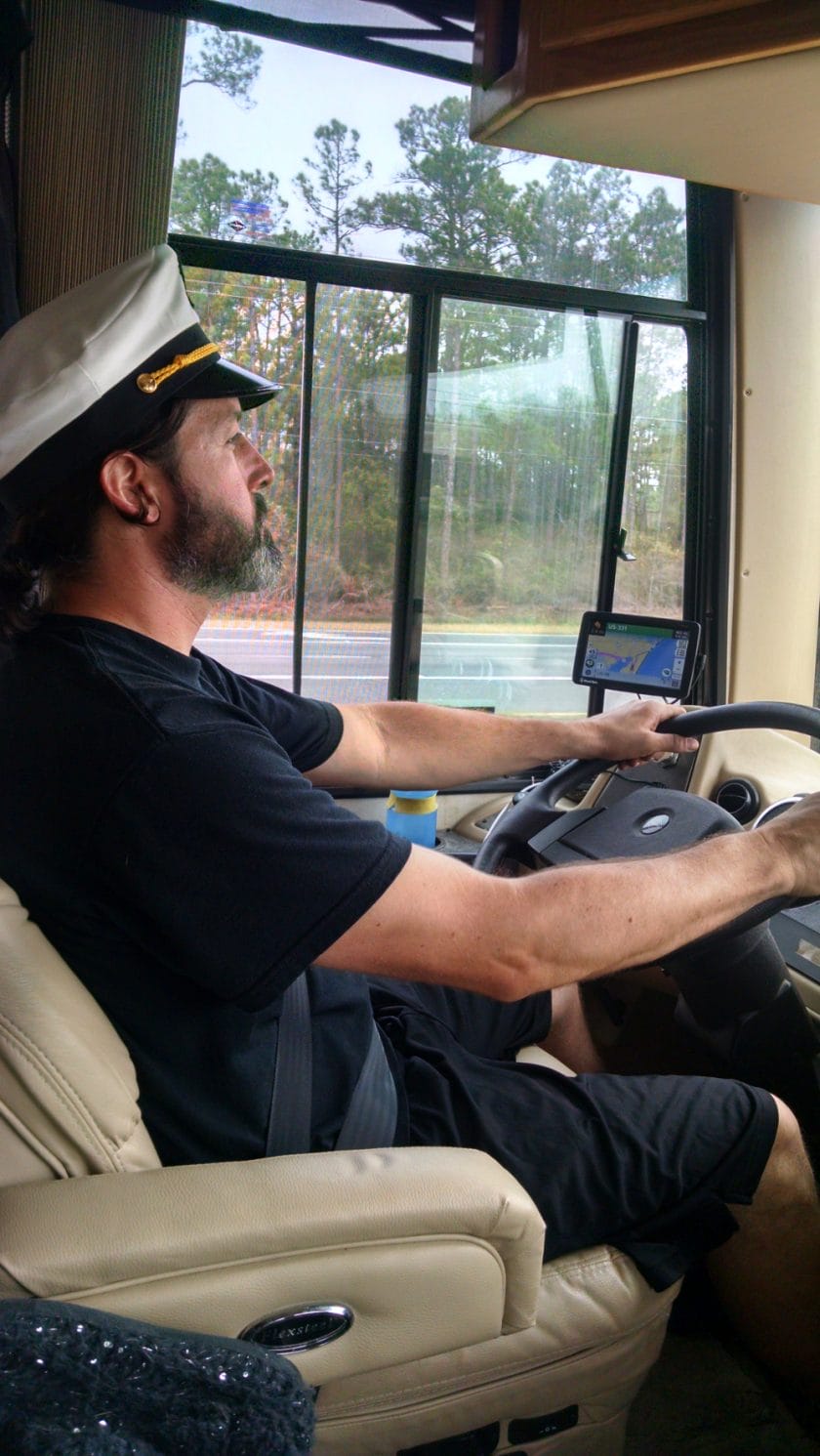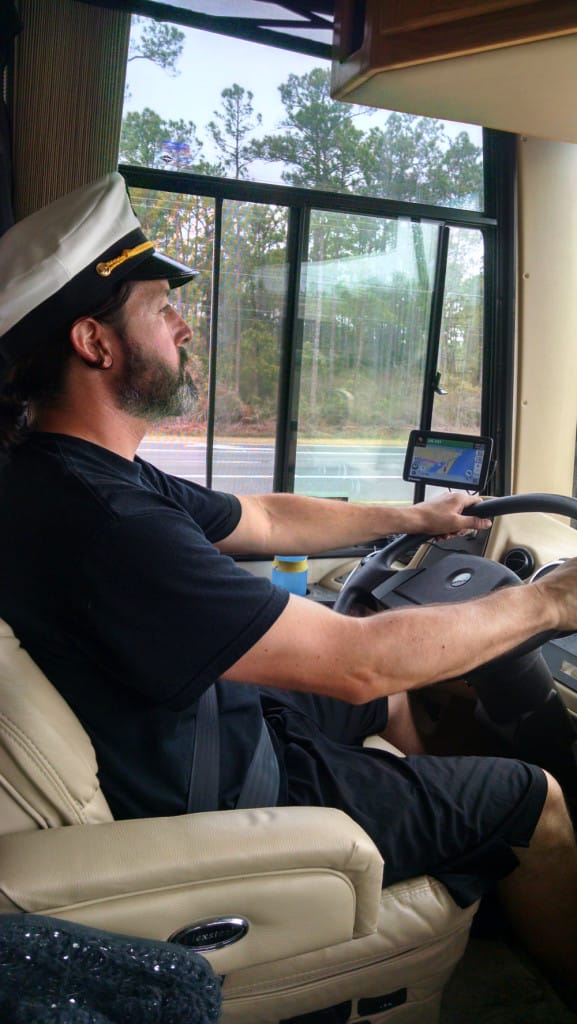 The next day we went down to the Spring at the park. It was really cool! It was a fresh water spring that was always at 72 degrees. It was super clear and you could see right down to the bottom! It was cold but refreshing! We all swam for a little while and then headed back to the campground – because my parents were just getting there!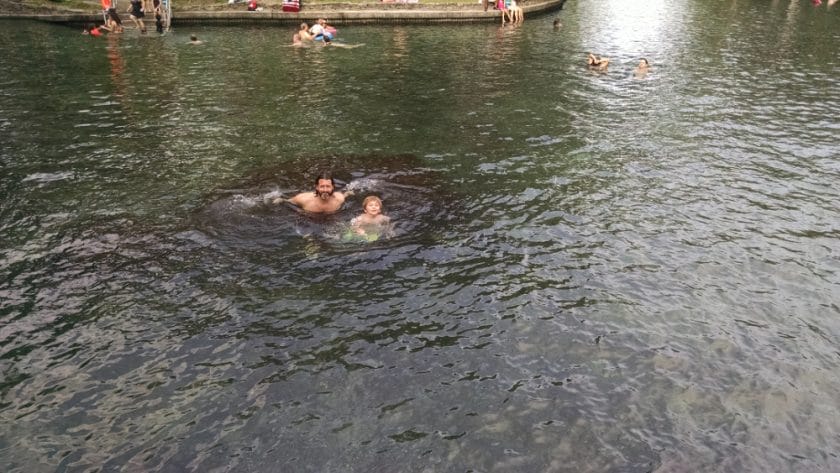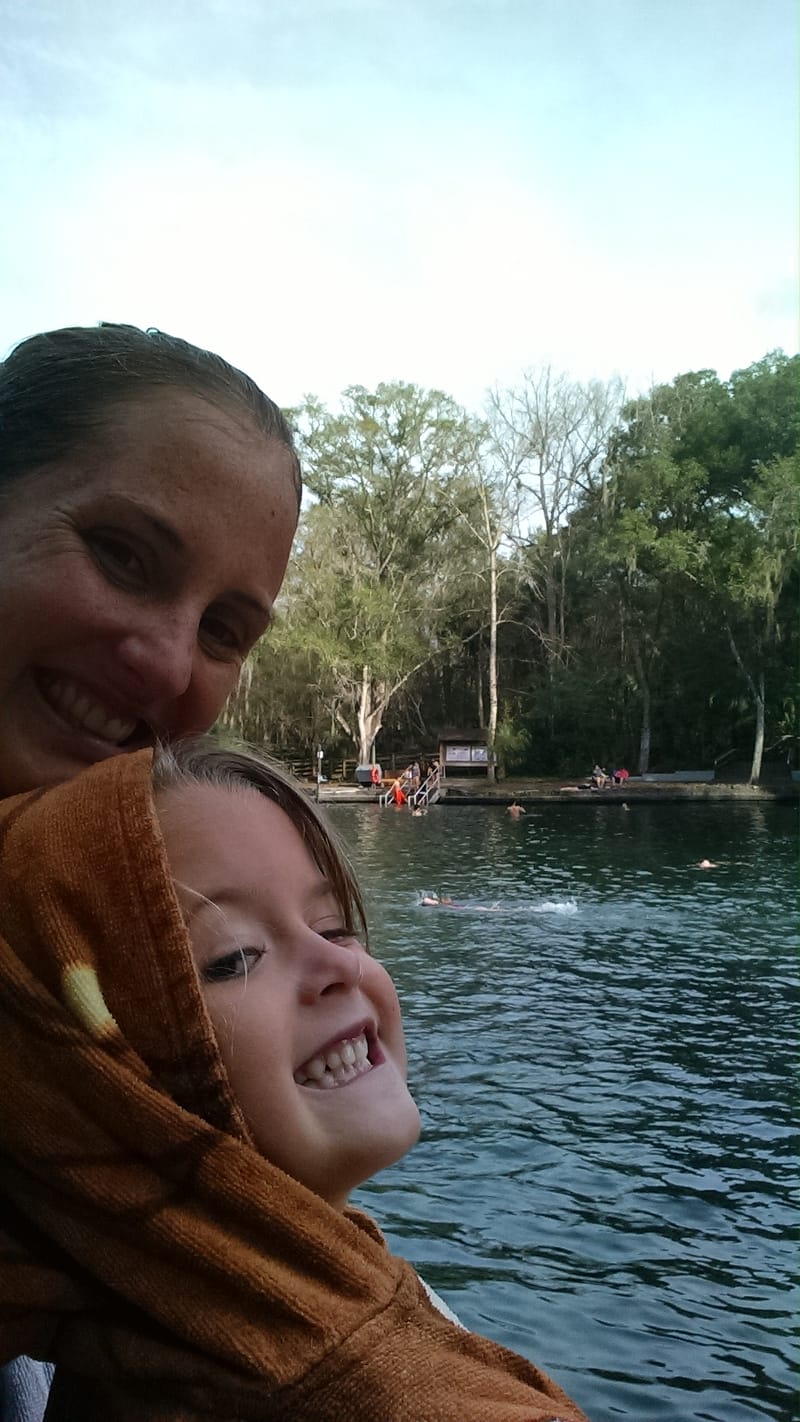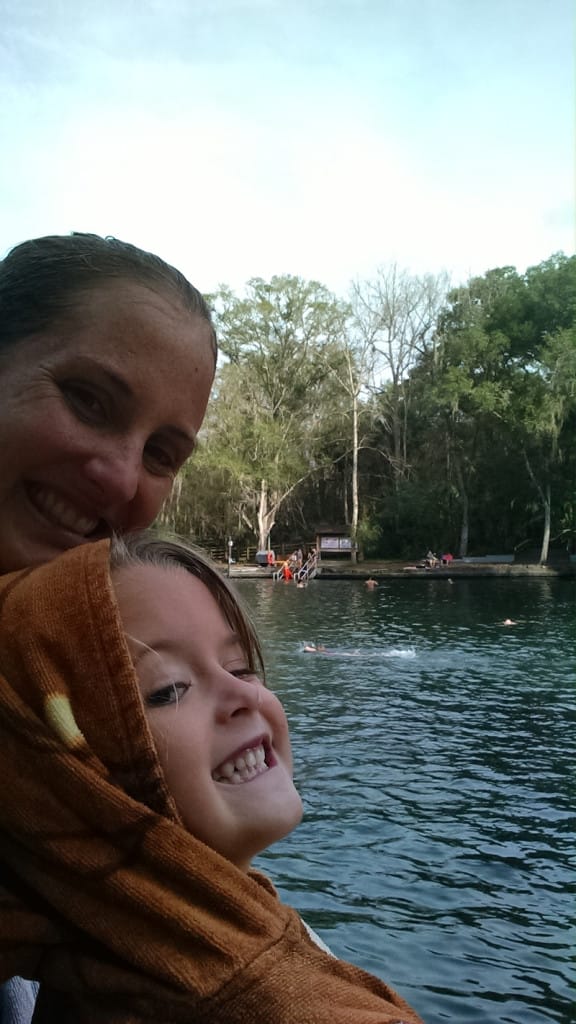 Luckily my parents followed us down so that they could bring all of the kids Christmas presents back! We had 2 Uhaul boxes full of toys in their 5th wheel! So when my parents got there it was like Christmas all over again! We unloaded the boxes and tried to find places for everything . . .
The next day we hung out by the campground during the day and that at night we headed down to the Disney area. We wanted to do Magic Kingdom – but we did not want to pay the $500 it would cost for us to get tickets. So instead we googled FREE things to do in Orlando and we found out that you can ride the Tram for free and that you can visit all of the Disney resorts without paying/having a reservation. So we figured let's give it a try!
We started out at Fort Wilderness – Disney's on site RV campground. It was HUGE!! It looked really nice and something that we may do in the future!
We then headed to the Grand Floridian so we could check out that hotel and then take the Tram to the Contemporary, and the Polynesian. It was fun just riding the Tram and seeing Cinderella's castle. The kids didn't seem to mind that we weren't going to be going in.
At the Polynesian they have a beach and you can see a perfect view of Cinderella's Castle so we thought it would be a great place to watch the fireworks. We also found out that they do a water show on the lake that the beach was on. So we figured we would be back to check that out! We went inside and found a Cafe were all of us ate for pretty cheap.Then we tried one of the Dole Whips Ice Cream – it was yummy!
We had some time to spare so we took the tram back to our car and then drove down to the Animal Kingdom. We were able to use the Night Vision goggles to try to see the animals they have on site there. It was pretty neat! We saw a giraffe and a zebra!
We then headed back to the Polynesian for the fireworks and water light show.
When you are visiting the hotels you have to drive through the place where people pay to park at Disney – but when we told them we were just going to the hotels they just let us through without paying. We got a little nervous when we saw that – since we didn't want to pay almost $20! So in case you are thinking about doing this I wanted to let you know – you shouldn't have to pay!
We got to the Polynesian and headed down to the beach. We were able to get lawn chairs right in the front row. I felt a little bad since we weren't even staying there and we had the best seats in the house – but no one seemed to mind!
The fireworks were AWESOME and so was the water light show! It was well worth staying until 9pm for! After that we headed back.
My parents were planning on going to Universal Studios and they asked if Carson wanted to come with. Craig and I talked it over and decided that I would go with too! It was so much fun to be able to spend the day with just Carson – we never do that! And also with my parents! Universal is pretty cool too! I think the other kids are still to young so it was good to just go with Carson!
While we were visit Harry Potter land – Craig took the other kids to a really cool park in the Orlando area and then they hung out by the RV. That night we decided to all meet at Downtown Disney to go to the Lego Store and just to walk around down there. We had done that the last time we were at Magic Kingdom. It was SUPER busy! But the kids at fun at the Lego store. We walked around and checked everything out and then all got soft pretzels for dinner (cheaper then the restaurants there and I knew the kids would eat them!).
Our time in the Orlando area was fun! The state park was nice and we will be going back to the area later in the month so we are excited to keep exploring everything that is there! We had done Magic Kingdom last year and the kids really enjoyed it. Don't let anyone tell you – you can't do Magic Kingdom in 1 day. We did it. With 4 kids and we didn't spend any additional money at the park – we bought all of our own food (the kids ate PB and Jelly twice – but they didn't care). We got there about 10am and stayed until they closed at 9pm. We went in October so it wasn't busy and we made sure to take breaks during the day for the kids (doing shows and that) and we brought lot's of snacks! But seriously when we left we didn't feel like we missed anything.
We head down to the Keys next and we are excited to see what that is all about!
Websites for FREE things at Disney:
http://www.mousesavers.com/free-and-cheap-stuff-to-do-at-walt-disney-world/
Click here for the other one.
DISCLOSURE: This post may contain affiliate links, meaning I get a commission if you decide to make a purchase through my links, at no cost to you. Please read my disclosure for more info.