To understand Radical Unschooling you need to do a lot of research and a lot reading and rereading and thinking and evaluating and re-evaulating. So if you are interested in this form of schooling and lifestyle I would recommend checking out my post on Unschooling Resources.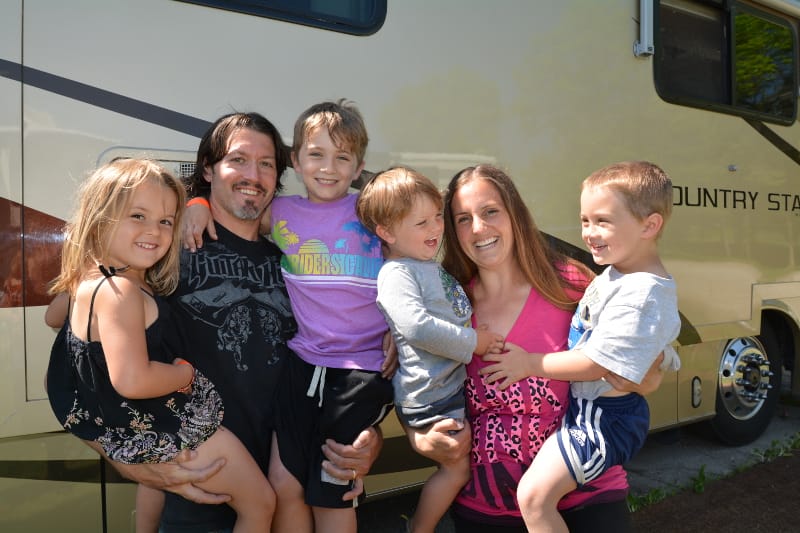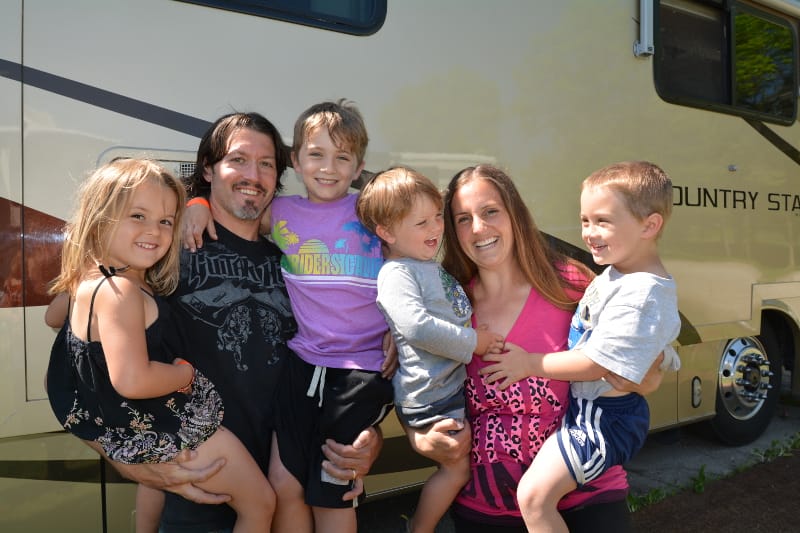 We are by no means experts at it and still have to pull ourselves back over to the Radical side of it almost every day – but we keep trying – and we are hoping we can continue to learn and grow as parents so we can provide this environment for our kids.
**We wrote this post back in 2014. Our kids are now older and we continued with a similar style of parenting and schooling but added in a few formalized math and reading things. For younger kids all of this here still holds true!**
For us this time in our kids life and our life is all about:
Building a strong relationship and bond with our kids
Our kids building a strong relationship and bond with each other
Exposing our kids to as many opportunities as we can
Sharing experiences with them that we enjoy and that we think they would enjoy. And them sharing their experiences with us.
Letting them become the people they are meant to be
Letting them build their self-confidence and self-awareness by having control of their day
Enjoying watching them explore, learn, grow, discover, fail, and try again, and just be who they are each and every day
Having trust in our kids that they will make the right decision and in turn teaching them to trust us.
Believing that all human beings have an innate need and desire to learn.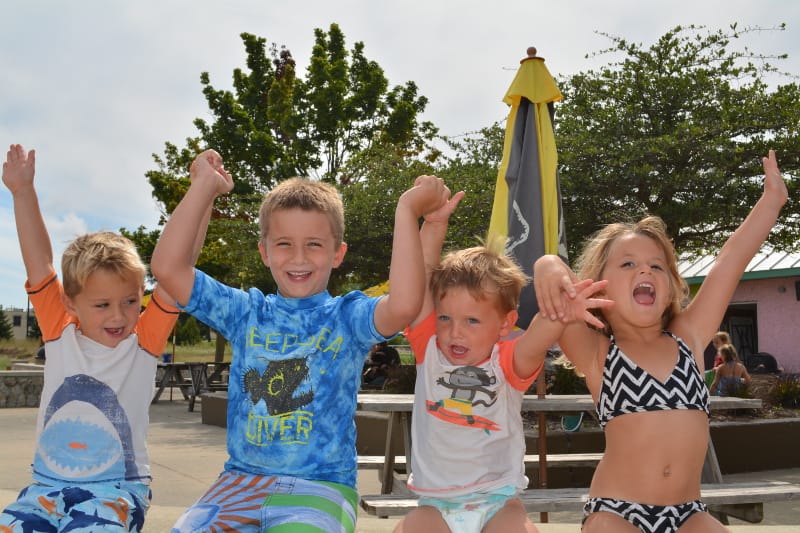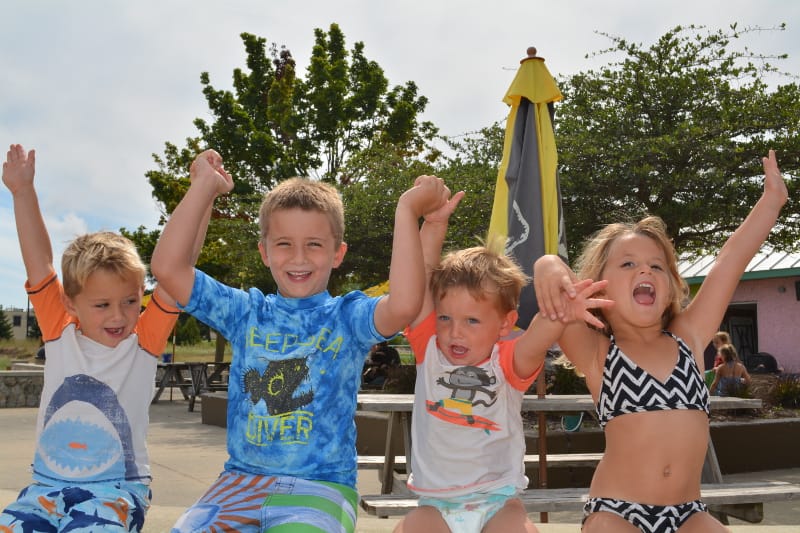 So here is our typical day:
The kids usually wake up between 8am and 9am (no alarm is set).
We then snuggle and sit on the couch together and sometimes watch tv or sometimes start playing as we get breakfast ready.
After this we will normally head outside where the kids just kind of "tool" around – this means there are no set activities or guidelines – they just have open time to do what they want to do. Sometimes that means they play with their toys, go to the park, play with the sand table or water table, really whatever it is they want to do. We do that for most of the morning.
After that we go in to eat lunch and usually watch a movie – this is a good time for everyone to just relax for a little bit – especially if it was hot outside!
After that we either go somewhere – the park, the pool, the beach, the zoo, to meet friends, the store, whatever it is we have planned for that day. Or else we just stay around the RV and the kids find things to do. Sometimes that means they get out paper and we do arts and crafts, or else play with pay doh, play dress up, play "Mom and Dad", play with the dolls, play on minecraft, or just play with their toys.
By this time our "school" day is done and Craig is home from work.  However our day doesn't stop there. The kids keep on playing, learning and exploring all the way until they go to bed at night.
No you did not miss part of it – there is no formal education time throughout our day. We don't do worksheets or tests or lesson plans. We let the day unfold and grab on to any learning opportunities that arise. As we hit the road traveling we know there will be even more awesome opportunities!
There are a LOT of questions that get asked during the day. About all different kinds of things: what does that word mean? how do you spell that? why does that work that way? where is that from? (a couple of examples from today: Are there other planets with humans on them in space? When were the planets made? What does NYC spell? and many more – those are just the ones I remember) etc.
If I know the answer I answer it – if I don't we look it up (google is awesome!).
What we have seen is if it is a question that they are asking – they truly and genuinely want to know the answer. So when they are given an answer they remember it and it makes sense to them because they learned it when they were intrigued by it.
They are also encouraged to ask questions and to question things – what a great way to learn!
There is learning in every aspect of our day and it seems like when you are going to school that gets over looked so that everyone can follow the lesson plan and stay on the same page. Which I know needs to happen in order for a classroom to work. I get that! And I think what schools do for kids that don't have any other options is great!
However we have a choice to give this amazing opportunity to our kids and we are willing to sacrifice cable tv, the best phones, the best clothes, the best stuff, etc, for that opportunity!
We understand as parents that by going this route we have a huge responsibility to make sure that we have an atmosphere that is going to lead to them growing and learning as people and individuals. This includes:
Having fun toys for them to play with (ropes, sand, water, hammers, markers, crayons, etc.)
Taking them to cool places (Renaissance Faire, Rock Climbing, Farm's, Beach, New States and Cities, etc)
Letting our kids play with and experience all types of toys and things – and not limiting them by age (using scissors, knifes, paint, play doh, computers, etc)
Letting them experience situations without us dictating to them what the rules are and how something is supposed to be done – but instead letting them experiment and figure it out on their own or with our help if they ask for it.
Trusting our kids and knowing that they understand what is in their best interest. And if we know they aren't ready instead of saying they can't do it we do it with them so we can work together so they are ready to do it on their own in the near future. (An example of this would be swimming – all of our kids have learned how to swim on their own by the time they were 3 – without any formal teaching – because we gave them lots of opportunities to be in the water without water wings on. If they weren't ready to swim on their own we made sure we were there to help them – but if we felt like they could do it then we stood back and watched and let them try on their own.)
Strewing – This is an unschooling term which refers to leaving items out that our kids may find interesting and/or taking them to new places to experience new things. (Examples: Putting out Magna Tiles, a New Picture book, new kinds of Food, a Whole table of random items, Driving a new route to see horses in a field, Visiting a farm, going to see waterfalls, etc.)
If any of the kids take a strong interest in something we have to help them pursue it to the fullest and allow them as much unlimited time on it as we can! (For example if they are into Reptiles we take them to as many reptile shows as we can so they can learn more about them, touch them, and feel them. Even if this means just going to the pet store.).
This style of schooling is a Partnership between us and our kids. When they share excitement for something we all enjoy it together. Their joy becomes our joy and vice versa! It is so rewarding to experience this with our kids!
Part of our responsibility of being Unschooling Parents is that we have to be present with our kids – as much as possible! This isn't always easy and we have to consistently remind ourselves through out the day to slow down and focus in on our kids and to truly be present in the moment.
We are immersed in our children's life – which is an amazing thing! We are so aware and in tune with what our kids are into and what they like and what they don't like. Since we are with them 24/7 they are also able to see how us as parents react and handle situations and thus are learning how real life works.
One of the challenges of taking this approach is making sure that we are not comparing our kids or our family to other people. We are taking a different approach to schooling so our kids are most likely going to be at a different place than kids that are in school – and this is ok – so there is no need to compare or to make sure our kids are doing what they are supposed to do for this grade or for this age. We strongly feel that they will learn what they need to learn when they are ready to learn it.
We are excited about where we have gotten to and where we are going! Each day we learn so much about ourselves our kids and our family and we are excited to see what the future holds!
What do you think? Do you have any questions? I would love to hear your comments!
DISCLOSURE: This post may contain affiliate links, meaning I get a commission if you decide to make a purchase through my links, at no cost to you. Please read my disclosure for more info.