When we were in Ithaca, New York visiting Craig's cousin she brought us to an Adventure Playground – Anarchy Zone. She had no idea how much I had wanted to visit one since reading an article about one in Europe.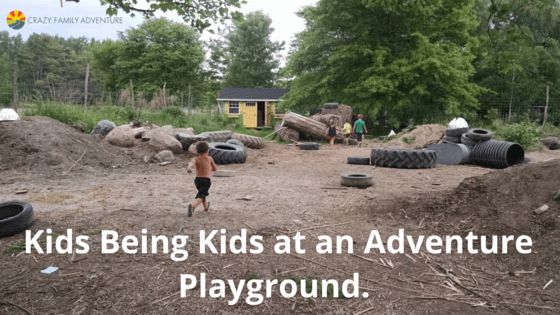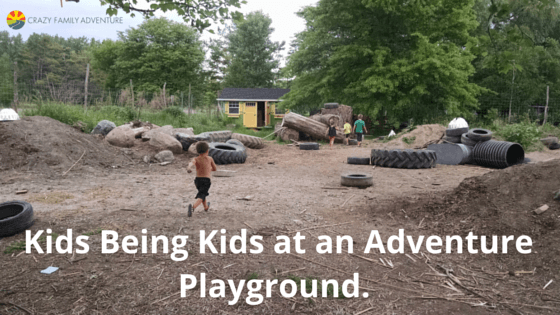 It was just as cool as I thought it would be! Let me explain what an Adventure Playground is: It is an area that is filled with trees, mud, old tires, wood, shovels, bowls, etc. And kids are allowed to play and do whatever they want with the "equipment". No rules about don't touch this, don't climb that, don't get dirty. It is all about getting down and dirty and just having fun in your surroundings!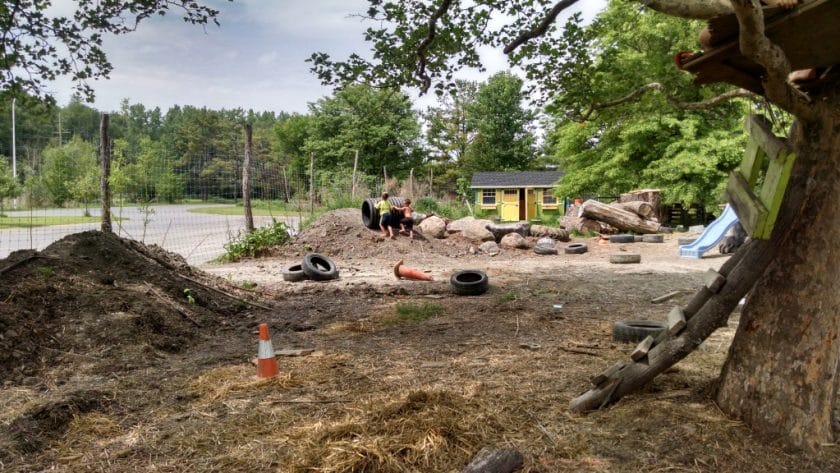 I had just as much fun as the kids playing right along side them. We built a slide out of an old slide and tires. Dug holes, made an outside kitchen, tried to make a bridge out of wood, played in a tree, and overall just had a great time!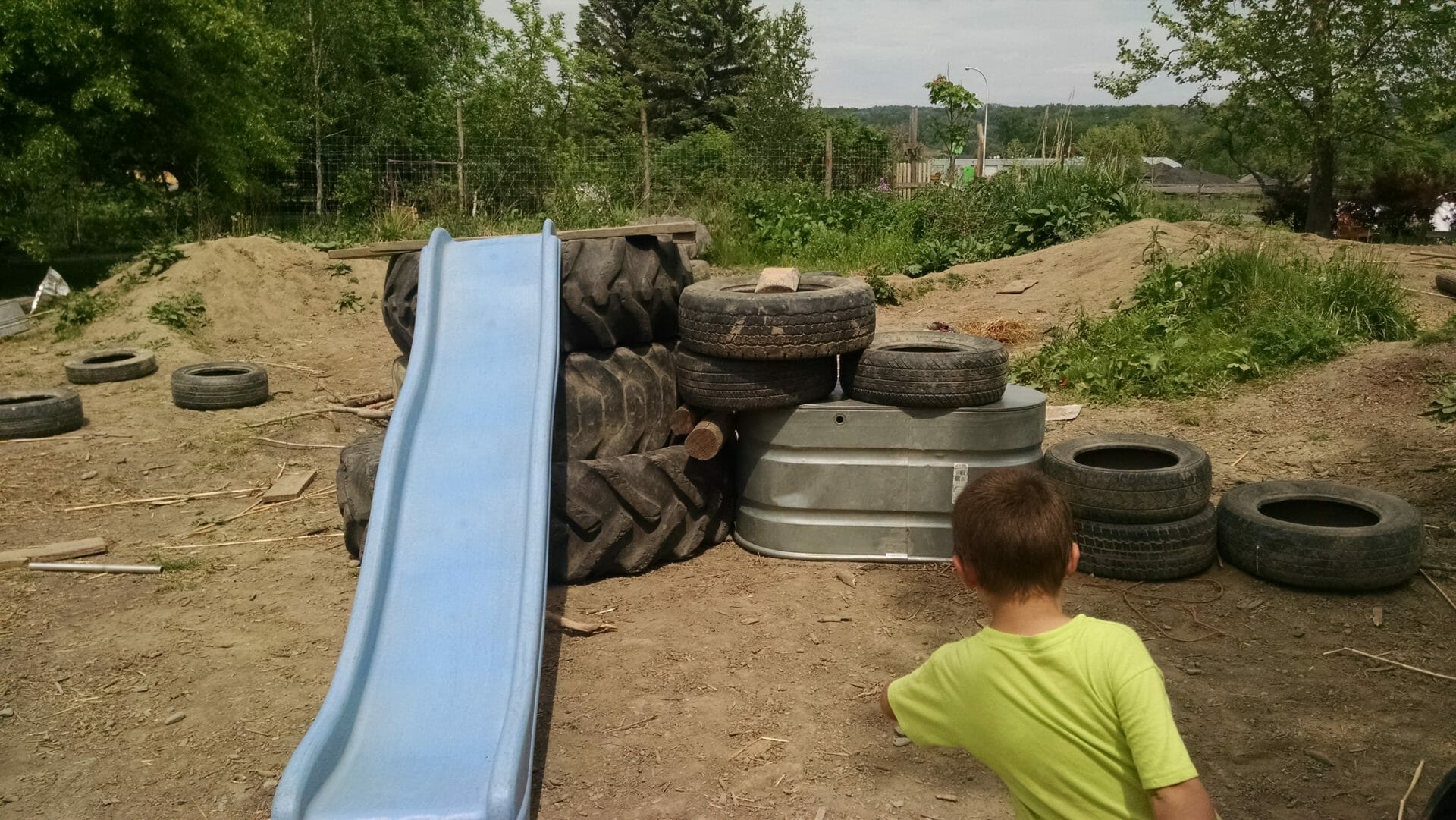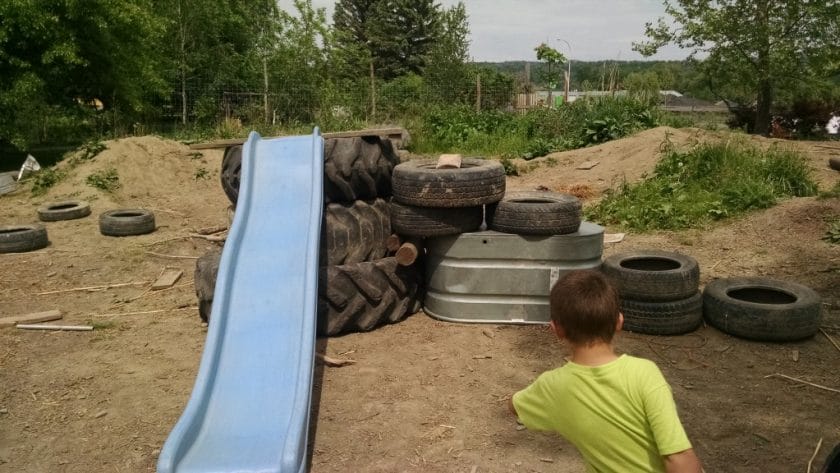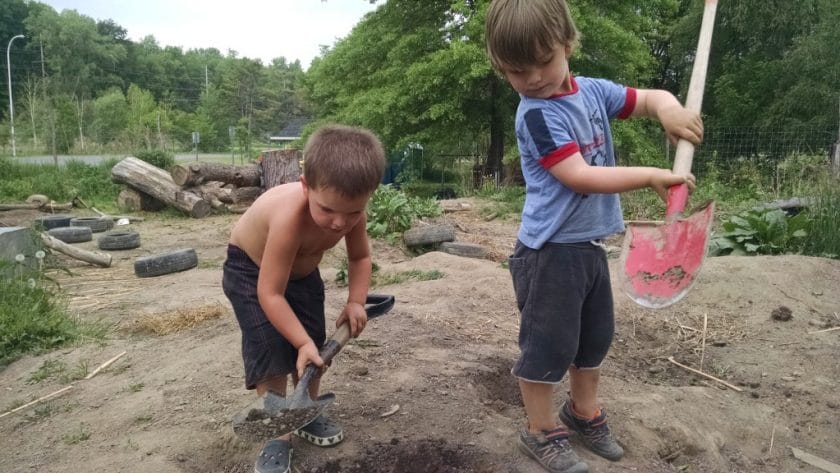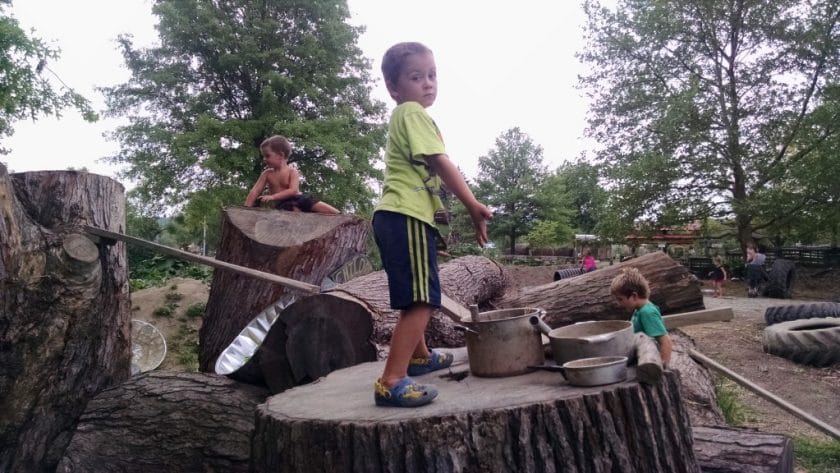 Carson asked if we could park our RV in the parking lot and just stay there. I totally agree. The Playground was attached to a Children's Garden where the kids could water the plants, look for fish in a pond, play in a house, and just enjoy the environment.
I am sold on these kind of parks and think every city should have one. To let kids get back to dirt and creativity and not be worried about all the rules that a normal playground has – don't climb up the slide, don't climb outside of the playground structure, and everything is nailed down so it can't be moved. I think it would take most kids some time to get use to the idea of being able to just go out and do what they want with what is in front of them. But before long they would be focused and into it and wouldn't want to leave!
We left covered in dirt from our heads to our toes, but we wouldn't have had it any other way!
You can check out the Adventure Playground movement here:
Try to find one in your area! They are now on our list to make sure if we are ever close to one that we make a trip to check it out and maybe even spend a night in the parking lot if we can!
Want to learn more:
http://adventureplayground.org/ will be the future site of the American Adventure Play Association
Playwork is the philosophy around this kind of play while Adventure Playgrounds are the place where that kind of play can happen. https://playeverything.wordpress.com/play-and-playwork/
A great site if you want to start one of these playgrounds in your area: http://PopUpAdventurePlay.org
Here is the Facebook page for the Adventure Playground we were at in Ithaca, New York: https://www.facebook.com/TheAnarchyZone
DISCLOSURE: This post may contain affiliate links, meaning I get a commission if you decide to make a purchase through my links, at no cost to you. Please read my disclosure for more info.