When we sold our house after taking the leap to live full time in an RV, we needed to find somewhere we could stay for the summer so Craig could keep on working his full-time job in Kenosha, WI. Our first choice was Jellystone Caledonia. After a couple of calls, we had our seasonal spot booked and really glad we did! It was a great transition to leave a house and come to such a nice campground with so many fun things to do!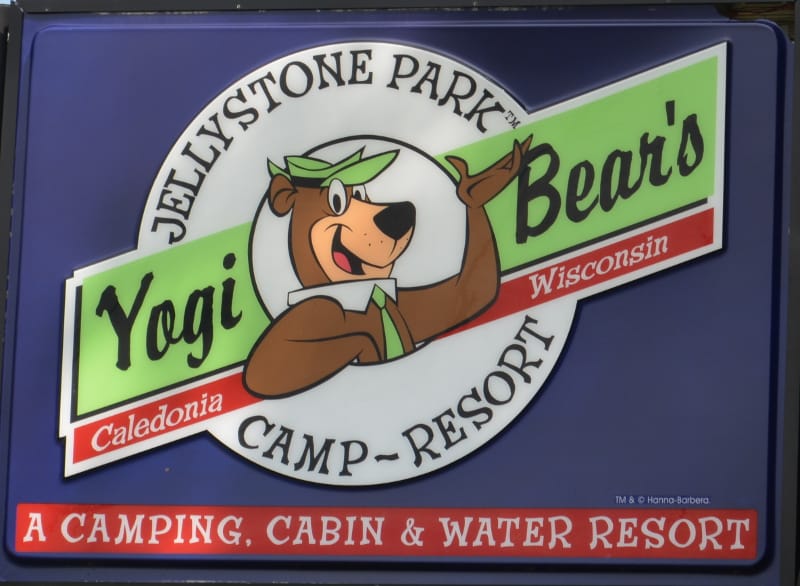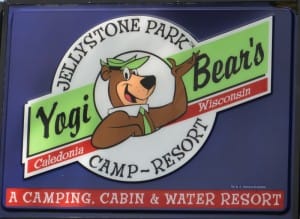 Jellystone Caledonia Waterpark
Let's start with the waterpark as it's one of the main attractions here at Jellystone Caledonia. There are 2 larger waterslides for riders 42″ and up. They're pretty fun and our kids definitely enjoyed them.
The waterpark also includes several other smaller slides for younger riders. The waterpark is a great size for mom and dad to be able to keep an eye on the little ones as they climb and splash around.
Our kids also loved standing under the giant picnic basket that dumps a ton of water every few minutes. They also have a water balloon fight station. Here you can fill a few water balloons and use slingshots to send them flying across to your friend at the other end. If you make it in the small hole, your friend is gonna get wet!
Waterpark Pictures
Ranger Station/Camp Store
Next to the waterpark is the Ranger Station. This is actually a building that hosts several different things. They have a great camp store that is full snacks, candy, soda, camping items, gifts, firewood, etc. If you forgot something, they most likely have it.
The Ranger Station is also home to an ice cream shop where you have several different flavor options and other yummy treats. This is also the place to go to get golf clubs and balls for the mini golf course they have.
They have 4 or 6 person bike rentals just outside of the Ranger Station and this is where you go to rent them. We tried this once and since the Ranger Station is the highest point in the campground, the ride out is very fun, but the ride back…not so much.
Ranger Station Pictures
Things to do at Yogi Bear Caledonia
Along with the waterpark, there are just about endless things to do at this Jellystone. We loved all the different options for all different age groups. Our kids were never bored and we were there for 5 months!
They have Carpetball just outside the Ranger Station that I still do not know what the heck it is! They also have the bike rentals I talked about, golf cart rentals, a very realistic excavator that kids can take turns scooping up sand, a giant chess board, a fun (and free!) mini golf course, a huge bouncy pillow (which was our kids' favorite), 2 playgrounds, a full court basketball court, sand volleyball court, bow and arrow shooting, a fun laser tag game played in the woods, horse shoes, an arcade, snack shop, outdoor movie theater, and much more!
We really did have fun trying out all of these different games.
Other great things to do at Jellystone Caledonia include a lot of interaction with the characters Yogi, Cindy, and BooBoo. The staff do an excellent job of involving the kids and interacting with the kids while in costume. They also do a great job realizing your 2 year old is deathly afraid of large cartoonish bears by backing away slowly.
They have meet and greets with the characters several times a day including having them ride around the campground in a golf cart to say hi, kids can read Yogi a bed time story in his cave, you can ride along in a giant picnic basket (built by the incredible staff at the park), boogie down with Yogi at the dance parties, and our favorite, have donuts with Cindy Bear on Sunday mornings.
You can also fish in BooBoo's Catch and Release Pond!
Campground
The campground is pretty great too. They have everything from full hookup premium pull-thru sites to tent camping sites. They also have cabins for rent for those looking to stay indoors.
Each campsite comes with a picnic table and a fire pit. Firewood is available for purchase at the Ranger Station and they even drive around on weekends with a trailer full of firewood, so flag them down if you see them.
Theme Weekends
Each weekend they have theme weekends: Hawaiian Luau, Christmas in July, Boo Boo's Birthday, Halloween-Spooktacular, and many more! With each theme weekend they have a list of activities going on all day. In the summer they also have activities during the week.
Review of Jellystone Park in Caledonia
Jellystone is a great place to come with your family for a fun camping weekend! They do a great job with all of the activities they provide and the facilities are really well-kept. It is family owned and a lot of the family lives on site. We had an awesome experience and recommend Jellystone Caledonia to any one!
For more information visit their website: https://jellystone-caledonia.com/

They have really large pull through sites – some with nice patio areas!
Full hook ups
Large roads – for easy access throughout the campground
Lot's of great activities for kids to do!
Don't miss out on Cindy Bears Sunday Morning donuts – one of our favorite activities! You get to pick out your own frosting and then they give you a long john type donut that you can frost and then put sprinkles on!
If you want to go to the pool, for the water-park, you need to come in the Summer before Labor Day. After Labor Day they keep the big pool open (on the weekends) but close all the slides. They also only have activities on the weekend and the store and everything else has limited hours. However all the parks are open and so is the bouncy pillow. A bonus is the campground is really quite during the week after Labor Day!
Come back for Christmas Lights!
DISCLOSURE: This post may contain affiliate links, meaning I get a commission if you decide to make a purchase through my links, at no cost to you. Please read my disclosure for more info.