These are just some of the ways we know we have fulltime RV kids. They've taken this lifestyle in stride and have made it their normal.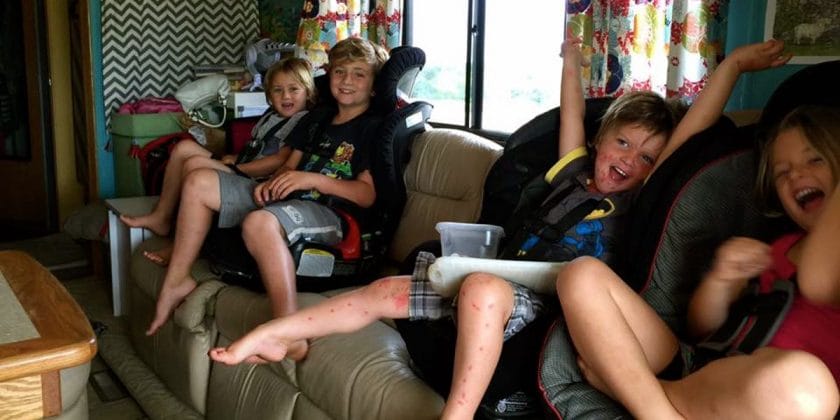 (FYI, that's marker all over Knox, not some sort of weird rash that only fulltime RV kids would have)
1. They wake up in the morning and ask "What city are we in, Dad?"
True story. My 4 year old asked us this one morning and all I could say was "You are here, man." Blew his mind that day.
2. They have the smallest house of all the people you know, but also the largest backyard.
It's because of that small house that they are epic at hiding during hide-and-seek.
3. They pretty much wear the same clothes all week.
Don't judge.
4. They haven't had a bath in ages, but get clean enough from swimming.
Again, don't judge.
5. They ask where the foot pedal is when flushing a toilet at someone's house.
My 4 year old again. He has spent half his life (and all of his potty-trained life) in an RV. It makes total sense.
6. The bottoms of their feet are so dirty, they look like they've been tattooed with black ink.
We are actually asked to keep our shoes on when we go into someone's house.
7. They've seen more states by the age of 10 than their grandparents have seen their whole lives.
We love the fact they can talk intelligently about many states. Road schooling rocks.
8. They know what the word boondocking means.
Give me Odd Words for $100, Alex.
9. They think summer lasts 12 months.
They have actually been asking to go somewhere with snow. Uhh, yeah.
10. Whenever pulling into a new campground, their first question is "Do they have wifi?"
This is also high on Dad's list of questions.
11. They think it's odd when people have an RV and a house.
Some people are just livin' the high life.
Any other ways you know you have fulltime RV kids? Let me know in the comments!
For another good laugh, check out our 18 Lies Full-time RVers Tell Themselves!
DISCLOSURE: This post may contain affiliate links, meaning I get a commission if you decide to make a purchase through my links, at no cost to you. Please read my disclosure for more info.