We were so sad about leaving the Florida Keys!! Honestly we did not think we were going to like it as much as we did! The next place we were headed was Venice, FL. We went here since it was close to my grandparents condo and my parents would be staying there. We pulled into the Rambler's Rest RV Resort. It is an Encore property (I will be creating another post about what we have learned about the different kind of resorts, memberships, etc). We were surprised by how many permanent residence there were there – meaning people who stayed in manufactured homes on the property.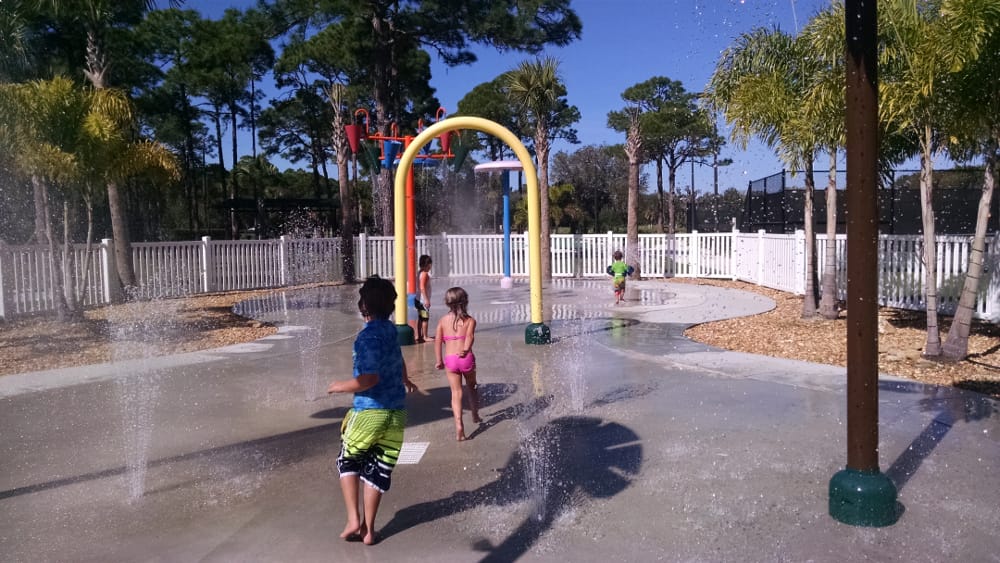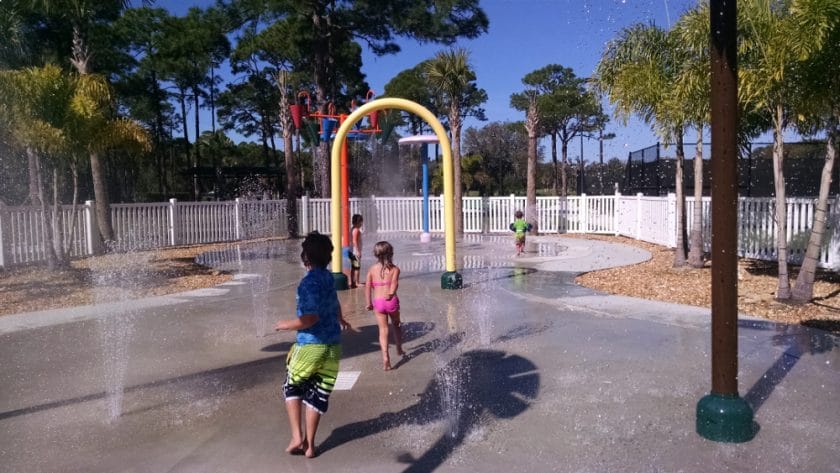 Our spot was nice – except we were right next to the water treatment plant. So if the wind caught the smell we all turned around and asked each other who farted . . . Had we not just been in Key Largo at a beautiful brand new resort right by the beach we might have had a better opinion about the place. In any case we settled in. The next day we went to my grandparents condo and Craig and my Dad went golfing. I was really glad that Craig was able to go! He loves golfing and when you live in Wisconsin you don't golf in January! We hung out by the pool and the condo and then that night my parents watched the kids so Craig and I could go out to eat – that is always a treat! Since my grandparents had lived down here for a while (my Grandma has since passed away and my Grandpa is in an Assisted Living in Wisconsin) we have been here quite a few times. It was nice to know our way around somewhere! We went to the White Elephant in Manasota Key.
The next day we headed to the pool at our resort and this is when our opinion of the place changed! Their pool area was gorgeous and so was the playground, tennis courts, splash pad, hot tub, etc! We spent the rest of the afternoon swimming and felt like we would definitely come back and stay again. They really build an amazing community at these RV resorts. They offer everything from Bingo to Genealogy class to Self Defense classes. There are things going on ALL the time! And people walking and riding their bikes everywhere. Yes most of the people are over 55 years old and don't have kids. But they were all very inviting to us and seemed to be enjoying themselves! That night my parents watched the kids again! 2 nights in a row – we will take it! It was so nice to get time to just hang out with Craig – that happens very few and far between with this lifestyle! Thanks Mom and Dad!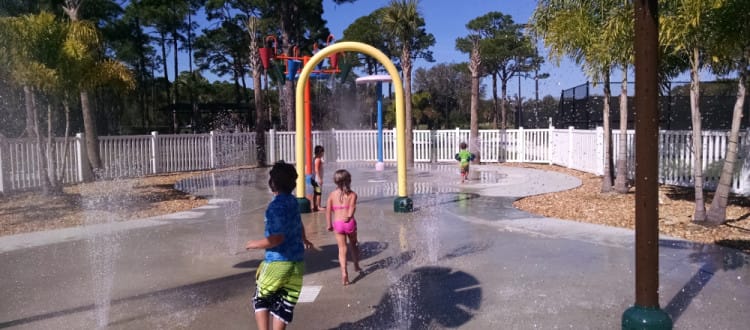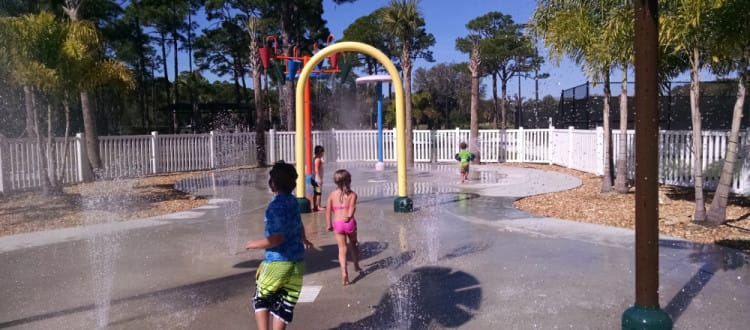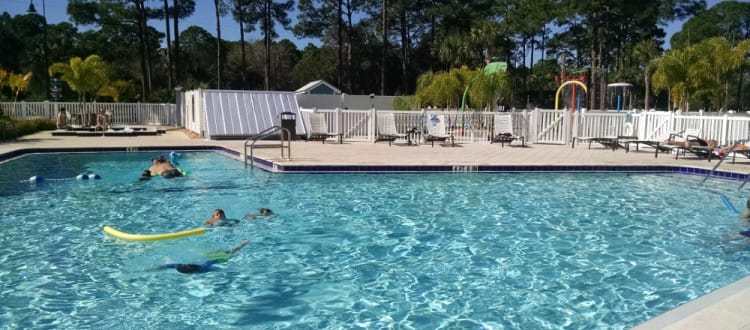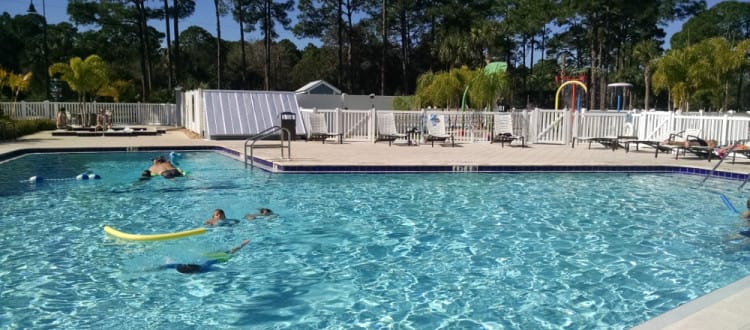 The next day we headed to Thousand Trails Orlando. We had purchased a Thousand Trail membership – since with the membership you get 30 nights of free camping. So the cost of the membership was basically cheaper than what we had been paying to camp for 30 nights. So we figured why not try it. Our membership is a zone membership for the Southeast and there are about 20 campgrounds from Texas up to Virginia that we can visit and once our 30 days is up we can stay for $3 a night at any of the resorts for up to 2 weeks before we have to be off property for 1 week and then we can go back to any of the resorts for $3 a night again.
The Thousand Trails Orlando or TTO is also a VERY popular Fulltime Family location! Meaning LOTS of kids and families for us to meet that are doing what we are doing!
I was not prepared for how these resorts work in January (peak season) but it all worked out! We got there and the guy says well we have one spot left – here I am thinking well you better we had a reservation . . . then he says how big is your rig and I said 39 feet and he said oh yeah that should fit. Hmm now I am getting worried. So we get our spot and then we have to find it. The place is huge! We get there and I look at Craig and we were both like Yeah that isn't happening. I am sure our rig would have fit but it would have been TIGHT. Luckily one of the workers was driving around on a golf cart so I flagged him down (yes I can be one of those people if there is something I want). And he was able to find a spot a couple of sites down that was bigger. We pulled in and saw that the jacks of the people before us had sunk almost a foot in the ground. Hmm not feeling to good about this. But we got all settled in then realized it was only a 30 amp. We weren't aware of this – I should have asked but didn't. We can run on a 30 amp but just have some limitations (like we can't run both AC's). I had posted on a Facebook group and kind of knew what to expect about the area we were in which was D – and meant it was woodsy and more camping like. I thought we would like that. But on this trip we learned nope – we like open spaces and we are ok just being parked out in the open as long as the area is flat.
We wanted a different spot so the way it works is you have to go up to the front at about 7:30am and get in line and wait for them to open at 8am. Then depending on what number you are in line you get a number and as people check out for that day you can pick a spot based on that number. So I got there at 7:45 she had told me get there by 8 but I should have been there by 7:30. Anyways I was number 5. That meant I probably wasn't going to get a 50 amp. They let us in at 8 and started calling out the sites. Yup missed the 50 amps. But was able to get another spot. I choose the one that looked better on the map. Thought I should drive to check it out and quickly called back and asked for the other one that had been open. Luckily it still was! So we had our new spot and we would be up by the rec center and pool in a nice flat open spot! We moved the rig and got settled in. That was a learning experience and now I know how it works for next time!
We came here to meet people and on the first night they had a fulltime family Mom's night. I am so glad I was here for it and that I went! There were about 20 or so Mom's there and it was so nice to meet everyone! I felt like a kid going to my first day at a new school – but once I got there and realized there were a lot of other new people I felt better! I hung out and talked with the other Mom's and met some really great people!
The next day we met up with one of the Mom's I had connected with at the Mom's night. It didn't go so well at first since Carson didn't feel very comfortable with a whole bunch of kids he didn't know around and it probably would have gone better if I hadn't told him we were going to meet some new friends (lesson learned). Luckily we met up with them again the next day and the kids hit it off! And that was that! Since then we have hung out with them quite a bit! They have kids close to our kids ages so it is perfect! You can follow their adventure at: http://free2breathe.com.
Here is a picture with the kids hanging out with their new friends: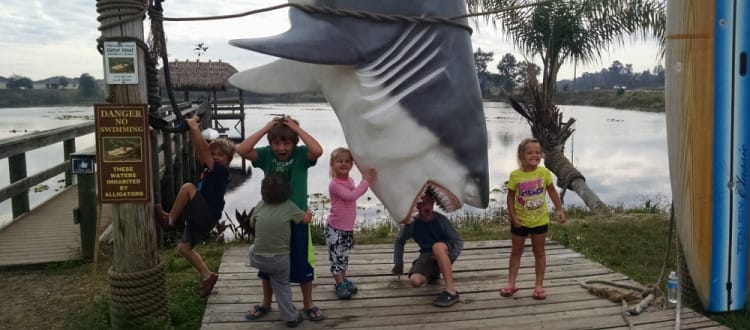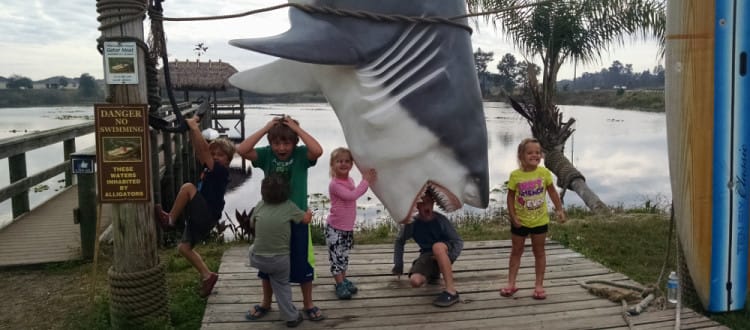 We came here to meet people and we have met so many great people and we have learned so much about this lifestyle from seasoned veterans! It was a rough start but TTO turnout to be a great stop on our adventure!
DISCLOSURE: This post may contain affiliate links, meaning I get a commission if you decide to make a purchase through my links, at no cost to you. Please read my disclosure for more info.