The Florida Keys – YES!! When we were looking for places to go in January we knew we wanted something warm. After being in the Polar Vortex last January we told ourselves that this January we wanted sun and warmth! In September I was looking up Florida State Parks (since those can be the least expensive option for short trips) and I came across the State Parks in the Florida Keys: John Pennekamp, Bahia Honda, Long Key. And I was excited! I didn't know that their were camping State Parks on the Keys. Then I started looking up available dates and EVERYTHING was booked until about May! Then I happened to find one at John Pennekamp for 4 nights in January and I talked to Craig about it and we figured let's book it and then plan our trip around it. We are so glad that we did! Craig also took vacation for the first 2 weeks of January – so we were really excited about that!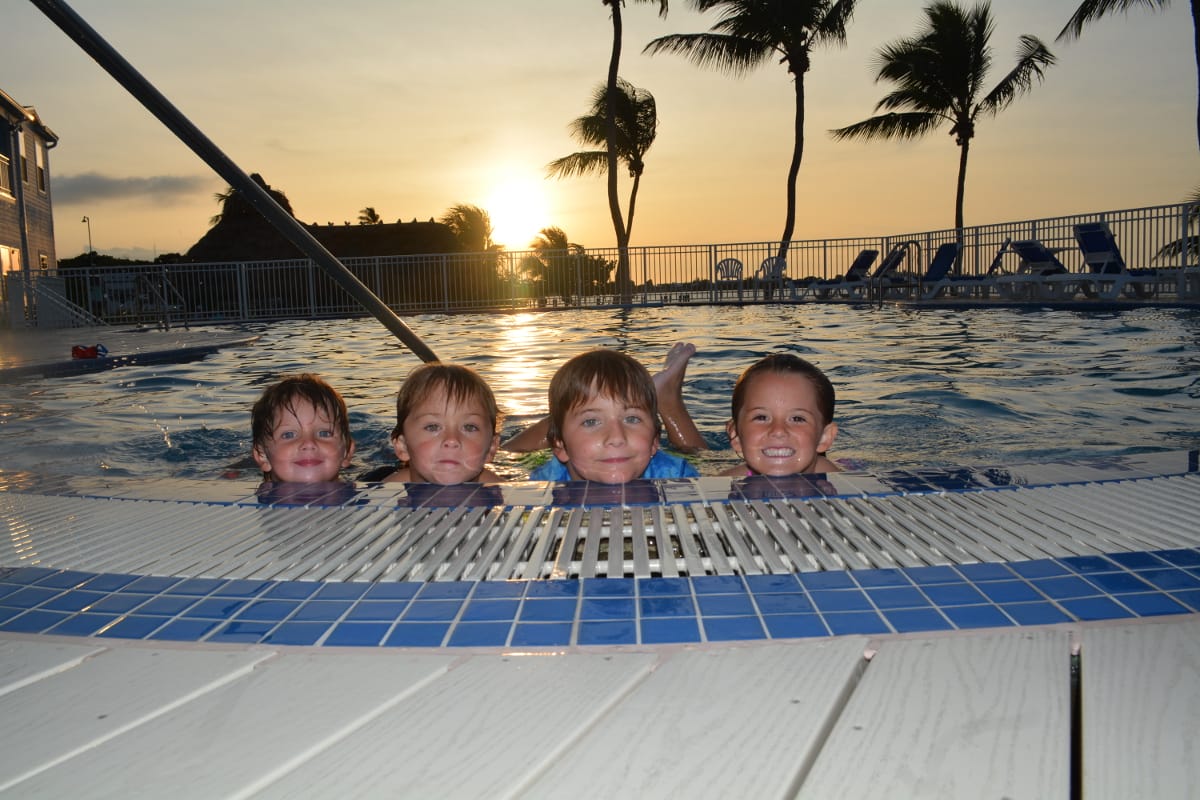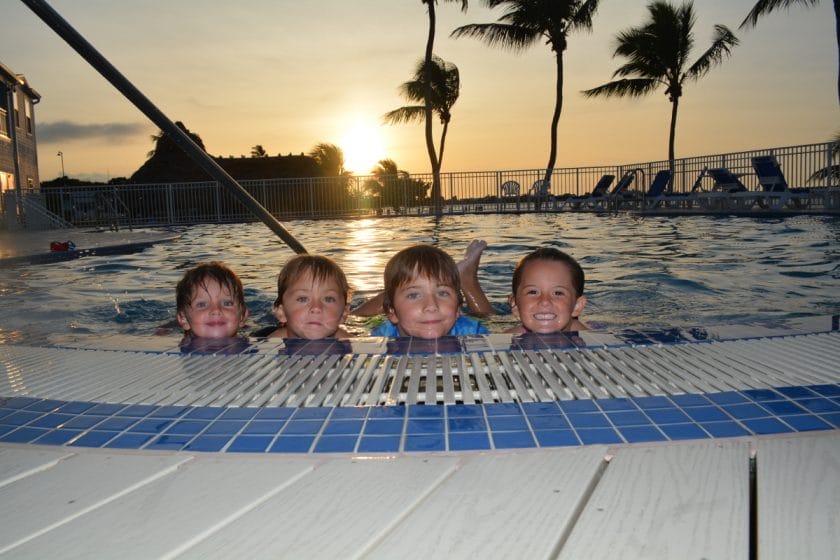 John Pennekamp State Park:
The site was small – we barely fit! But we knew that going into it! At $38.50 a night it is by far the least expensive RV camping you can get in the Keys. So we knew we were there to basically park it and sleep in it and the goal would be to be out most of the day. Everything about the park was nice. It was really small – just 42 sites. So it was quiet. The only bad thing was the bugs! They are called "no-see-ums" – for good reason! You can't even see them but all of a sudden you are covered with red bug bites that itch like crazy! We learned that the first night and were more careful about going out at night after that.
After leaving the Destin Beach we knew we weren't going to find a beaches down here that looked like that. The difference is the beaches down here are all surrounded by Coral Reefs – pretty much all of the Keys are. Did you know that the Reef in the Keys is the 3rd largest in the world?! This means the beaches are pretty rocky and the sand is pretty rough. But the awesome part is you can snorkel right off of the beaches! The water is very clear. So we did spend time at the beach at the Pennekamp just hanging out and swimming in the water. And guess what the beach was named! Cannon Beach!!
The 3rd day we were there we decided to do the Glass Bottom boat tour. It was perfect for the ages of our kids (7, 4, 4, 2). You get on a pretty large boat and then they take you out into the Ocean to a Reef. On the way out there the boat really picks up speed so we enjoyed that! And the view was AWESOME!! The Florida Keys are definitely more Caribbean then any other part of Florida. Then when you get to the reef the boat slows way down and basically floats above the reef and you can look down through the glass bottom and see all sorts of fish and coral. It was wavy the day we went out so luckily the kids or us didn't get sea sick! We stayed out for a while and then headed back in.
I have always had a little bit of a fear of the Ocean and especially of Sharks. So I wasn't sure how I would feel being on a boat that size in the Ocean – but I LOVED it! And the kids were naturals walking around on the boat while it was rocking away on the waves! Craig enjoyed it when he was able to be outside. So I mentioned to Craig that maybe we could spend sometime on a house boat . . . he told me easy there let's not push it :)! Who knows maybe down the road! Would love to sail the Caribbean for a couple of weeks at some point in our life's!
The next day we drove the car down to Key West. It was about a 2 1/2 hour drive from where we were and with mostly one way roads it was a slow drive – but the farther south we got the views from the bridges got more and more amazing. The color of the water is just unbelievable! We made it to Key West and headed to the Zachary Taylor Fort. The beach had a little bit more of a sandy area and again snorkeling right off of the beach! Craig went a ways out and actually saw a decent size sting ray and a lot of fish. Another lady there had just seen a barracuda! We hung out at the beach for a while got some ice cream and a couple of beers at the snack stand and then headed over to check out the Fort. It is always cool to see these historical forts and to imagine what life was like when people were stationed there.
We had a couple of other things on our list so we headed into downtown Key West. It was crazy busy with tons of houses and restaurants and small narrow streets! It definitely had the Caribbean vibe and seemed really cool. However there were not many kids at all! We had heard Key West wasn't really a kid destination and I have to agree with that! For a day or maybe a couple of nights I think it would work – but it seemed like a pretty big party town! We drove by the marker for the Southern Most point in the US. And took a drive by picture – there was a line and no parking. We found a restaurant a little outside of town and headed there to eat before we went back.
It was a really nice day trip and something worth doing and seeing!
The next day we moved into our site at Point of View Key Largo. It was AMAZING!! The sites were nice and big and everything was gravel (which was ok with us after all the bugs at the other place!). They had a beach and also a pool that was right on the water!
We basically spent the next 4 days really being on lazy vacation mode! My parents came down and met us there so that was fun too! We made a side trip to Anne's Beach – where you can walk like 100 yards out into the ocean because it is so shallow. Then met up with some of my parents friends that moved down here. But other than that we just swam and hung by the pool! It was a lot of fun and a great time for us to connect with the kids and play in the pool with them. We also watched the amazing sunset each night! It was so relaxing and enjoyable! I DID NOT WANT TO LEAVE!! When it was time to go we decided that we should have stayed for longer and might try to stay for a month next year!
We kept saying: This is how you do January!
If you haven't been we highly recommend it! It has a different feel then Florida because it has more of that Caribbean vibe. You don't really come here for the Beaches but more for the Sun, Snorkeling, and just to enjoy the laid back atmosphere! We didn't eat out a lot but they have a lot of cool restaurants, great parks, and excursions that you can take!
As we were leaving Key Largo we saw this sign. It basically says it all:
Leaving Key Largo – back to reality.
DISCLOSURE: This post may contain affiliate links, meaning I get a commission if you decide to make a purchase through my links, at no cost to you. Please read my disclosure for more info.