Stone Mountain is just east of Atlanta by about 30 miles. It's a great place to plan a family get-a-way because it really has something for everyone!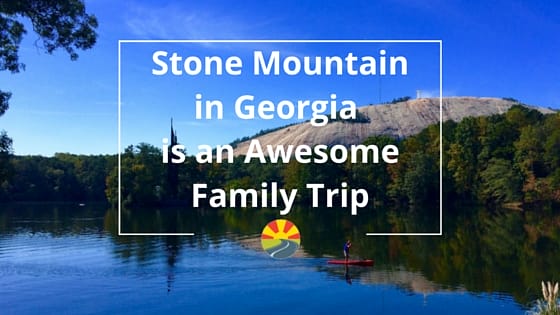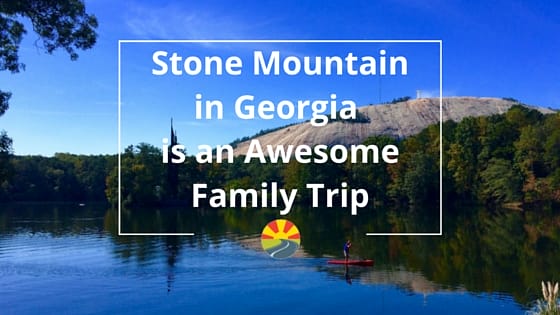 We spent almost a week there and had plenty to do. The campground was amazing and we had a great spot right next to the playground, so let's start there.
Campground
We've camped in some pretty rustic places. We've stayed in places with no hookups and some that were just downright nasty. Well, the Stone Mountain campground was more like a nice hotel than a campground.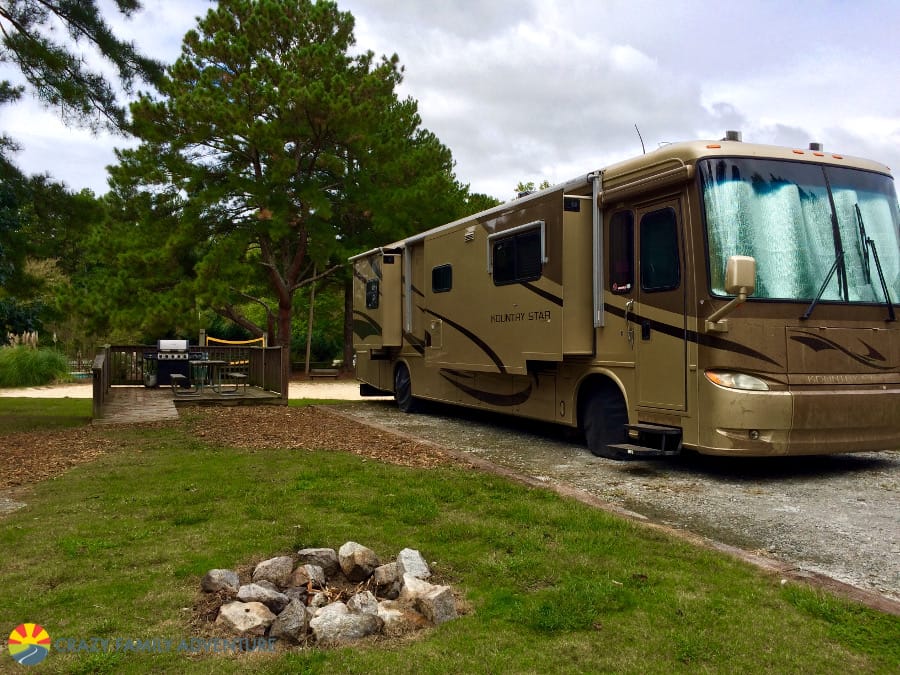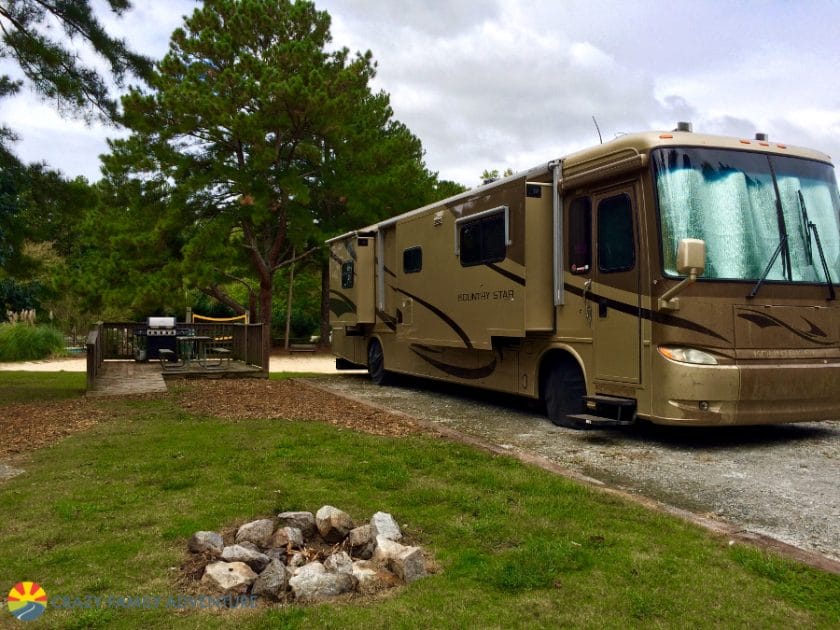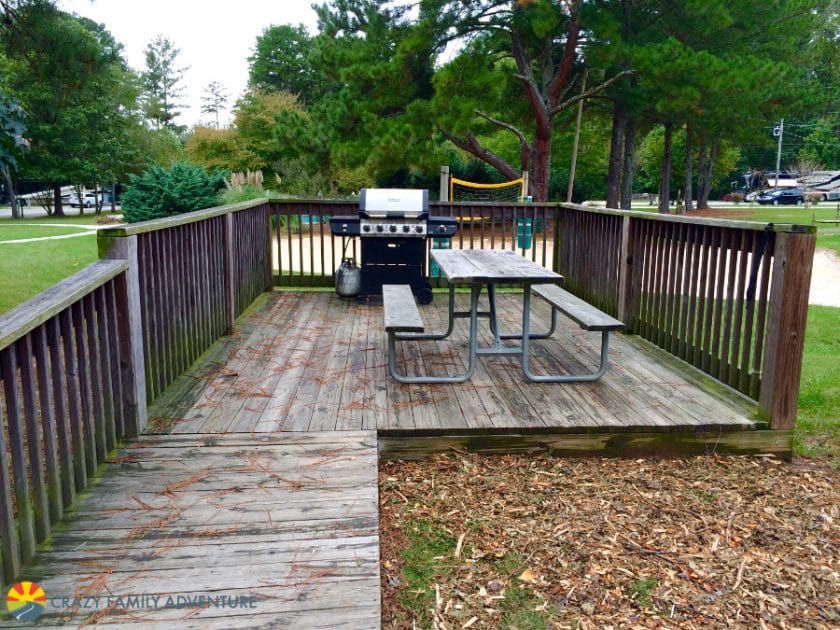 The campground was easy to navigate through with the rig and the site was easy to back into. The site had a nice level driveway and our own personal deck with gas grill! I've never seen that before in a campground!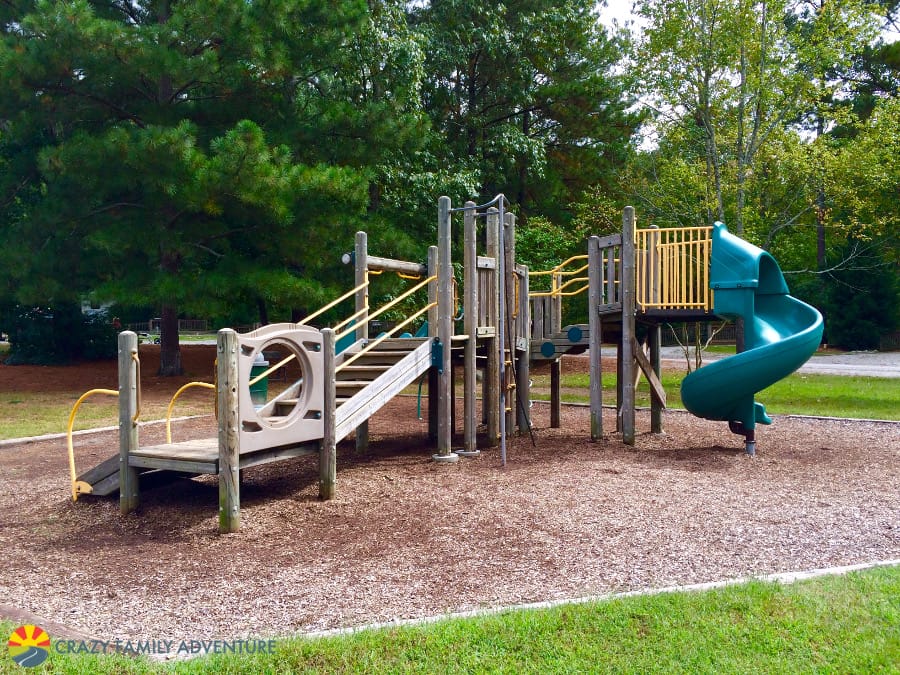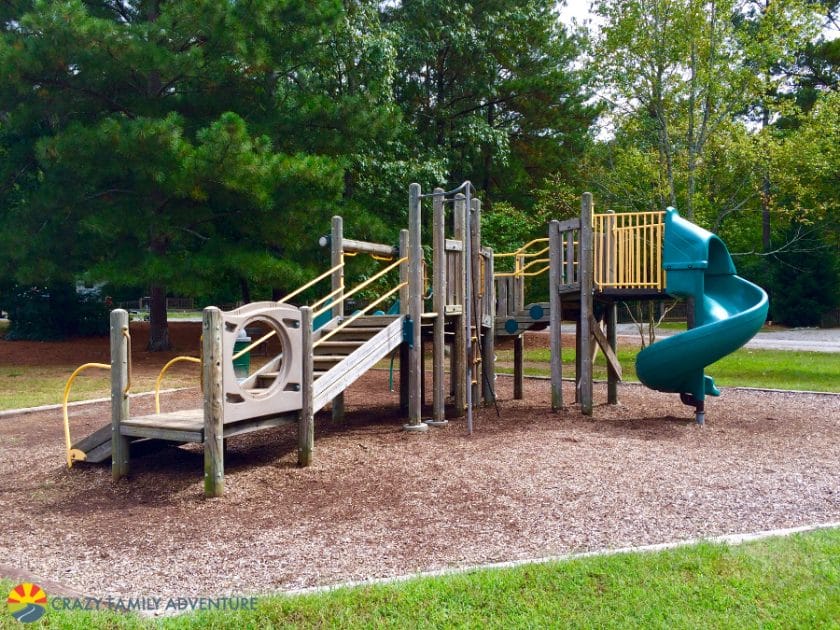 The playground was decently sized and the kids had fun playing there and we could watch from the deck while working. They have a pool, which was unfortunately closed when we were there in October. There was also a sand volleyball court and horse shoe pit all near the playground.
It was a very nice and comfortable set up with a lot of fun things to do!
If you're not into camping, the park also has a hotel and an inn on the property. Either way, they've got you covered!
Now that we have accommodations all set, how about things to do? Well, plan on packing your walking shoes because this park is excellent for walking and hiking!
You have to pay a one-time $15 fee to enter the park. This is good for the day you visit, except if you are staying on the property. Then it is good for your entire stay. There is also an annual pass available that seemed to be a popular option with local folks. We saw tons of people walking, jogging, or biking in the park. The scenery is great and the walking paths are excellent!
The Mountain
Stone Mountain is a giant rock sitting in the middle of Georgia. It's a geological marvel, which you can learn more about at the visitor center at the beginning of the hiking trail.
It's about 1600 feet high and there are 2 ways to get up to the top. A fancy tram car that I'll talk about in a bit, and the second way is a good old fashion hike.
The hike up is about one mile and it's a combination of a hike and rock scramble at some points. There are great photo ops while going up the mountain, especially a look at the Atlanta skyline once your near the top.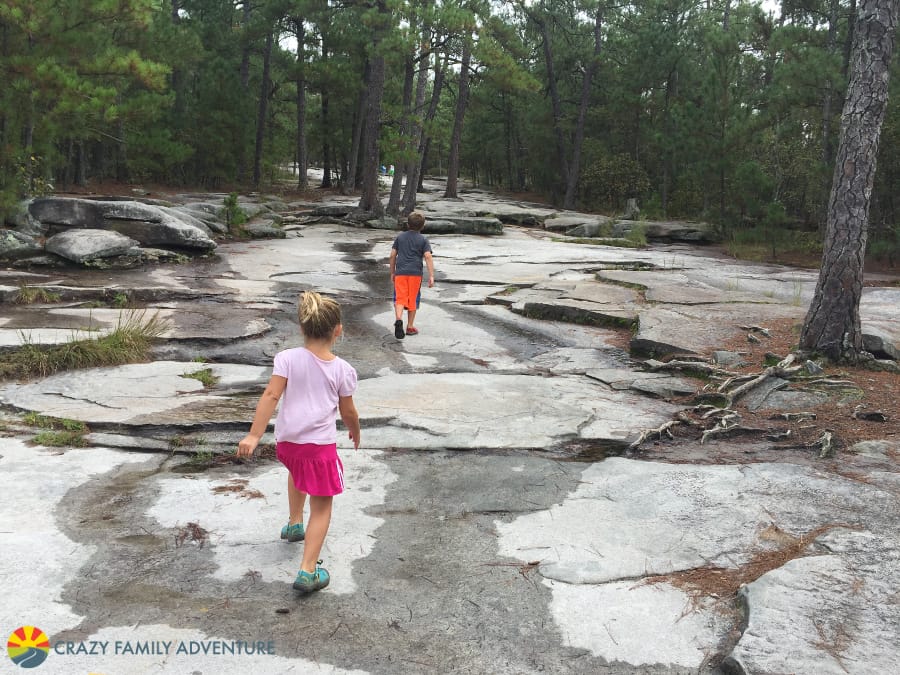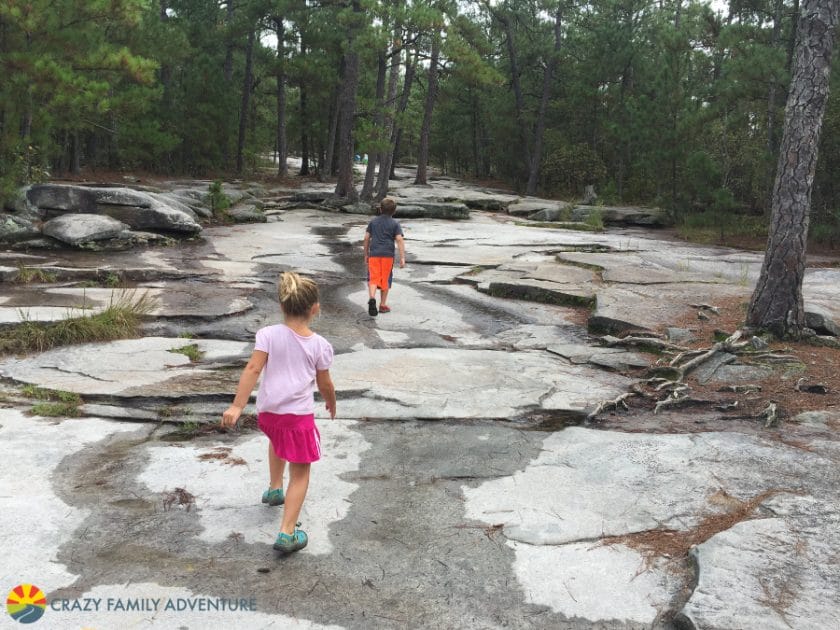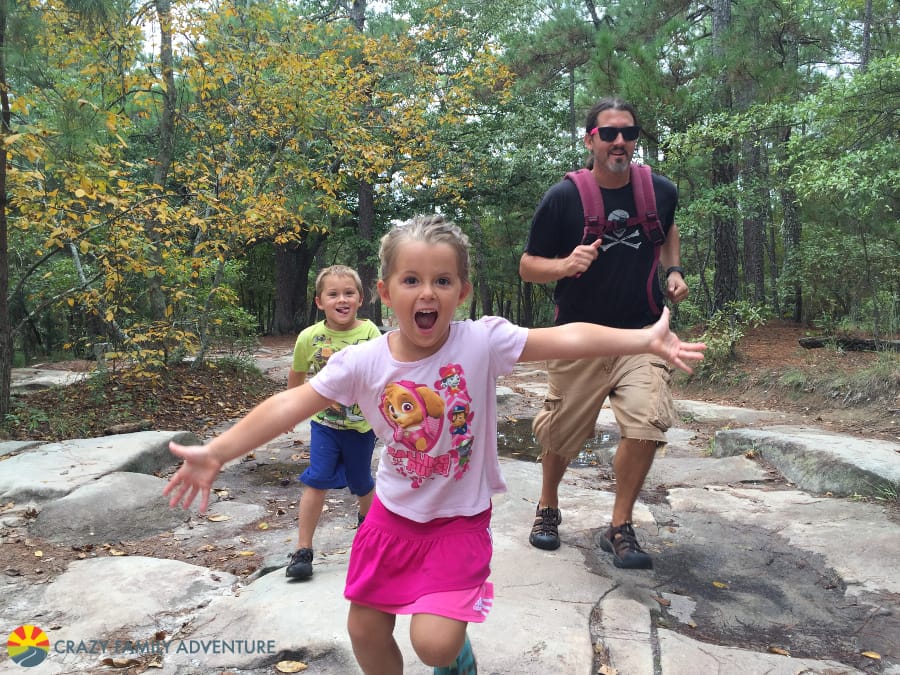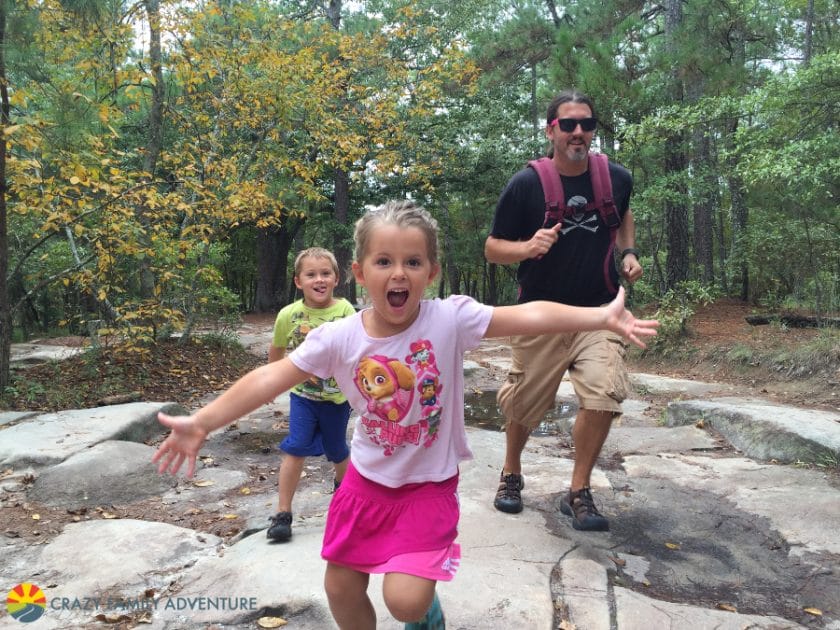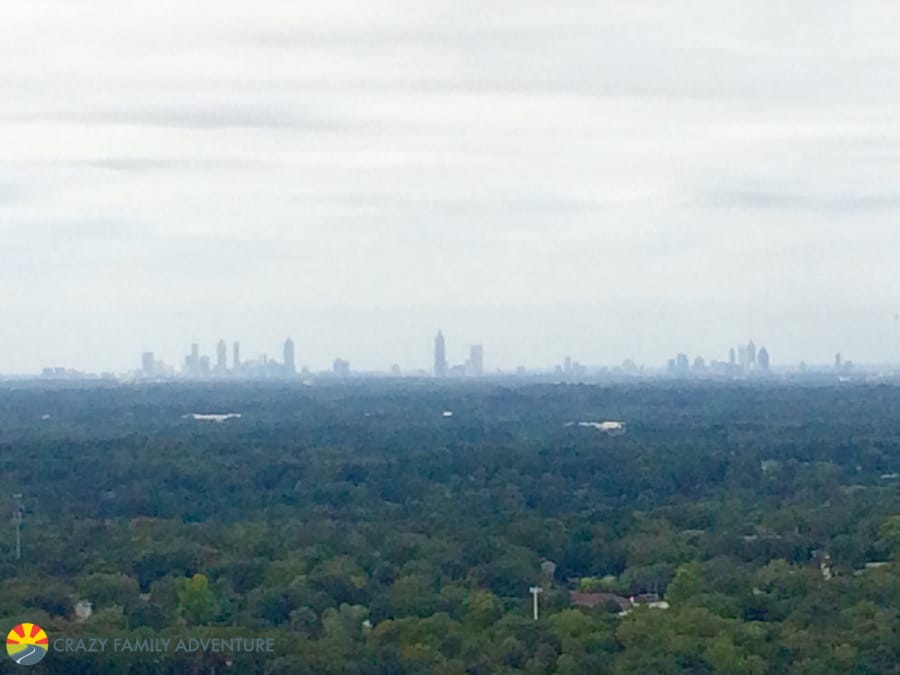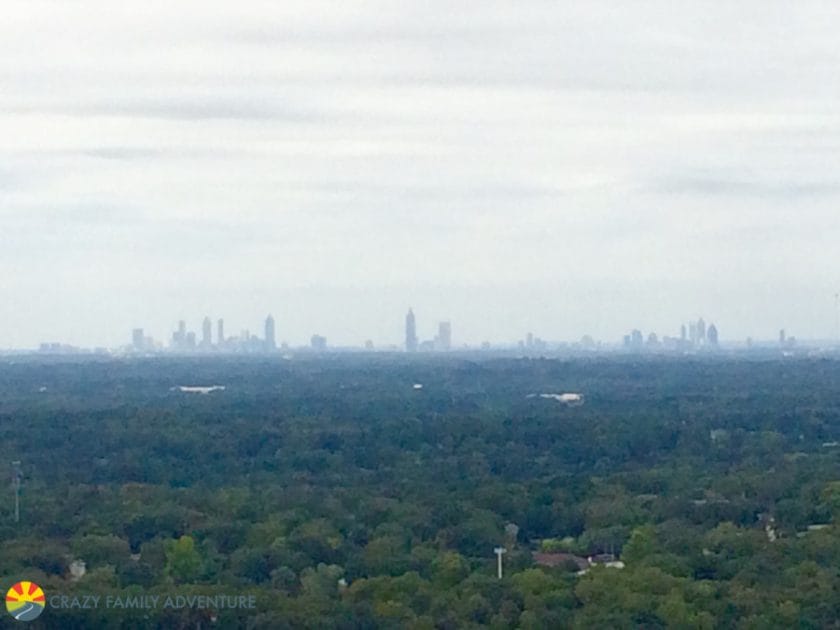 The kids did awesome hiking up with only a little complaining. For that we had our "Power Pellets" (Tic-Tacs) ready to go! We also had our trusty Ergo backpack carriers
for when they got really tired.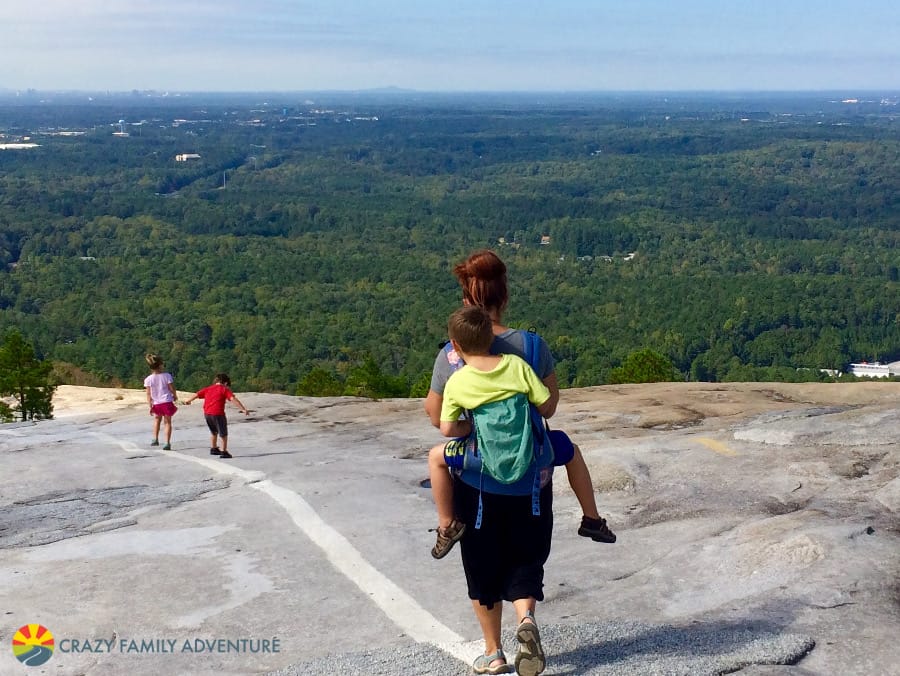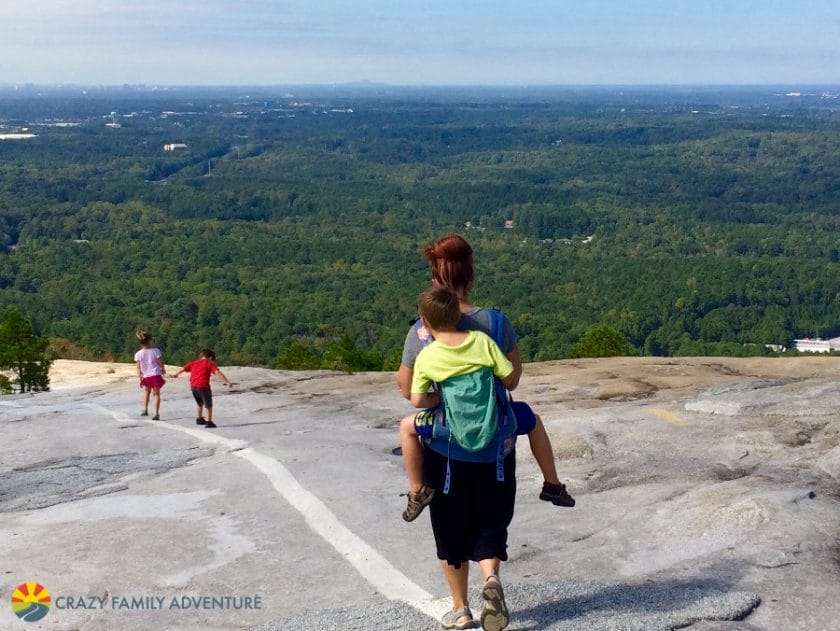 The highlights on the way up were the gum poles. Yup, you read that right, a pole that was covered with chewed gum. The other highlight was all the writing and carvings on the rocks on the way up. The kids had a great time reading what people had written and looking at the pictures.
Melia was the first one to the top and went so fast we had to hurry to catch up to her! Then she basically ran and jumped all the way back down. It is a fun experience for young and old alike and we recommend doing it!
There is a snack shop at the top of the mountain as well as bathrooms. You may need a few minutes to regroup before heading out to hike the mile back down!
Once you get to the top you'll have a great view of Stone Mountain Park and the surrounding city. If you can do it, lug a picnic bag up with you and eat lunch up there. The rock up there is flat and smooth and would be a great spot to have lunch!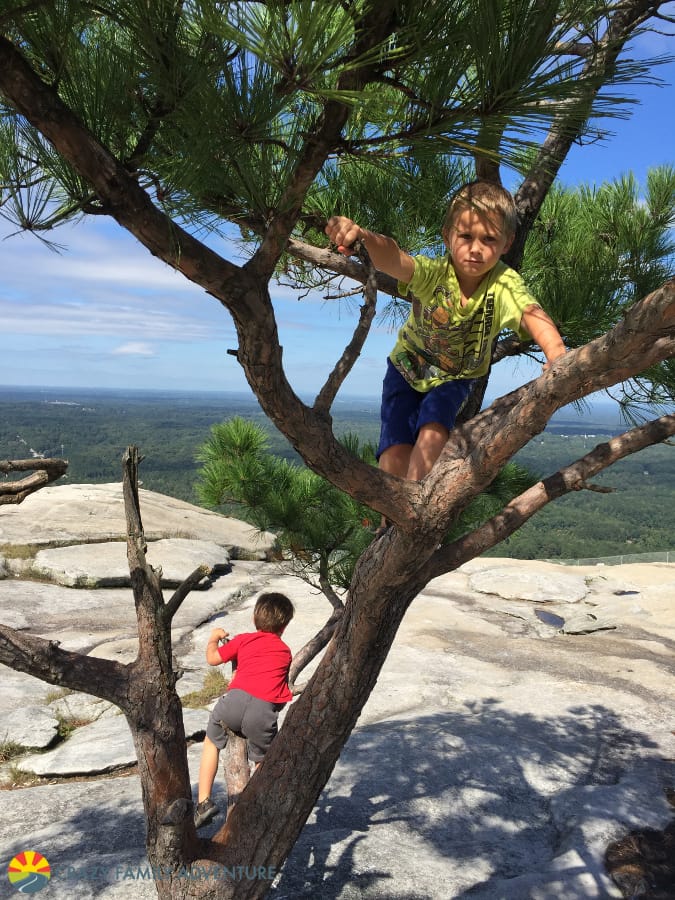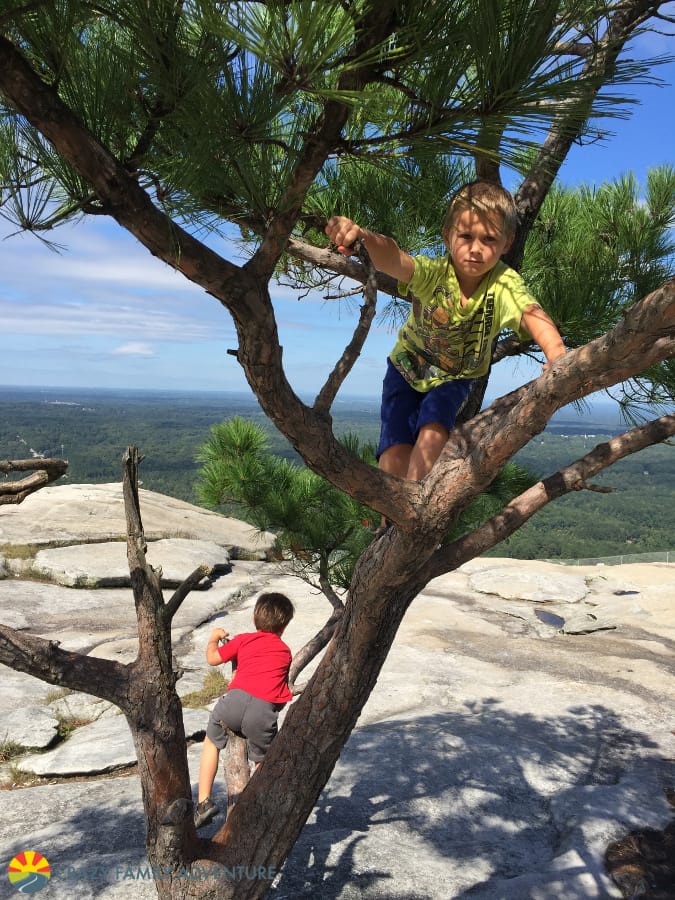 Or to climb a tree. That was the kids favorite part of the top of the mountain. Well, that and getting an Icee in the snack shop.
Attractions
Stone Mountain is an attraction park that has many fun things for all ages. Our older kids (those 44″ and above) liked SkyHike the best. This is a huge rope course that challenged the kids and Bryanna!
Skyhike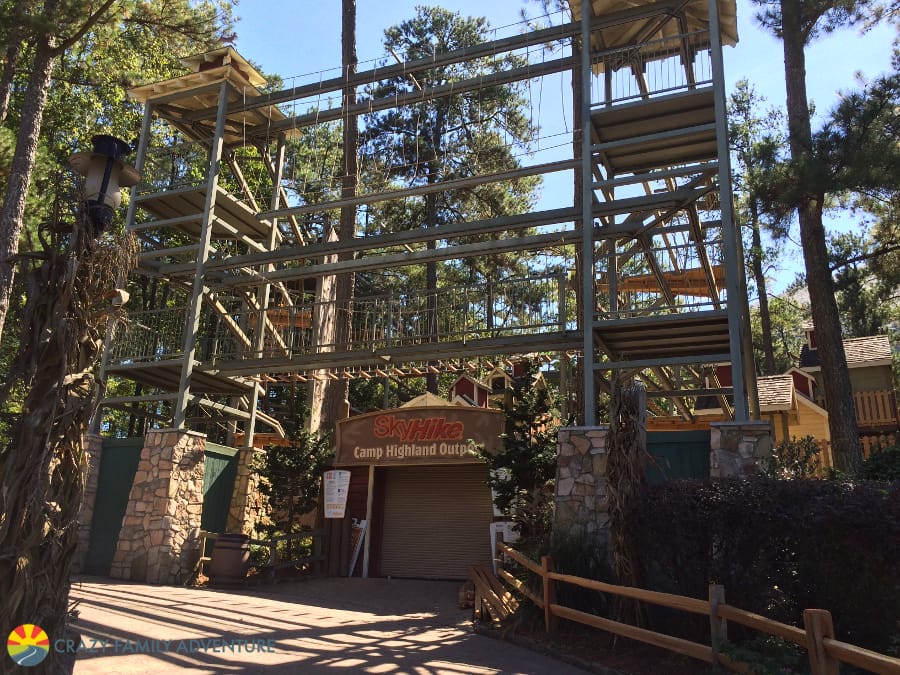 There are 3 levels to SkyHike and you can decide after each one if you want to keep going. Carson, Cannon, and Bryanna made it up to level 3. Melia stopped at level 2. Level 3 was a stretch for Cannon at 5 1/2 years old but he made it!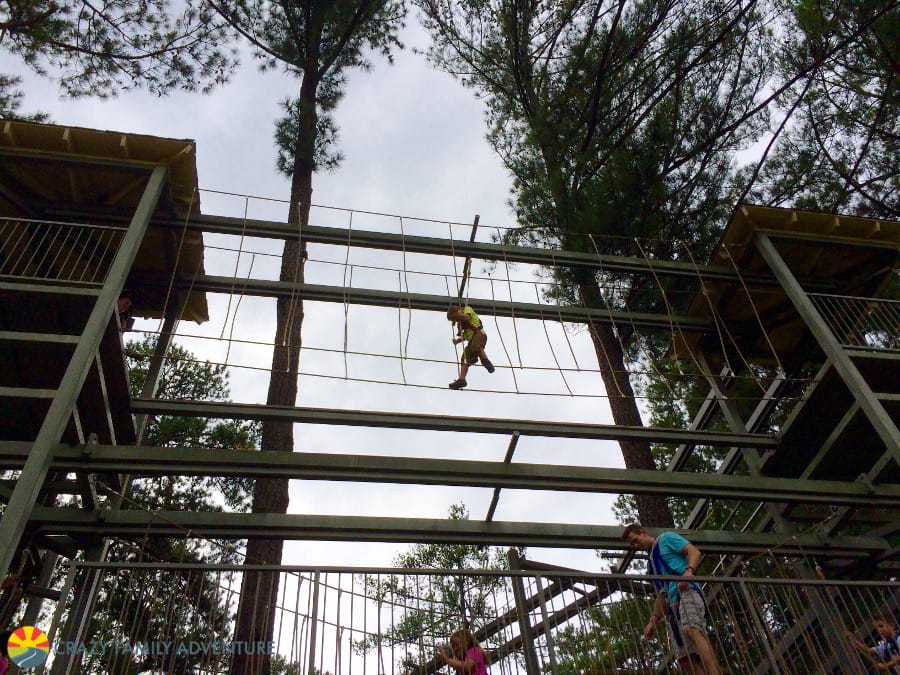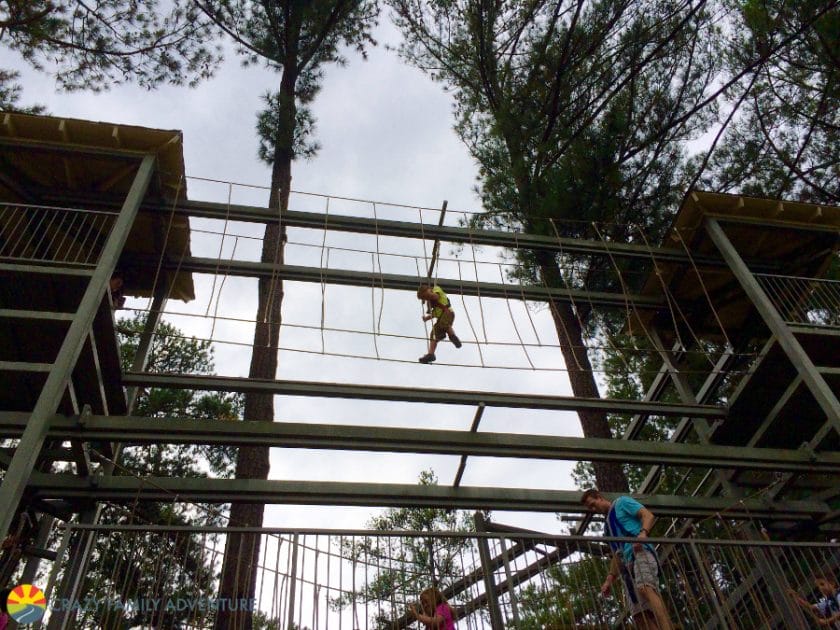 We visited Stone Mountain in the fall which seemed to be their slower period. That wasn't the case for SkyHike! The line got to be quite long, so I'd suggest trying to do this one as soon as you get to the park!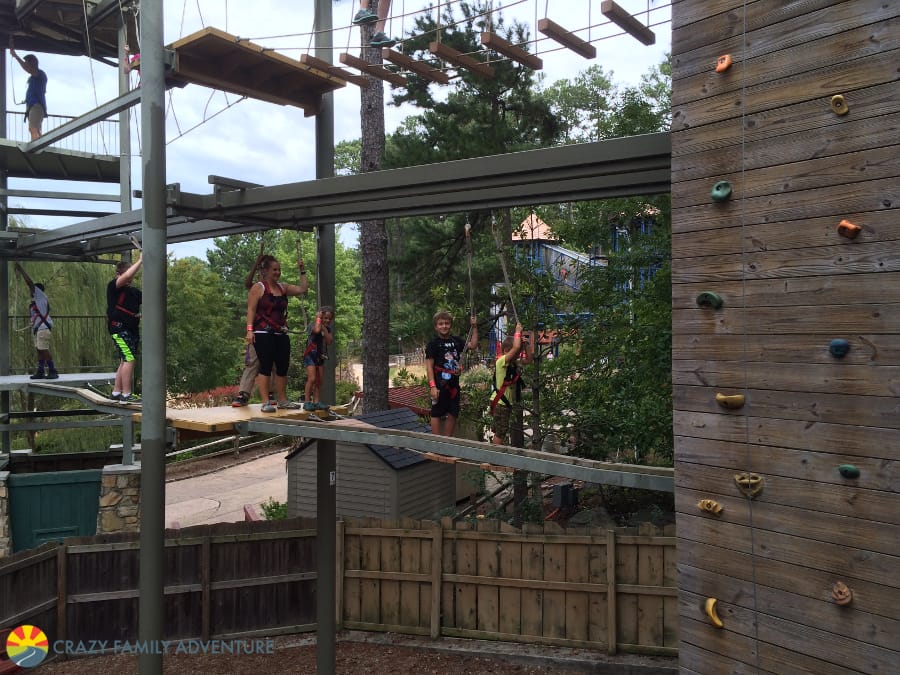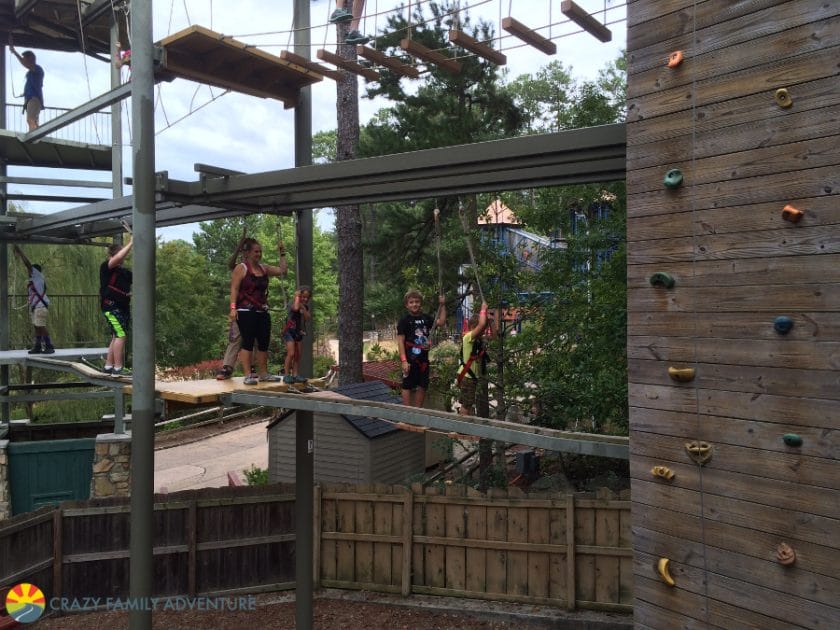 There are a couple observation decks that are up a flight of steps, which made for a good look out point for Knox and I as well as good spot to get some pictures of the adventurers!
Camp Highland Post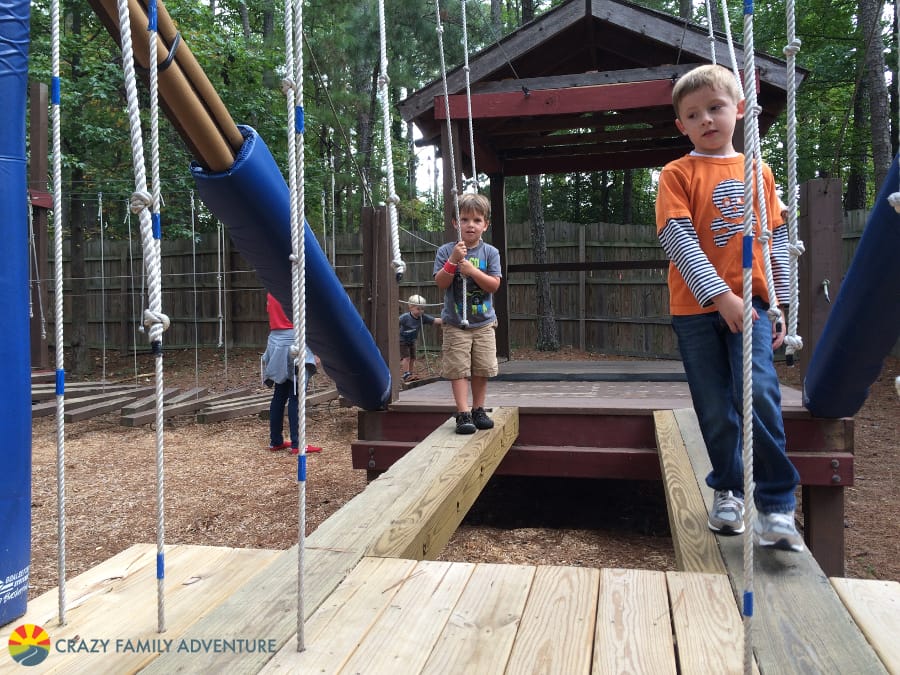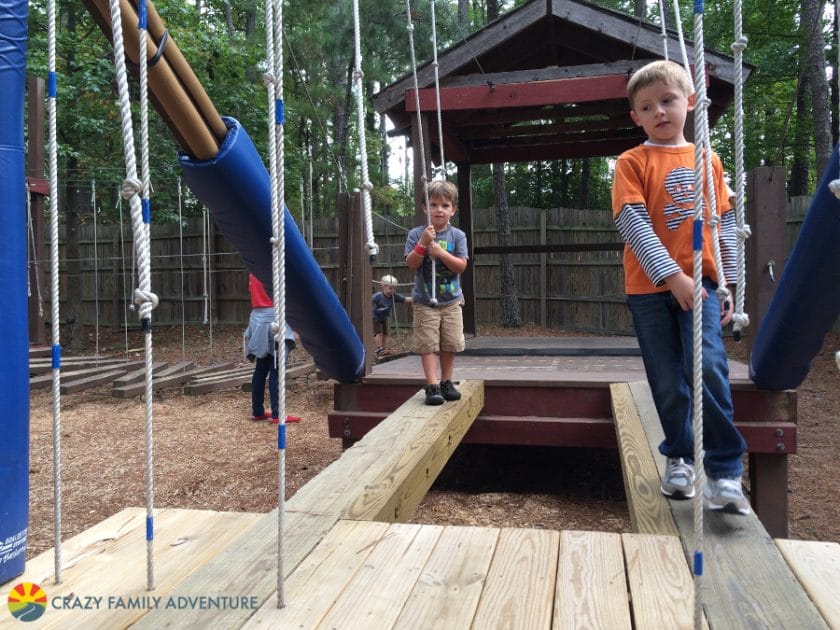 While the 3 older kids and Bryanna worked up SkyHike, Knox and I went just behind it to Camp Highland Post. This is a smaller ropes course designed for little tykes. I had a blast watching Knox as he had to figure out how to maneuver his body and feet to get across some of the obstacles. It was a great way for him to learn coordination and balance!
Geyser Towers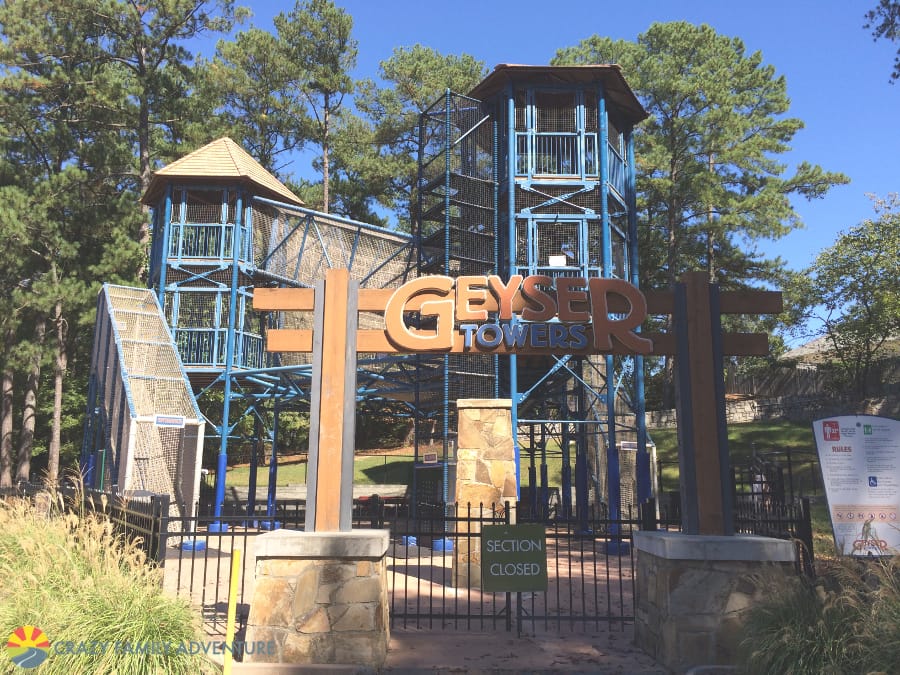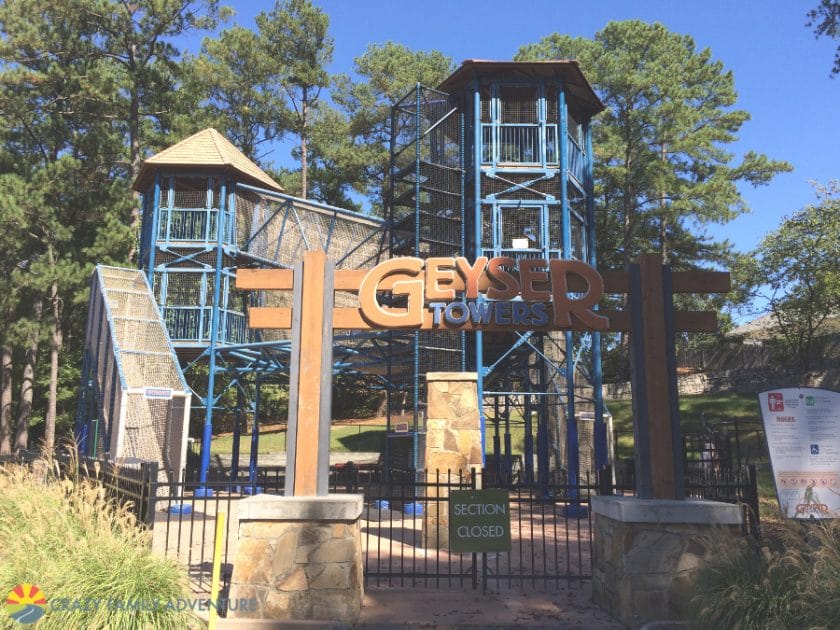 Directly across from SkyHike is Geyser Towers. That is where we headed next. This is a multi-level rope bridge course that has an erupting water geyser! There are other water sprayers and jets that make this a great place to play on a hot day – if you have a change of clothes for the kids.
After playing there, we walked around the park and got one of the big souvenir soda cups which had free refills all day. This worked great since the 6 of us were very thirsty! We love it when we see deals like this!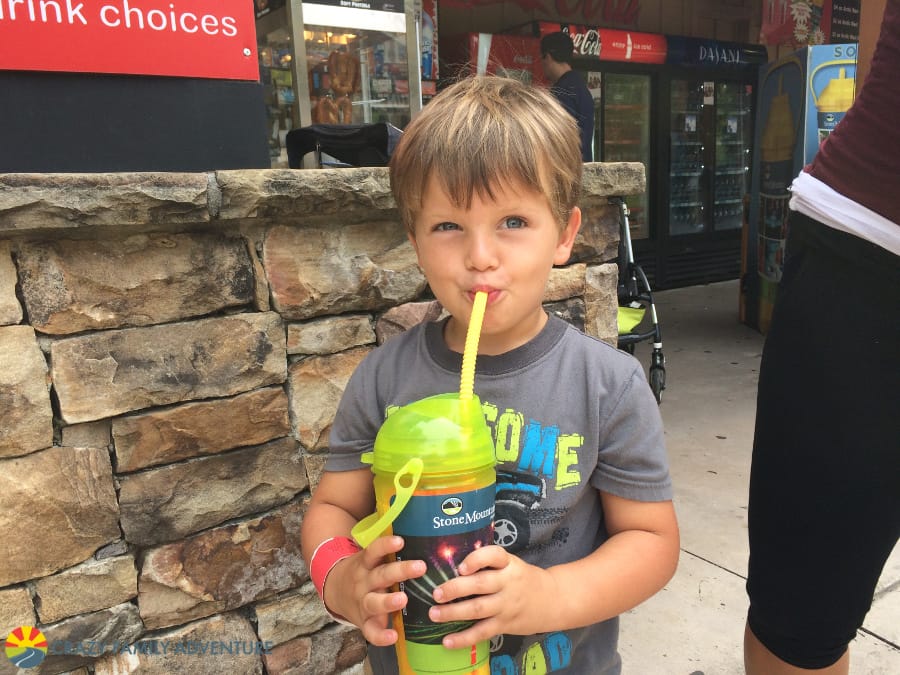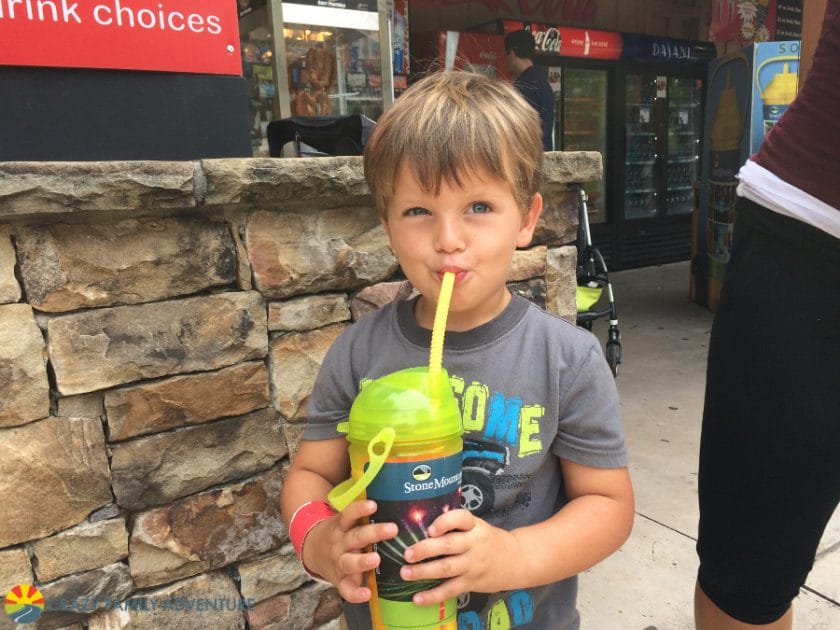 We then headed over to the pie eating contest. Cannon was adamant about participating in it. Well, once we got there he changed his mind. So we stayed to watch the contest. The kids loved it.
The park has a lot of great activities and shows like this going on throughout the day so if you don't want to do all the activities you can check these out too. They also have a 4D show going on that you can watch. When we were there it was Rio.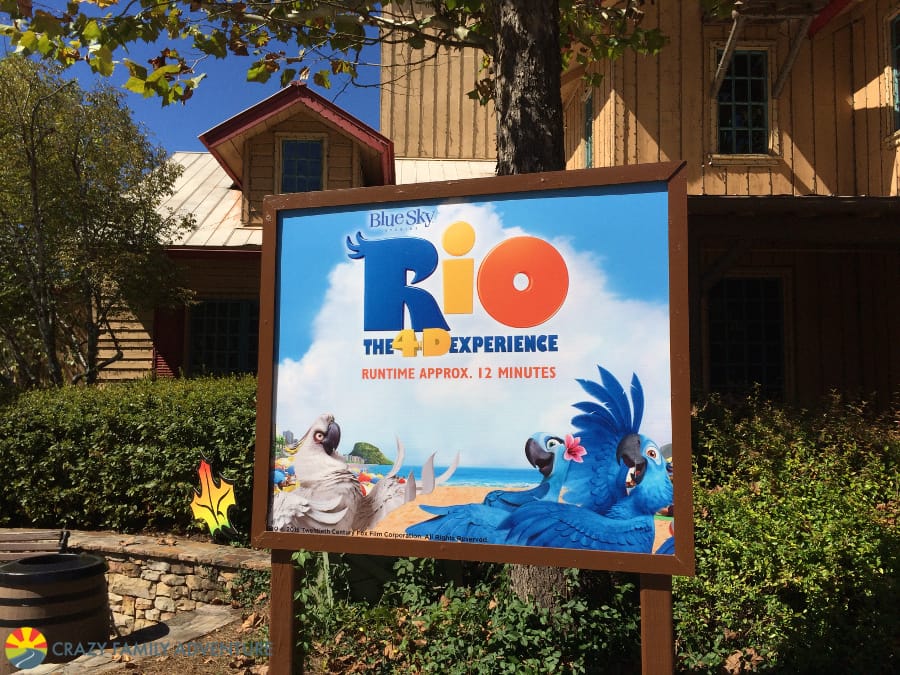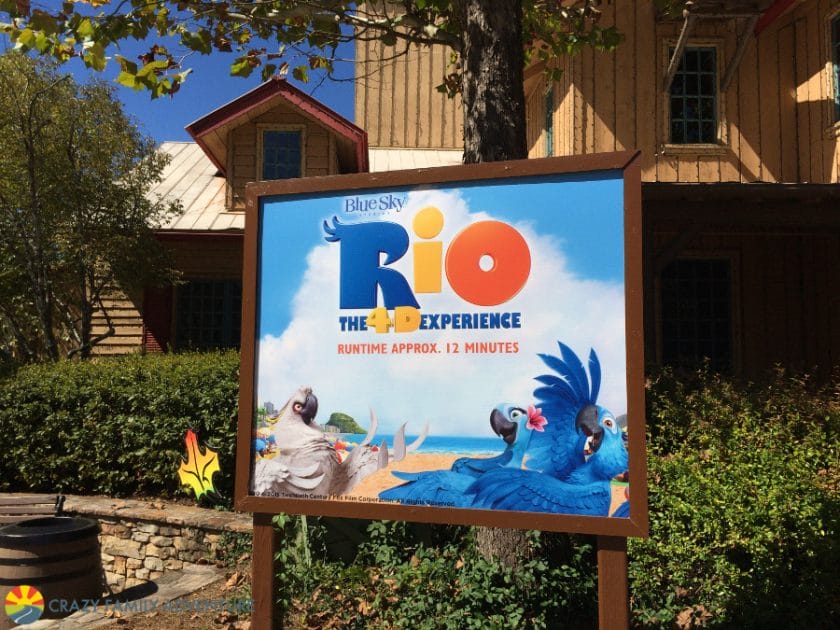 Summit Skyride
Next we headed across the park to go on the tram up to the top of the mountain. This was included in the package for the park so even though we had been up there already we thought it would be fun to take the tram. And it was!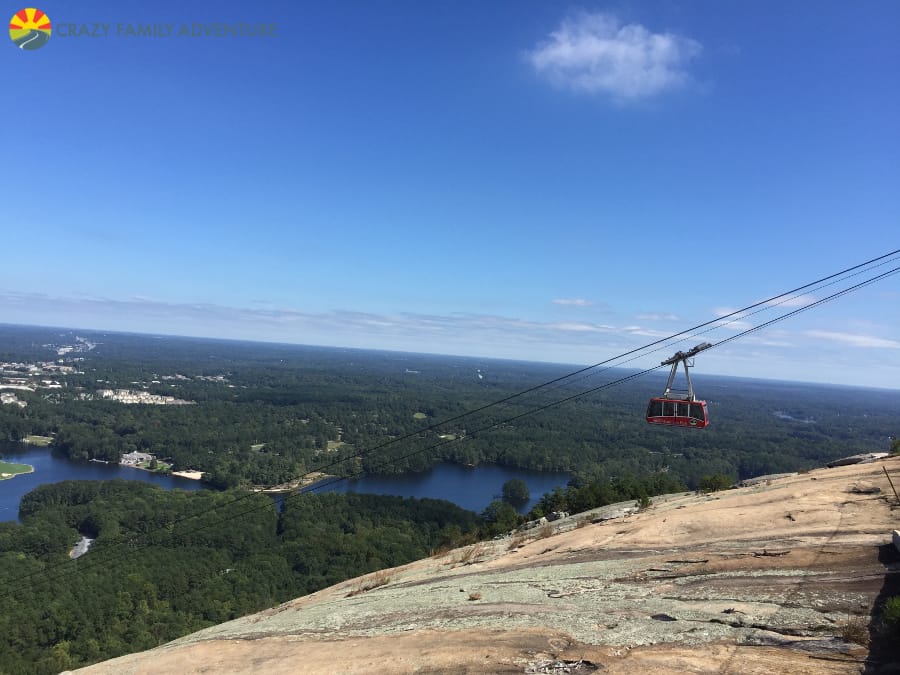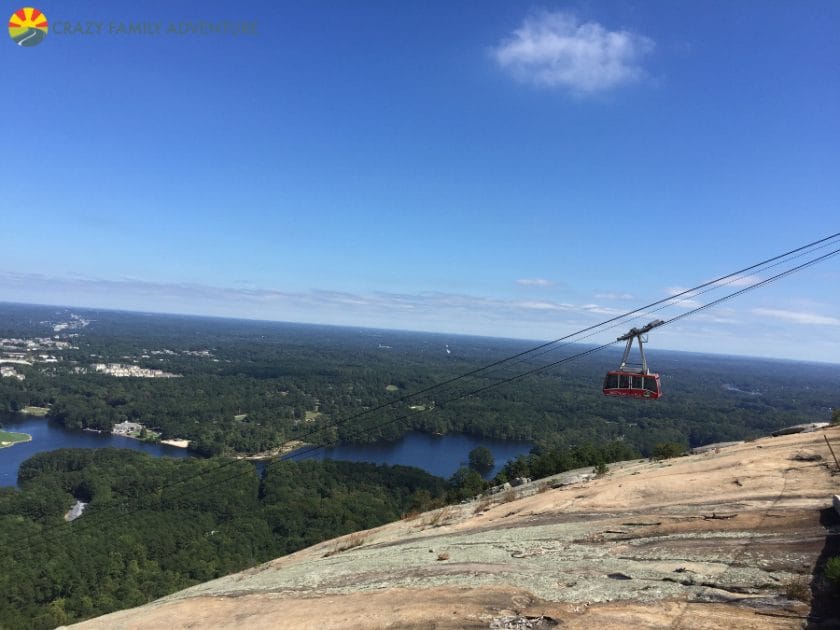 Scenic Railroad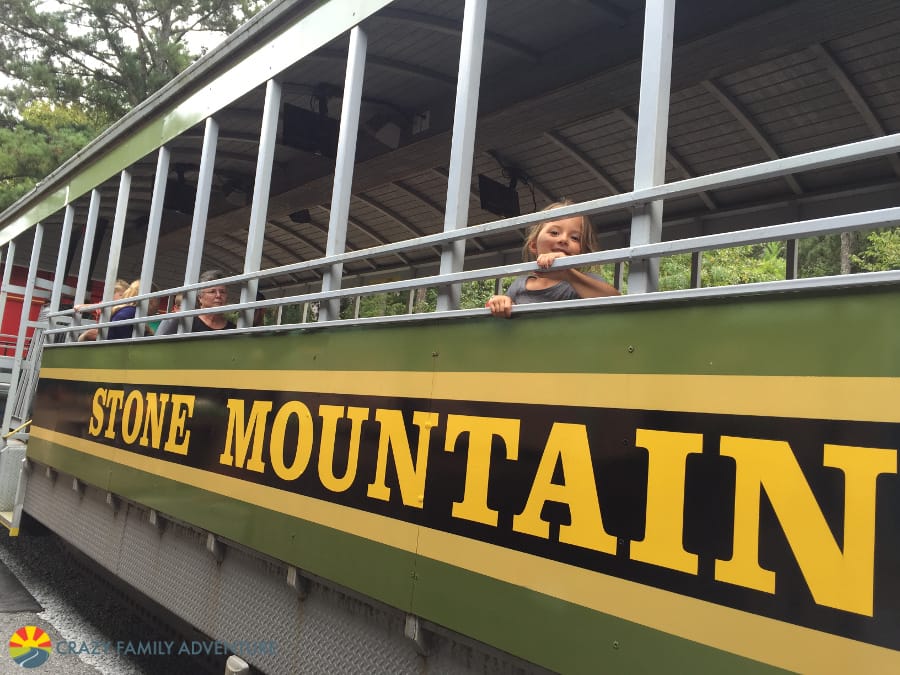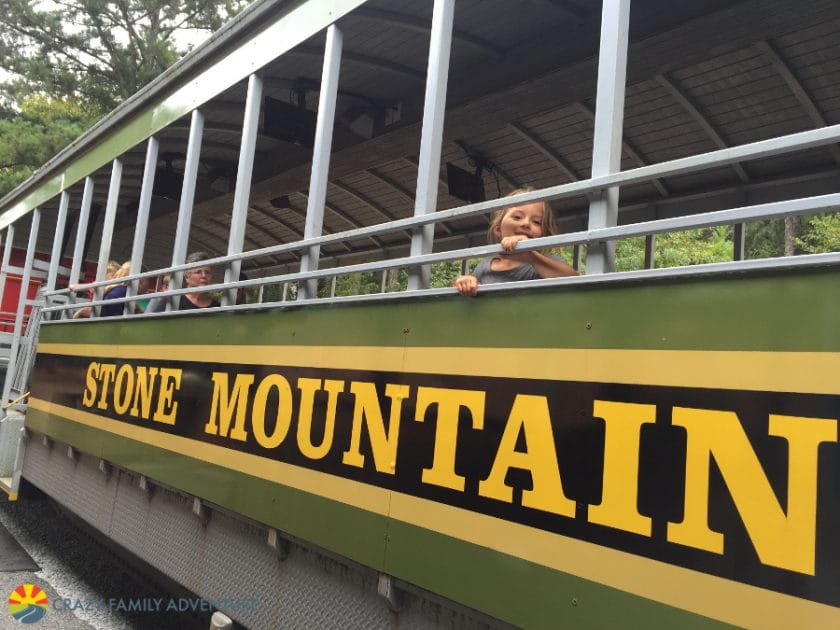 By this time we were all crashing after a long day of fun. We hopped aboard the Scenic Railroad train, literally at the last minute. We took a nice 40 minute train ride around the mountain and heard some of the history of the mountain while on board. It was a nice way to relax for a bit on a scenic tour!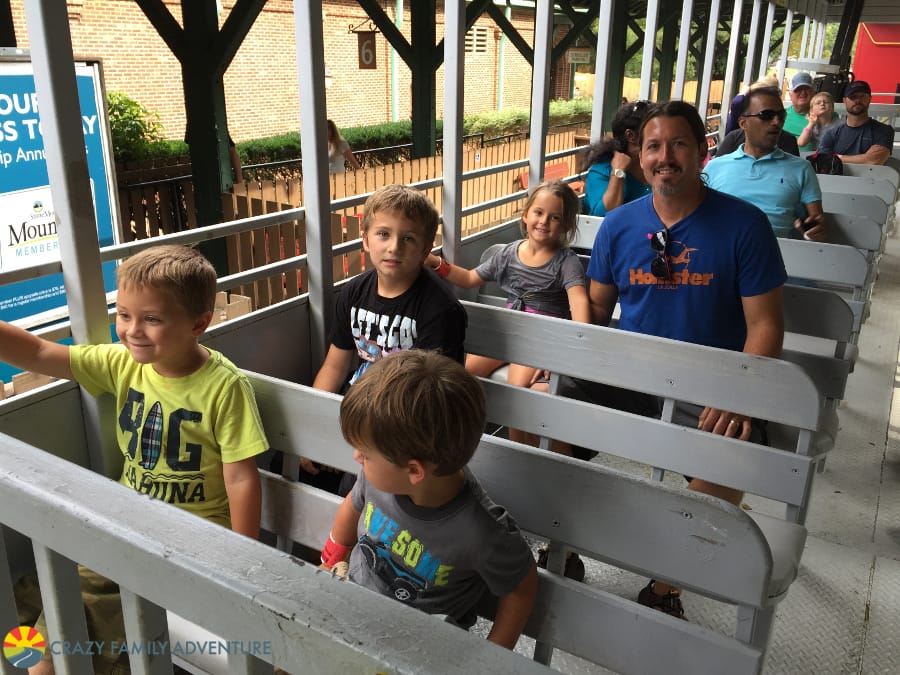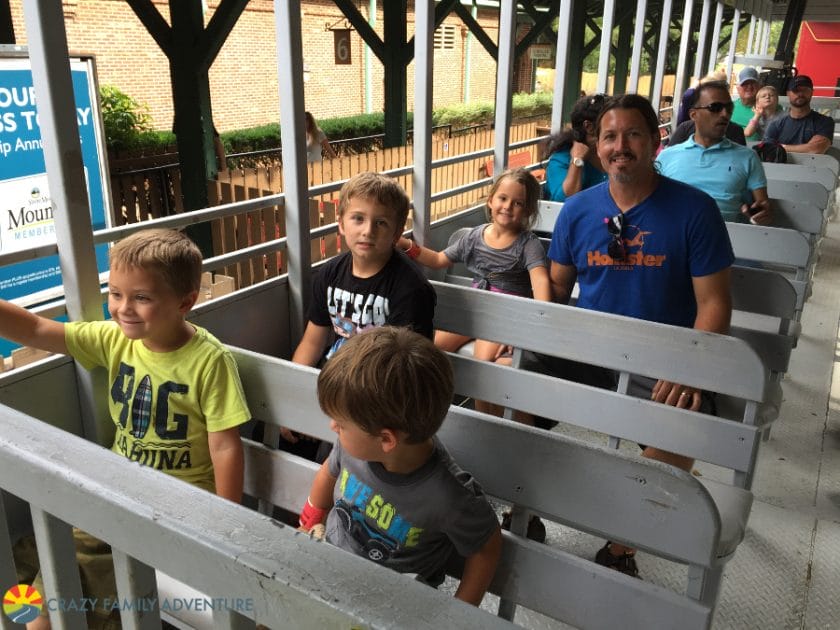 They also have the Antebellum Plantation, Discovering Stone Mountain Museum, and the Duck Rides. We did not do any of these activities. We ran out of time! They are included in the Adventure Pass, except for the Ducks which you have to pay extra for. They also do an amazing laser light show at night, but unfortunately that was on Saturday and we were there on a Friday.
There is no shortage of dining or shopping options at Stone Mountain. They have a food market, several concession stands throughout the park, and 2 sit-down restaurants. Our favorite shop in the park was the Stone Mountain Glass Company which does live glass blowing demonstrations all day long!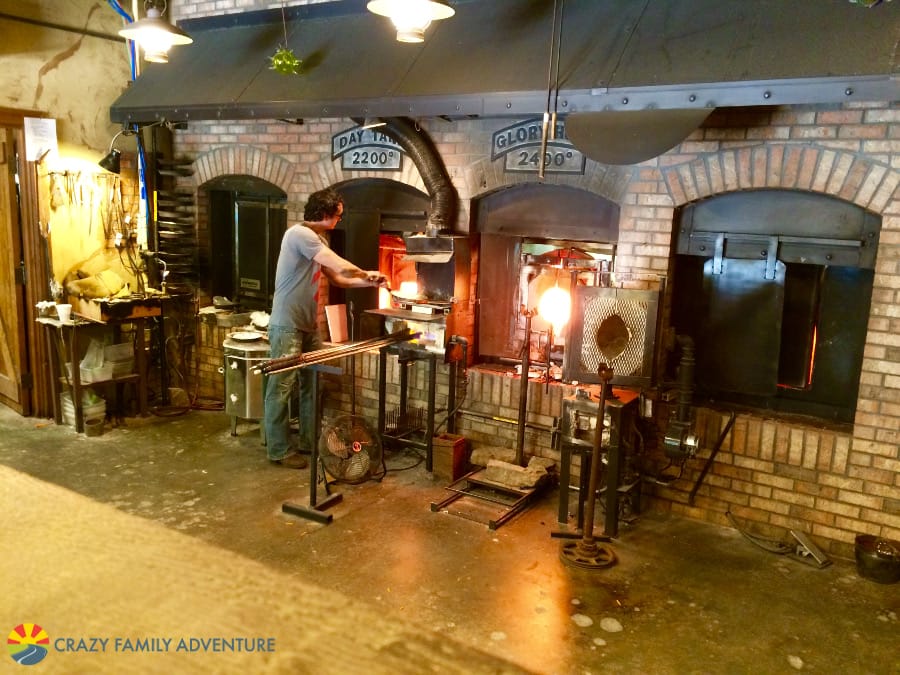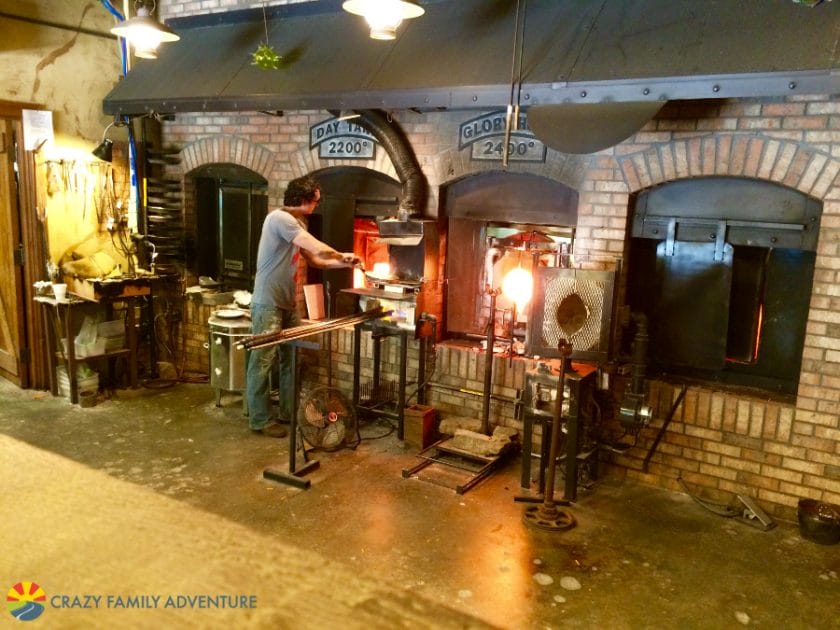 Covered Bridge
The property is amazing, beautiful, and well maintained. There are miles and miles of bike trails and hiking trails. There is also an amazing old covered bridge that you can drive on. Not going to lie, it was a little freaky with it creaking under us the whole time, but it had to have passed code…right??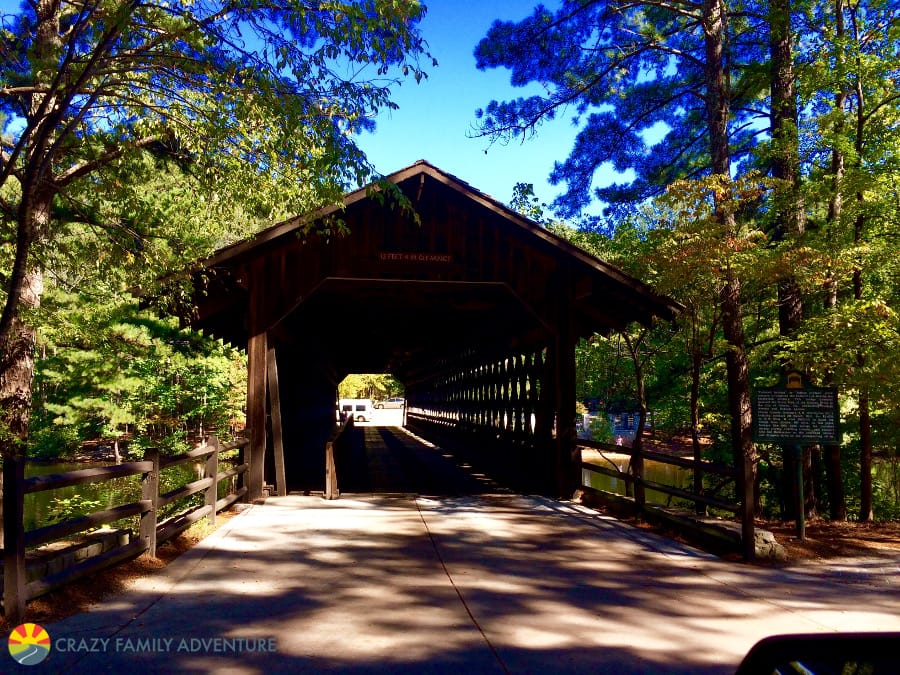 They also have a really nice and large playground for the kids (not the campground one) – which would be a great place to bring a picnic lunch, play on the playground, and just hang out and relax.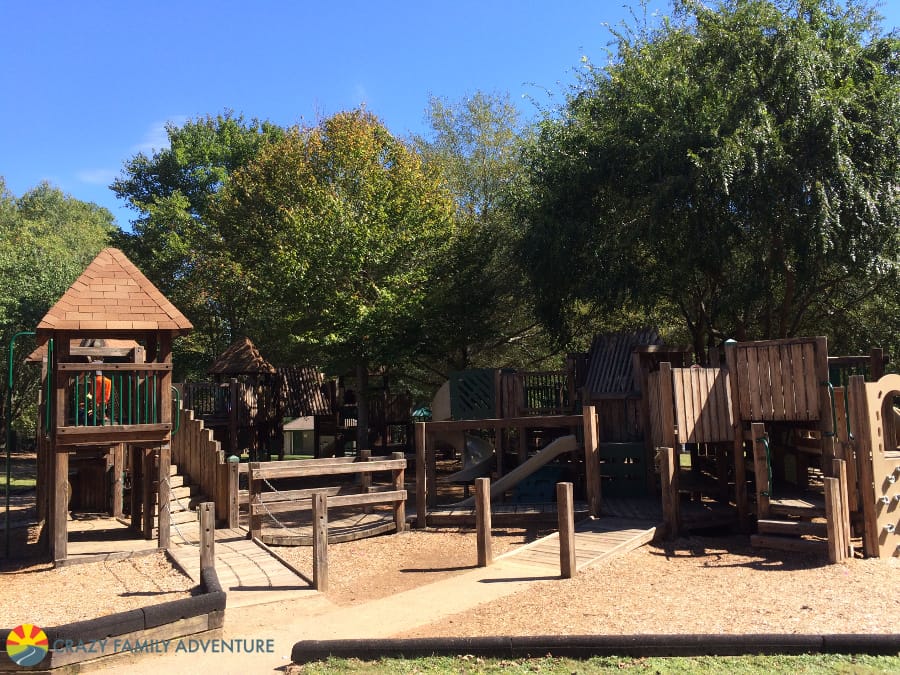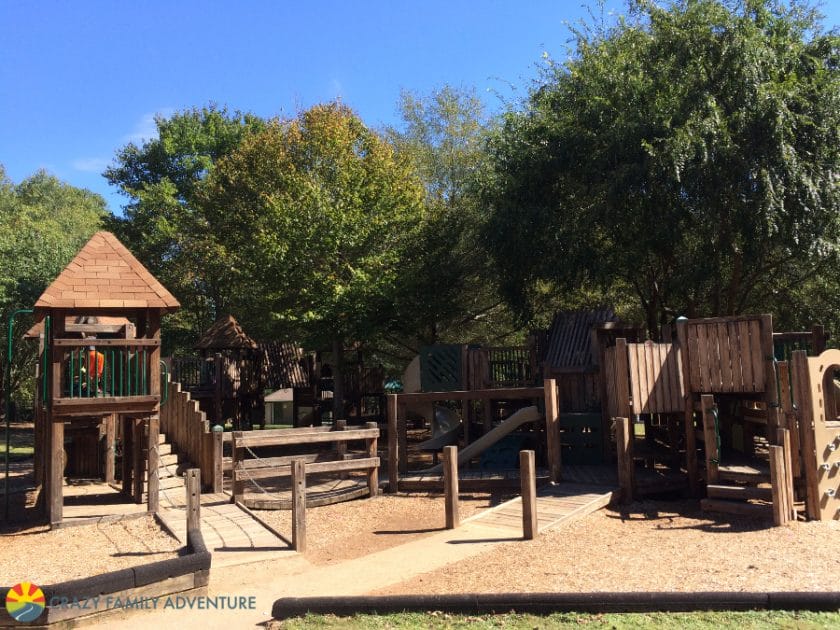 Golf Course
When I said there was something for everyone at Stone Mountain, that even included the family golf fanatic. There are two 18-hole championship courses at Stone Mountain. I was lucky enough to play Lakemont.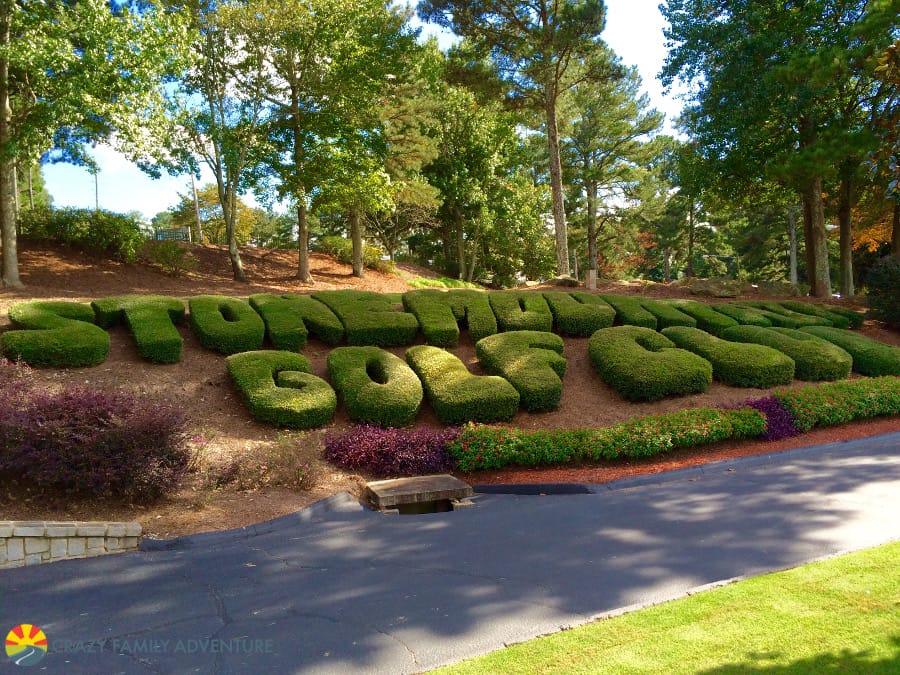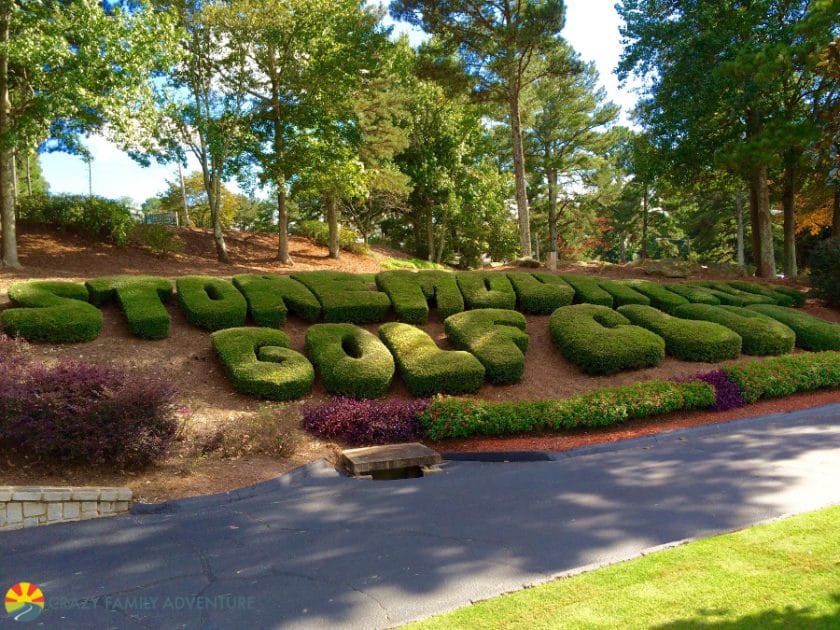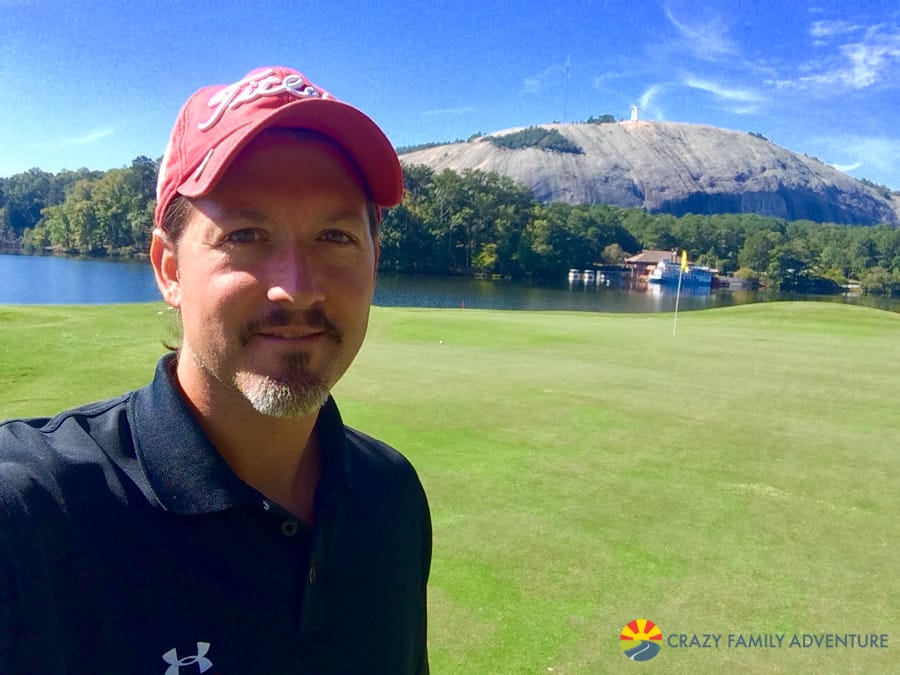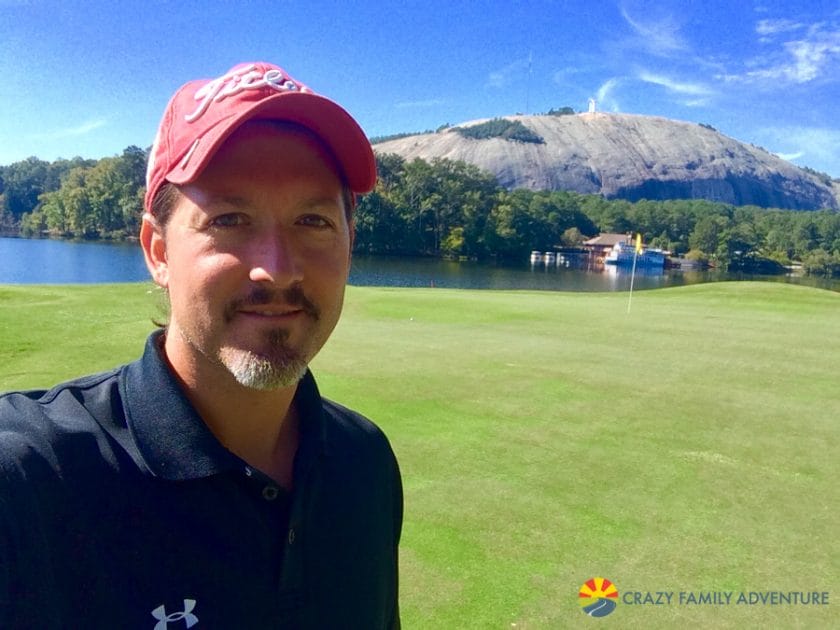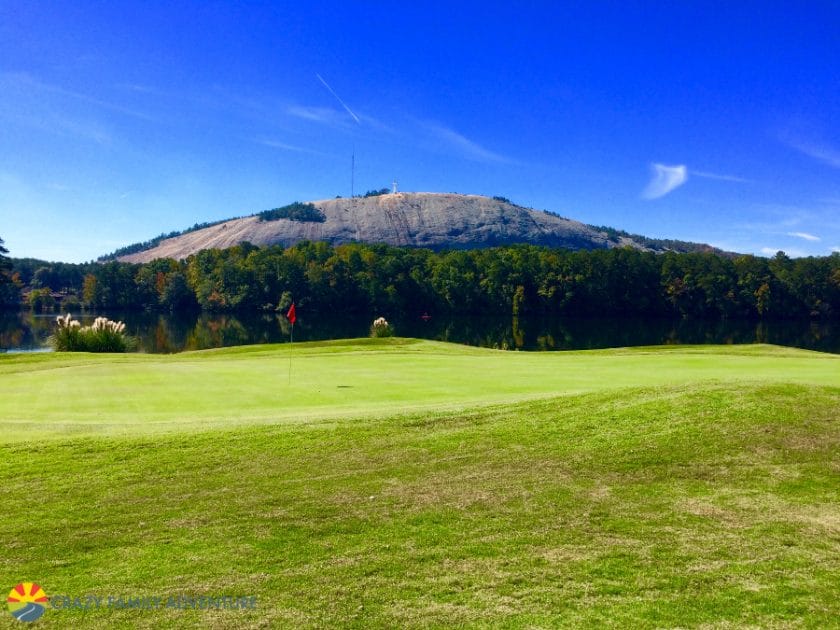 The course was beautiful and it gave me a little "me" time which is always nice! I found a great deal on golfnow.com, so check there first.
We weren't sure if we were going to be able to make it to Stone Mountain after we visited Atlanta, but we are really glad we did! We highly recommend it if you are looking for a family getaway that includes fun activities, nature, and relaxation!
Check out the Stone Mountain website for more information on accommodations, attractions, and to book your stay today!
Update:
Check out video of the hike on the mountain!
Disclosure: A big Thank You to Stone Mountain for hosting us on our week there. This in no way swayed my opinion that it is a great place to take a family vacation!
DISCLOSURE: This post may contain affiliate links, meaning I get a commission if you decide to make a purchase through my links, at no cost to you. Please read my disclosure for more info.