So I'm off on a flight to pick up our new to us RV in southern Illinois. Man, deja vu all over again. Just about 3 years ago I was doing the same to get our current RV in Miami Florida. All of those emotions of leaving our old house and throwing our lives into the total unknown have come back with a vengeance.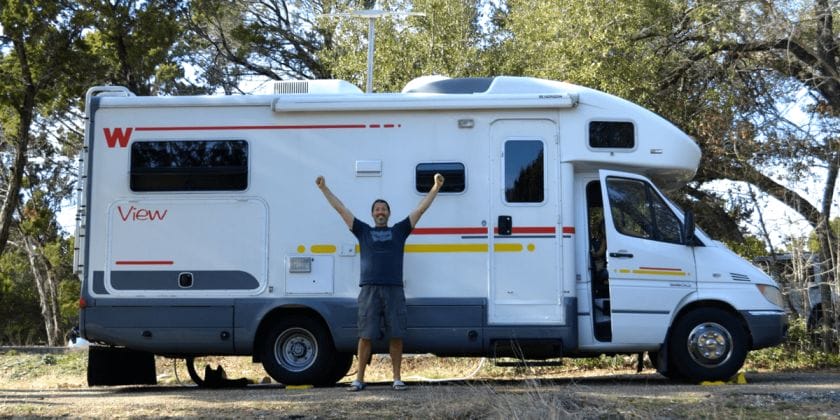 I haven't thought much about it until just a couple days ago. That's when it got real. We've been so busy going through all of our stuff to donate, sell or ship back to my parents, then remodeling the RV back to stock in hopes of selling it, then jumping through hoops just to get financing for the new RV, then driving from San Diego to Dallas in 3 days, we finally got settled into a nice RV park and it was time to lay down the cash for the down payment and buy plane tickets. All of a sudden the busyness stopped and it was actually happening.
Throughout all of this I have realized I haven't been the father or husband I want to be. I've put all of this preparation, planning and busy work ahead of being the dad I set out to be 3 years ago. Back then I chose to make my kids and family #1 and everything else secondary, but that hasn't been the case over the last month or two. I've been short, distant and demanding of them. That is definitely not how I want to be or how I want to make them feel.
Our goal with downsizing RV's, or I should say "right-sizing", is to put even more focus on our family and to get outside more together (a full post about this coming soon). We've been doing this over the past couple weeks because the weather has been great and we've been at some really nice campgrounds and it has been amazing. The kids can run and shout and play and I can join in or just watch them enjoy each other. In that respect, we've made the right decision with the RV we're getting and it will be amazing.
In other respects, like storage, sleeping arrangements, and overall space, I think we're batshit crazy! Although, going from a 2500 sq ft house to a 39′ motorhome seemed crazy at the time, and now we feel that was too much space, so I guess it's all a matter of perspective.
Speaking of perspective, as I write this, I have gotten such clarity of what I want to do going forward and, more importantly, what I don't want to do. I am ready to get back to being the father I want to be to my kids. The one that inspires cardboard construction projects instead of loathing them. The one that joins in on the wrestling matches instead of shouting for them to stop.
Lately I've forgotten that I'm just a kid at heart and that's what my kids love the most about me and that's what I want to be for them. Bryanna doesn't allow excuses, and I don't either, and that's why I will stop all this nonsense and just get back to the man, father and husband I've chosen to be. It's that simple as long as I make it my priority. The journey we're on won't last forever so I need to enjoy every second of it!
So if you've ever lost your way from the path you've chosen, just remember that the perspective and clarity you need can come at any moment, you just have to be ready for it and embrace it when it comes!
DISCLOSURE: This post may contain affiliate links, meaning I get a commission if you decide to make a purchase through my links, at no cost to you. Please read my disclosure for more info.