The #1 thing that stops people from living their dreams is FEAR. It almost stopped us from starting our Crazy Family Adventure. Several times.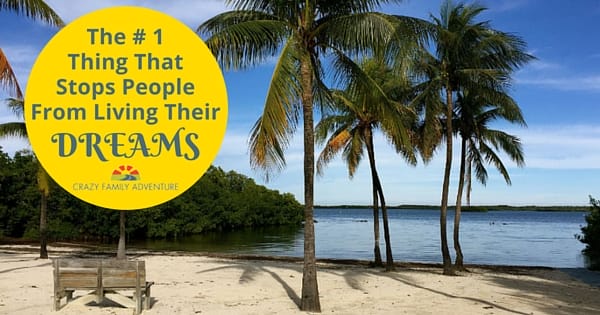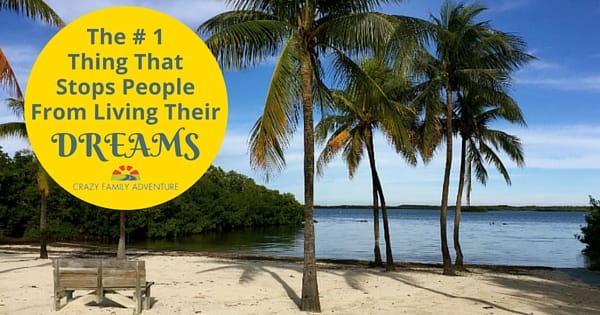 Where does fear come from?
Fear stems from so many places which is why it is so hard to manage and overcome. Here are a few examples of our fears:
Not having enough money
Not knowing how to do something
The unknown
Not knowing if you are capable enough
What people will think of you
Not being normal
Ruining our kids lives
These, and many more, are what holds people back from taking the steps to start living their dream life. I will tell you right now we were scared out of our minds throughout the whole process of selling our house, moving into an RV, and then starting our own business.
And I will let you in on a little secret. We are still SCARED out of our minds. We are starting to realize that it isn't about not being scared, it is about not letting the fear hold us back from tackling the things we want to do.
Yes, life would be easier if we were never faced with any fears. But that would also mean we would be living in fear of fear. We choose not to do that. Instead we want to push our comfort zones and see where that can take us.
This is not an easy process for us and there have been lots of fights, arguments, tears, and disagreements but each of those times has helped us grow as people and learn how to manage our fears.
I would be lying if I said I thought we were ever going to be past the fear. As parents, fear is a constant that never goes away. As a business owner it is always there. Yes, we can get better at ignoring it or learning how to cope with it. But it will always be there. Lurking.
Our goal is to learn how to handle that fear and turn it into a positive. We don't want fear to stop us from experiencing amazing things. And we don't want our kids to grow up thinking they have to be afraid of the unknown.
Being an entrepreneur and having our own business has opened a whole other avenue of Fear for us. We are 9 to 5ers. Either Craig or I has always had a 9 to 5 job with a consistent paycheck and benefits. Becoming business owners has been SCARY!
And I don't see that stopping any time soon. Instead we are seeing that if we face our Fears there are so many great opportunities out there. If we lived in fear of fear day in and day out we would miss out on so much.
I think part of facing this fear is accepting that we may not always be happy with the outcome, but we are seeing that going through the journey is all part of the process. And that from each fear we face we are learning more about ourselves and our relationship with each other and with our kids.
Now when fear starts to sneak in I will look it in the face and say STOP. I am not going to let fear determine my life for me but instead will continue to push through it.
Get over your fears and live your dream!
So what is your dream? Do you want to travel full-time with your family? Or maybe not full-time but you want to travel more? What is stopping you? It's time to face these answers, face the fears, and make your dreams a reality – not tomorrow or next year but TODAY!
If you want to learn how you can start your own Bridge Business so you can leave your 9 to 5 and start living life on your terms check out my Bridge Business Course.
If you want to learn more about how we afford full-time family travel check it out here.
DISCLOSURE: This post may contain affiliate links, meaning I get a commission if you decide to make a purchase through my links, at no cost to you. Please read my disclosure for more info.