Tucson, Arizona is a great family friendly travel destination in southern Arizona. It isn't as hot as Phoenix yet is filled with all sorts of amazing activities like kid-friendly museums, outdoor exploration, cultural experiences and stellar views. There are so many fantastic things to do in Tucson with kids.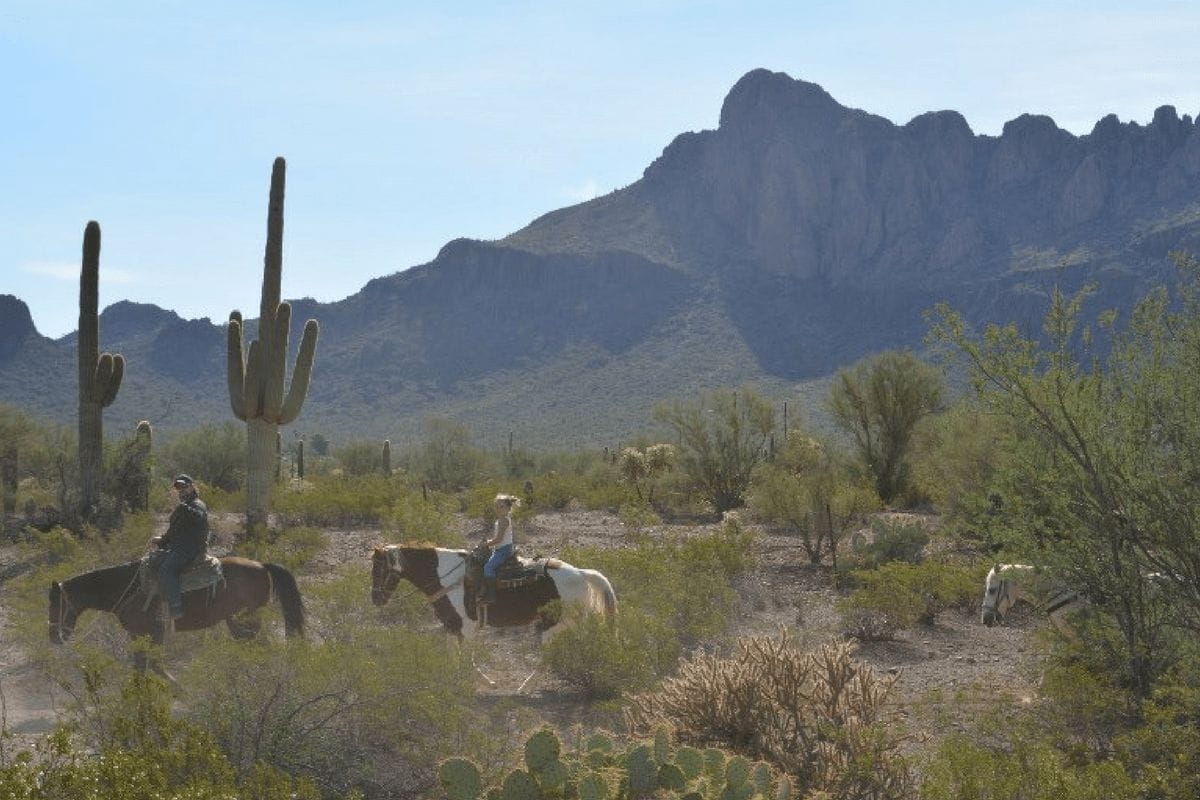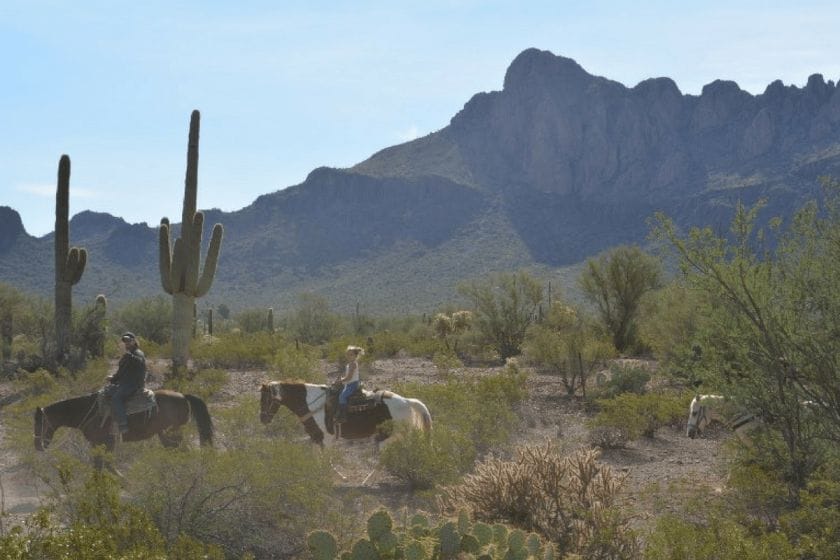 You won't want to miss Reid Park Zoo, Sabino Canyon the Biosphere 2 and all the delicious Mexican food!
Things To Do In Tucson With Kids
Here is a summary of the top things to do in Tucson:
Biosphere2
One of the 50 must-see wonders of the world!
Have you seen that Pauly Shore movie where they get stuck in a Biosphere . . . It is pretty amazing what they have built here and the ability to study Biosphere 1 (our earth) in such an in depth way is really awesome.
We had a guided walking tour of Biosphere 2 and with younger kids it was a little rough keeping them entertained, but that being said they did make it through. And hearing about everything they were doing there and getting a chance to see the basement was worth the tour.
They do have coloring books and crayons for the kids so I would recommend grabbing those at the beginning of the tour so you can take them out for your kids to work on if they get bored listening to the guide talking.
We had an amazing time riding horses to breakfast at the White Stallion Ranch which is a traditional dude ranch. They took us on a guided trail through the desert to their breakfast location. They had a breakfast of pancakes, eggs, juice and coffee ready when we got there.
You then get back on the horses to ride them back to the stables. Kids as young as 6 can ride the horses so if you have a younger one talk to the ranch to see if they would be willing to drive them out to the breakfast spot.
We would have loved to be able to stay at the ranch for an extended period of time – they have a pool, restaurant and cabins. We are definitely adding spending a week at a horse ranch to our bucket list of things to do in the future and recommend it for you list of things to do in Tucson with kids.
The staff was amazing with the kids, the horses were calm, this was the first time Carson, Melia and Cannon had ridden a full sized horse by themselves and the food was yummy!
Arizona Sonora Desert Museum
The Arizona Sonora Desert Museum is a zoo, natural history museum and botanical garden – where you can see plants that are native to the Sonoran Desert region. It was a great way to learn about the desert area we were staying in. While also being able to see a lot of the wildlife local to this area up close and personal.
To be honest we weren't overly excited to visit since we have been to a lot of zoos and the desert is the desert so how exciting could it be. We were wrong! It was a really amazing setup since you walk through the different kinds of deserts (did you know there were different kinds? I didn't!).
Plus they had a great selection of animals. We definitely recommend this as one of the top things to do in Tucson with kids!
If it is your first time being in a desert area we highly recommend it or if your family likes to learn about plants and animals.
Insider Tip: The desert gets hots so you will want to schedule this one for earlier in the day unless you don't mind walking outside in the heat!
The science center is on the University of Arizona campus and was a nice stop. It was small, but we had fun. They have a room full of hands on logic problems you can solve. Plus an amazing planetarium show.
It was also cool to walk around the campus and see what that was all about too. If you are looking for a museum to add to your list of things to do in Tucson with kids this would be a great hands on choice.
While you are here you may also want to check out the Arizona State Museum which is a anthropology and history museum. And the University of Arizona Museum of Art has some amazing art galleries.
A few other sites not to miss while in Tucson are Mission San Xavier del Bac, which is a historic Spanish Catholic Mission and Kitt Peak National Observatory, which is a United States astronomical observatory and located in the Arizona-Sonoran Desert.
Ride the Streetcar
While on the University of Arizona campus you can also jump on the streetcar to take a ride around the area. If your kids aren't use to streetcars or buses it would be a fun extra thing to do.
Plus it is free! Check out the schedule and routes here.
Presidio San Agustin Museum is a re-creation of the Tucson Presidio built in 1775. It was a nice surprise since the building you enter is off of the street and has a small gift shop area but as you head back it opens up to a huge area that shows you how early Tucsonians would have lived.
The docents were great and gave a tour that worked out well with the kids and then also had activities and games for the kids to play. The same ones the kids would have played back in 1775! They also have an original Sonoran row house and a prehistoric pit house.
Here they are making paint out of dead bugs!
We have been to a lot of National Parks and it is also amazing to see how different each one of them are. Saguaro is filled with beautiful Saguaro cactuses some of them taller than 2 story houses with 21 arms sticking out all different ways. It is such a beautiful Arizona National Park.
The saguaro cactus is a symbol of the Sonoran Desert. It is a slow-growing cactus that can live for over 200 years. The saguaro cactus provides food and shelter for a variety of animals, including birds, insects, and mammals.
It was really hot the day we were there so we didn't attempt any hikes, but instead drove through the park and the number of cacti we saw was really an amazing sight. When looking for things to do in Tucson with kids you don't want to miss visiting this National Park!
Insider Tip: It gets hot during the day in the desert so plan to visit in the morning if you want to get out and hike. Or else you will most likely be taking in the cacti from the cool air conditioning of your car!
If you plan to visit more than one National Park in the year it is worth it to get the Annual National Park Pass – The America The Beautiful Pass!
Kartchner Caverns State Park
If you love caves – or have never been – and want to take a day trip from Tucson, AZ then head to Kartchner Cavern State Park in Benson, AZ to see the beautiful limestone cave. The visitor center offers 2 different tours.
Be prepared you can not bring ANYTHING in for the tour. No purses, cameras, anything that might swing and hit the wall. And you can't touch ANYTHING. If the kids accidentally touch a wall (which ours did) you have to tell the guides so they can mark it and then clean it to preserve the cave.
I totally support why they do this and appreciate the fact they are trying to preserve the living cave. But with kids this can be a challenge. So be ready for it.
Beyond that the cave was really cool and pretty amazing. So if you have the time we recommend making a visit.
Once you are done with the cave tour you can explore the Visitor Center and surrounding area. They also have a cafe, gift shop and small museum.
Pros and Cons of this trip: It is hard to keep little kids from touching anything so that makes it a bit stressful. Pro – the cave is amazing!!
Taking about an hour road trip south of Tucson you can visit Tombstone. It is a very authentic old west town with locals who dress the part. They have shops, restaurants, and also gunfight – stunt show – reenactments. Here is a tour you can take to learn about Tombstone, the OK Corral, gunfights, history and more!
If you are looking for a more hunted tour check out the Old West Ghosts Haunted Walking Tour (kids welcome) or the adults only haunted tour!
Looking to go from the Phoenix or Scottsdale area? Here's a complete tour that will take care of all the driving for you!
Here is a great list of other things to do in Tombstone.
Pima Air Space Musuem
Another place to visit is the pima air space museum – an 80 acre space and aviation museum.
Sabino Canyon
If you are looking for some great hiking trails check out Sabino Canyon. If hiking isn't your think they also have a tram.
Reid Park Zoo
If your kids are into animals and like the Zoo be sure to check out Reid Park Zoo!
Take a stroll through the beautiful Tucson Botanical Gardens.
International Wildlife Museum Tucson
A natural history museum located in Tucson.
Mini Time Machine Museum of Miniatures
An educational and interactive museum about miniatures.
Children Museum of Tucson
Super kid friendly and good for young children – plus air conditioning for hot days. Be sure to check out their special events (and birthday party and summer camp info if you are from the area).
Mt Lemmon
Hiking in the summer and skiing in the winter.
Tempe, Arizona
If you are looking for a day trip check out all the fun things to do in Tempe, Arizona!
If you are looking for tamales, this is the place to go! It is a semi fast food type of restaurant so it doesn't have to be a big sit down dinner. The tamales are great so definitely add it to your list of stops.
Epazote at Hilton Tucson El Conquistador
Even if you aren't staying at the hotel you will really enjoy dinner here. Located in central Tucson, you can sit out on the patio under the lights and stars and the atmosphere is so relaxing. The food and drinks were really good too!
El Charro was established in 1922 and is the Nation's Oldest Mexican Restaurant in continuous operation by the same family! They offer traditional Sonoran cultural style and innovative Tucson style Mexican Food and everything is yummy.
When in Tucson you want to enjoy a good Mexican restaurant and El Charro is it! They offer 3 locations with one in downtown Tucson.
When in Tombstone, stop at Big Nose Kate's for an olden day western style meal. They had the movie Tombstone playing on the TV's and a life musician along with cowboys walking around with props for pictures. The food was OK, but the ambiance was worth it.
Hotels
Both of the hotels we share below are top resorts with water parks in Arizona. A win for families!!
Hilton Tucson El Conquistador
The Hilton Tucson El Conquistador is something you have to see to believe. Placed on 350 acres of high desert at the base of the scenic Pusch Ridge. The pool has a slide and splash pad area that we all enjoyed. Plus there is a big grass area where the kids can run and play – always a plus at a hotel!
As mentioned above the restaurant was really good and the scenery as you sit in the hot tub is pretty amazing as you look up at the mountains with the stars above you!
Another great location in Tucson is the JW Marriott Starr Pass Resort. They have multiple pools including the lazy river and a water slide. Plus a splashpad, hot tub, and 2 other large pools. It definitely has that full blown resort feel plus there is a beautiful golf course.
The breakfast buffet is amazing and I would imagine dinner and lunch are as well. There is also a Starbucks on site which is always nice :).
Campgrounds
Catalina State Park
If you are coming into Tucson in your RV we recommend Catalina State Park. They only have water and electric hook ups, but it is still worth staying at. Coming in to the park gives you a break from the craziness of the city and has a very calm and relaxing desert vibe to it.
The Santa Catalina Mountains as your backdrop also gives awe inspiring views. While you are here if you have time you can visit Mount Lemmon, which is the highest point in the Santa Catalina Mountains.
While we were there we saw beautiful sunsets and also multiple roadrunners, coyote, snake skin, and jack rabbits.
Sentinel Peak RV Park is right in Tucson so it offers a great location to visit the city. West Pinal Park is over an hour from Tucson but could be an option if you want a dark sky environment.
VRBO
Being a snowbird area, there are definitely Airbnbs available throughout the year. This can be a great option if you're looking for full kitchens or something to sleep a large group.
Click here to see some great VRBO properties in Tucson.
We really had no idea what to expect when we visited Tucson and were definitely surprised by everything the city, Catalina foothills and surrounding area had to offer. With so many things to do in Tucson with kids, it is a great family travel destination!
If you have any additional things to do in Tucson, AZ with kids let us know in the comments below.
Other great places to visit in Arizona: Lake Havasu and Tempe, Arizona. Plus all these fun things to do outside in Phoenix. Or check out Montezuma Castle National Monument.
Looking for more warm weather winter destinations for your family? Check out this post by Trips With Tykes: Top 17 Warm Weather Destinations for Families Escaping Winter
Pin it for later:
Thanks to Visit Tucson for hosting us on our stay. All opinions are my own.
DISCLOSURE: This post may contain affiliate links, meaning I get a commission if you decide to make a purchase through my links, at no cost to you. Please read my disclosure for more info.