Laundry, Laundry, Laundry . . . the never-ending task! With 6 people in the family we have a decent amount of laundry. At the house I had a really nice front loading washer and dryer. But it never felt like I could get caught up on the laundry! In the RV I have a mini Front Loading washer/dryer (it is an all in one unit). When we first bought the RV we though we were going to take the washer/dryer out so that we could put long bunk beds in. I am SOOOO glad we didn't!!
Here is a picture of the unit that is in our RV. It is in the back bedroom – in a closet right next to one set of bunk beds. Sorry for the weird shadow – the doors don't quite open all the way :).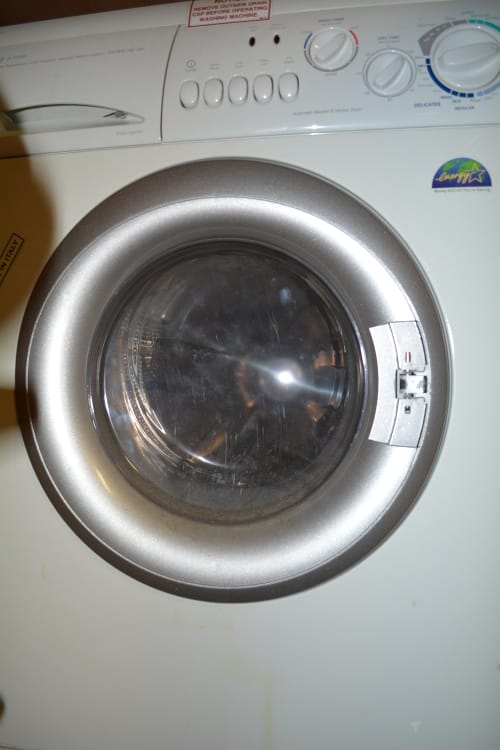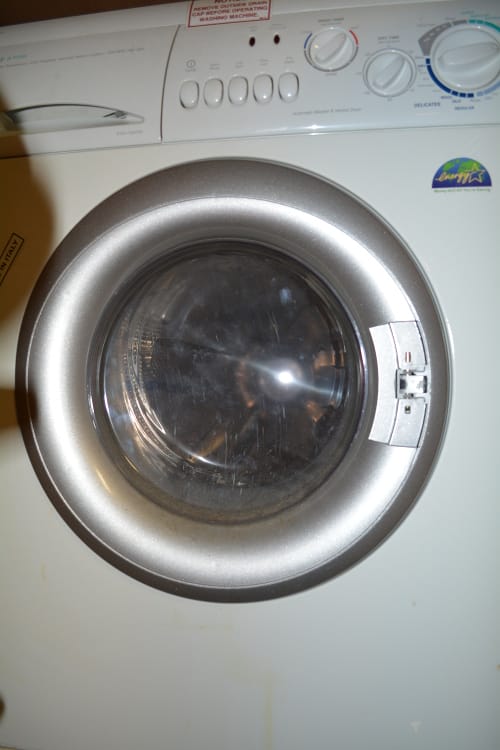 Here are my tips for keeping your laundry down:
1 – use the same towels for about a week – just hang dry in between showers (towels take up a lot of room in a washer and dryer)
2 – living at a campground the kids can wear the same outfit 2 days in a row – yes I said it! My kids wear the same clothes 2 days in a row! Obviously if they get really wet or really dirty I will change their clothes – but when it is dry out they can easily wear the same clothes for 2 days in a row. This drastically cuts down on laundry.
3 – Air dry all bathing suits right when they are done being worn. With all the chlorine in pools bathing suits really don't need to be washed that often if you get them drying right away!
4 – do the laundry every day – and put it away every day!
I do RV laundry everyday – the machine runs for a good 2 1/2 to 3 hours – but since it is an all in one machine once I start it I just leave it and when it is done they are washed and dried! The drying cycle takes about 100 minutes to get everything dry – but it works! I can fit one outfit for each of us in there at a time. So if I do laundry everyday I am able to keep up with it.
If I need to wash sheets, blankets, and a lot of towels I go up to the laundromat at the campsite but for $3 per load I try not to do it too much! Or I just bring everything to my parents – thanks Mom and Dad!
The campsite we are currently at has full hookups (meaning we have water, electric (50 amp), and sewer) so I have all the water I need and it empties right out of the RV. If we were at a site that did not have water and sewer – which a lot of state parks and national parks don't have – then it would be harder to do laundry everyday and I would really have to plan on how to make it work.
But for now we have a process that works and as long as I do a load every day and put it away right away it works great! And I am pretty much ALWAYS caught up on laundry – which is an amazing feeling!!
DISCLOSURE: This post may contain affiliate links, meaning I get a commission if you decide to make a purchase through my links, at no cost to you. Please read my disclosure for more info.