'Our Adventure' posts are a journal of our full time family travel adventure, where we currently are, what we are up to, and how things are going behind the scenes. We would love to hear your comments and questions – please leave them below in the comment section. Thanks!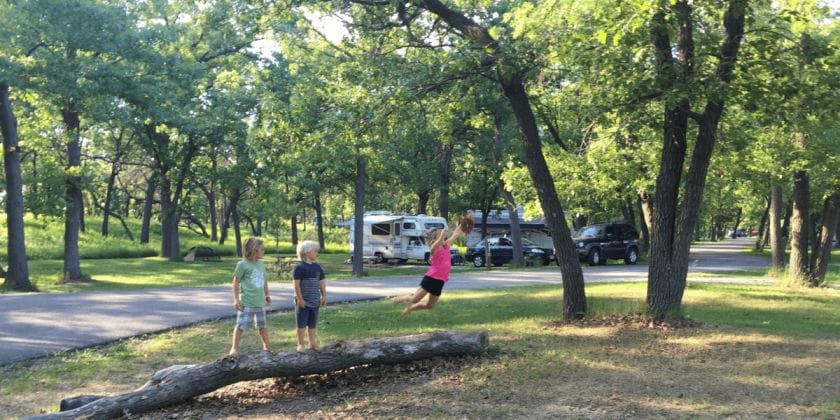 This weekend was our Friends camping weekend! We had planned it back when we were in Florida for one of the weekends we would be home this summer. We got the perfect campsites at Illinois Beach State Park right on a cul-de-sac!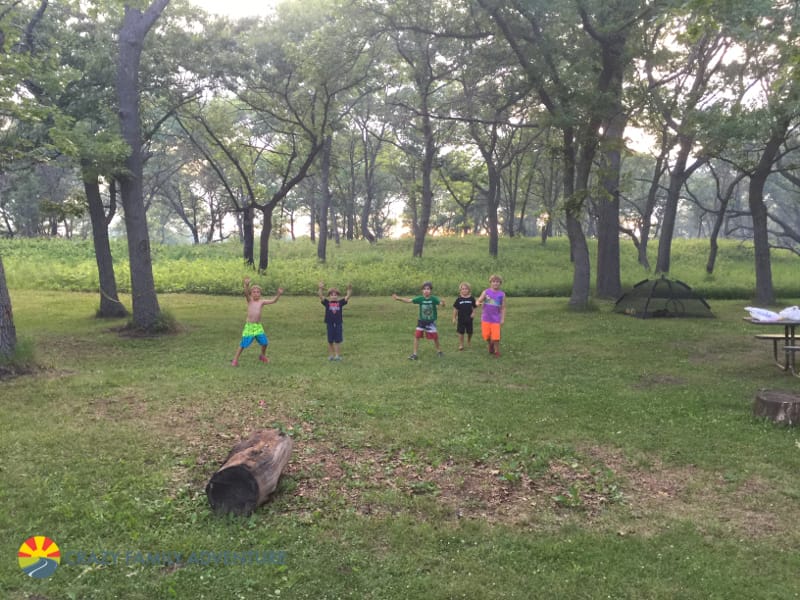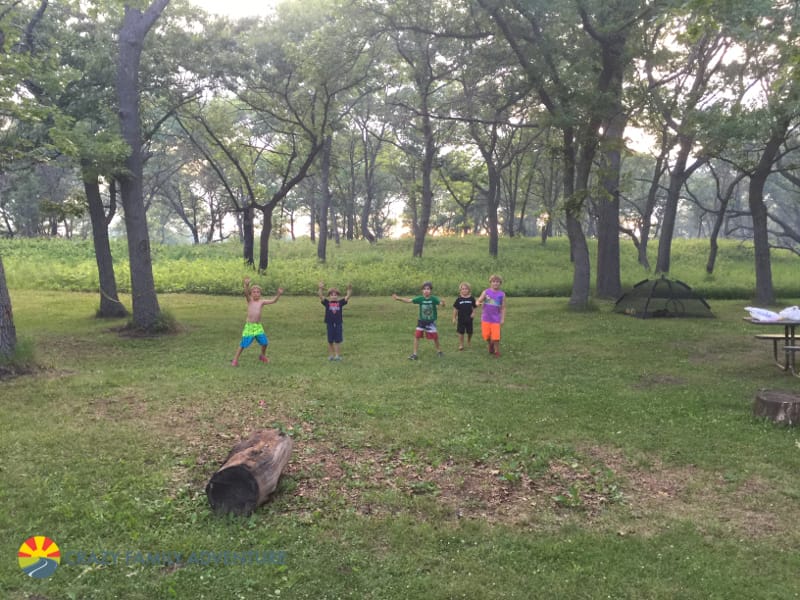 We had an amazing time! The kids ran around from early morning to late into the night enjoying playing outside and bouncing back and forth between the tents and RV's. We were all so happy with how well the kids got along. Plus the parents got a chance to sit back, relax, and talk. It was great!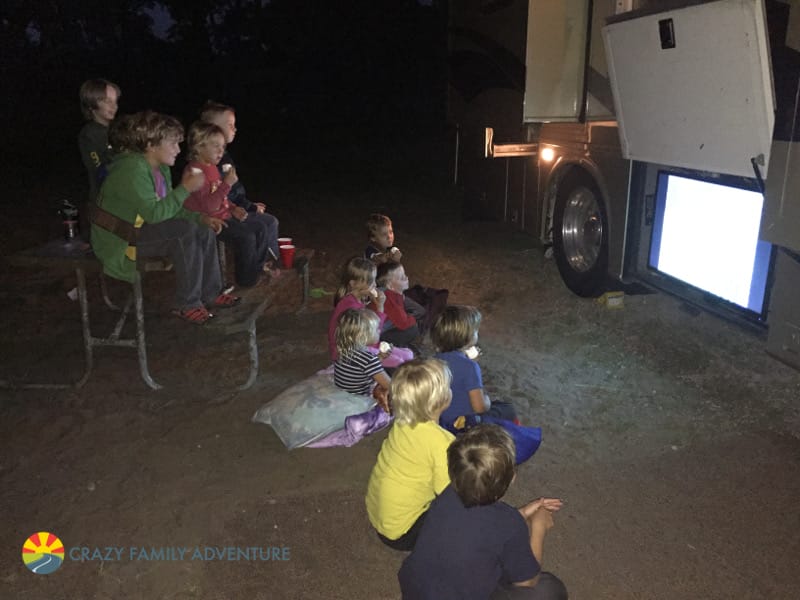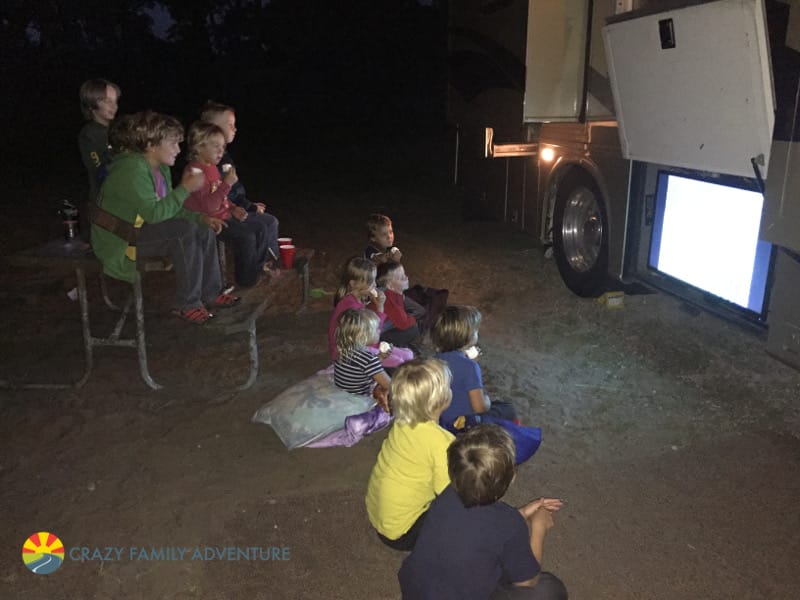 By far the best thing about being home is getting to hang out with our extended family and our friends. When you hit the road and spend time away from people it definitely helps you appreciate them more and realize how amazing your friendships and friends and family really are!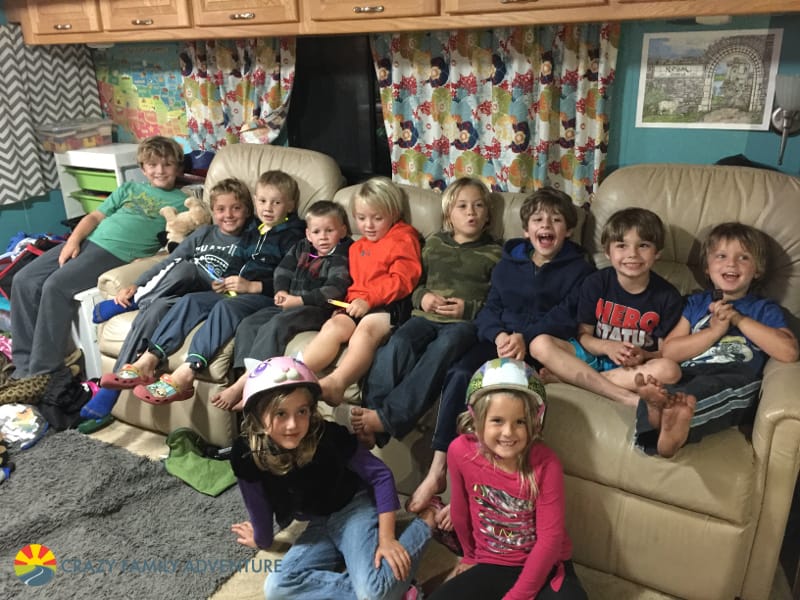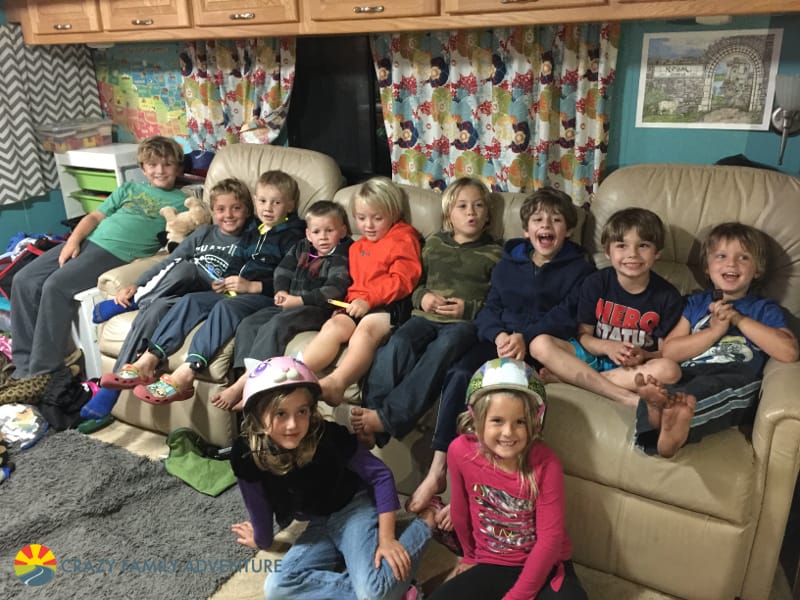 During this time we have also signed the kids up for some gymnastic classes, cheerleading camps, and are looking into an American Ninja camp. It is fun to be able to do some of these normal activities. Then on the other hand it can be confusing.
We are back to living this weird life of living in an RV at a campground but doing the same things we would do if we were living in a house here. It can be very confusing. It also means we have to stop ourselves from jumping into old habits – hello Target . . . and accumulating things.
It definitely pulls on all of us to question if it is was right to give it all up to travel. And gives us a glimpse of what life would have been like had we not done this. We know it would have been a good life filled with amazing family and friends but we also know that this itch to see and do more would not have gone away.
Join the Our Adventure email list to get notified every time we post a behind the scenes look at our Crazy Family Adventure and what full time family travel really looks like.
Missing family and friends is always the hardest part about traveling full time. It never goes away and always keeps that yearning for home there. I know that isn't the case for everyone that travels so we know we are lucky that we have such amazing family and friends! Throughout our travels we will always strive to maintain these amazing relationships and with the help of the internet we hope our kids can continue to grow the relationships via skype, hangouts, and whatever new tool comes out in the future!
If it wasn't for our amazing family and friends we would be back on the road already. Well that and all of the doctor, dentist, and dmv appointments we are fitting in. We love this place we call home (Kenosha, WI) but now that our minds have been opened to all the amazing experiences that are out there – outside of our comfort zone we hunger for more!
We keep recommending that our friends and family join us on the road and we will never quit trying to convince them!
The camping weekend was definitely the highlight of the week. We are suffering for it now with tired and cranky kids but anyone that has been on a friends and family camping weekend can understand that!
Now we move on to getting the RV ready for a showing on Saturday. We are in the process of trying to sell it so that we can downsize. This means going through the RV and getting rid of more things, cleaning it, touching up paint, washing walls, etc. We are excited about the idea of downsizing but also realize all the work that is in front of us!
We will keep you posted on how the showing goes and if we will be changing RV's soon.
Other than that, the week has been filled with working, hanging out with the kids, and figuring out how to fit everything in! We can't believe how fast our time being home is going and we are trying to see our friends and family as much as we can. Because we know before we know it we will be getting ready to leave for Glacier National Park!
Forgot to mention our Sliding Rock post is going crazy online and has been used in an Insider Travel video and also a Weather Channel video. The other day Craig went out to check out the weather and there it was, our video – that was weird! Luckily both places asked us if they could use our video and gave us name credit so that was great.
We were also interviewed for the Kenosha News and the article is suppose to be in the paper this weekend. We are excited to see it and see how the pictures and article turn out.
This next week will be filled with more family and friend time, Craig has jury duty (go figure – how did they know we were back in town??), and continuing to work on building our businesses, while also finding family time to just hang out and reconnect as a family!
That's all for now, thanks for joining us on our full time family travel adventure!
DISCLOSURE: This post may contain affiliate links, meaning I get a commission if you decide to make a purchase through my links, at no cost to you. Please read my disclosure for more info.