One of the reasons we started to look into making a life change was the desire to make our life more simplified. We had built this amazing house on a half acre lot and had tons of toys and things, but all of that started to feel so suffocating.
The basement storage was overflowing, the house was filled to the brim with toys, crafts, books, clothes, etc. We could only fit one car in our garage due to all the stuff we had. It was getting to be too much.
This started the conversation around what other options were out there. Everything we talked about came with this idea of downsizing. It was quite the adventure to downsize from 2700+ square feet, with a full basement and garage, but that is for it's own post.
Now that we have downsized to everything we own (minus 4 bins in my parent's storage unit) in our 39 foot motorhome, we have learned a few tricks to keep things simplified.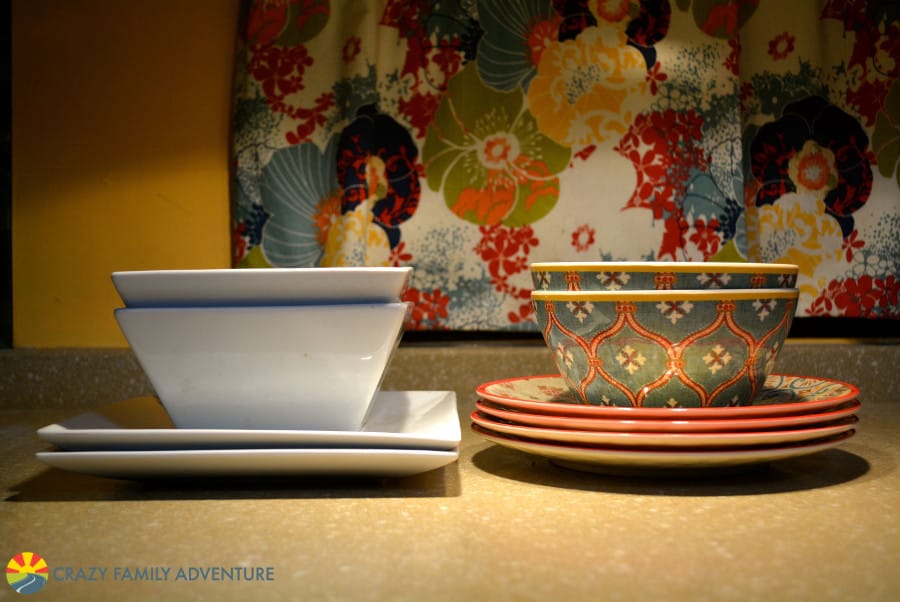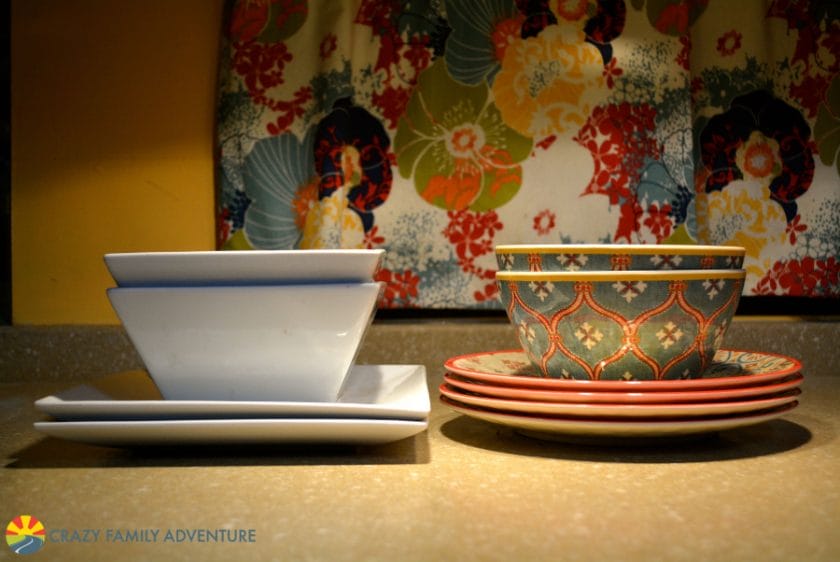 1. Plates, Bowls, Cups, Silverware
We really only need 1 plate, 1 bowl, 2 cups, 2 sets of silverware for each person you have in your home. When we emptied out our kitchen we were amazed that we had accumulated over 40 cups of all different sizes. Most of them had dust all over them.
Lesson learned. We didn't need all of the extras. Yes, there may be times when you entertain or have people over, but that is when you can buy paper plates, cups, etc. If you entertain a lot and don't want to buy disposable, then put a small bin together with extras that you only take out and use when you need it. Or better, yet ask people to bring their own when they come over.
This has really simplified the amount of dirty dishes that we have. Plus, it has helped to train us better in washing everything right after we use it or when we need one since we don't have a whole other stack of clean ones to grab from.
2. Water Bottles
All 6 of us have Contigo water bottles and it is the bottle we drink out of when we are at home or if we are out and about. So again, we don't need a ton of glasses during the day because everyone has their water bottle that they use.
Plus, we mainly just drink water so we can keep the water bottles filled with water all day and we are good to go.
3. Clothes
We all had WAY too many clothes back in our house. We had clothes that were collecting dust that we hadn't worn in years, but just kept shoving to the back of the closet. Moving into a small space pushed us to do a deep clean of our clothes and to be honest, there has not been one thing I have gotten rid of that I wish I hadn't.
Our wardrobe is pretty basic since we don't have to go into work. It is pretty much beach bum vacation kind of clothes. If we were to move to a cold climate we may have to buy a few things, but for the most part I think we would be fine.
For us it comes down to 4 pairs of shorts, 10 shirts, 5 tank tops, 4 pairs of pants, 5 long sleeve shirts, a few nicer outfits, a couple sweatshirts, and swimsuits and that is about it. Those numbers aren't exact for each person in our family, but you get the idea. We don't have a lot, but it works.
We have a washer/dryer in our RV so if I stay on top of that and wash clothes every day or every other day, it is plenty of clothes for all of us. We do wear the same clothes multiple days in a row or more than once without washing if at all possible.
For the kids they may go 2 or 3 days in the same clothes. Assuming they haven't gotten them covered in mud or sand. They will also wear their clothes for the next day to bed at night. They don't wear pajamas. Saves the hassle of having to fight them to change in the morning and saves us room!
If you are a shoe lover or love the idea of planning really cute and different outfits every day this may be a stretch for you, but I really think you could get a system in place that works!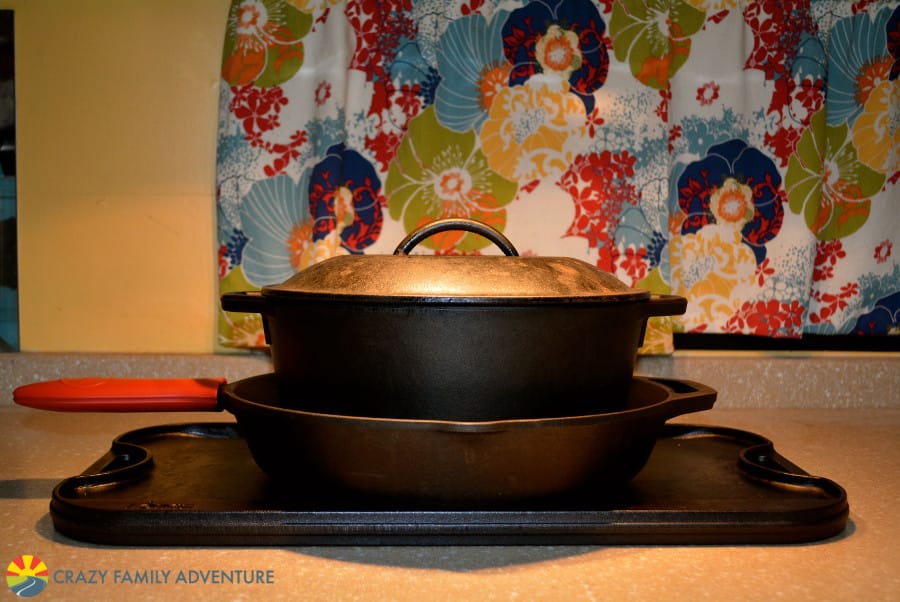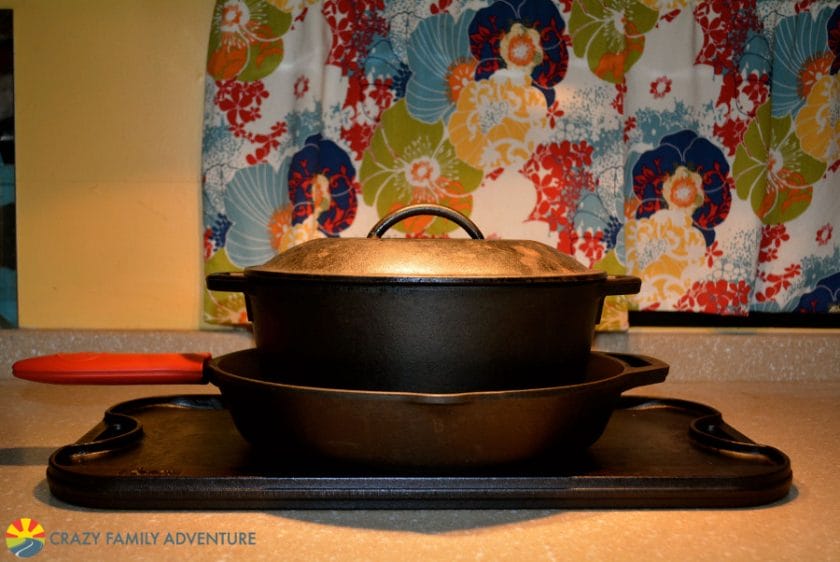 4. Cooking
When we moved into the RV, we went through all of our cooking items and narrowed it down to only the things that we used on a consistent basis. This did mean we kept the donut maker since we use it a lot :). But we got rid of the huge Wok we had and the toaster oven that we had never used.
We also got rid of all of our pots and pans and replaced them with 3 cast iron pieces. We have a cast iron skillet, dutch oven, and griddle. There have been only a hand full of times where we wish we had something more than that.
We do have some baking items, pans, 9×13 glass pan, mixing bowl, muffin tins, blender, toaster, etc., but again, it's just the bare minimum that we use pretty consistently. It just really simplifies our whole kitchen to only have the pieces that we use regularly.
5. Eating
Our eating is very simple. We don't do large elaborate meals. We do simplified meals with just a hand full of ingredients. And we repeat those same meals week after week. This doesn't mean they aren't healthy. We try our best to have the least amount of processed foods that we can.
One of our staples is tacos/burritos. Craig and I are vegetarian so we do a bunch of beans and corn with some taco seasoning. Then for the kids we will cook up some ground beef. Then we put everything together in a tortilla or over chips, add some cheese, and salsa and we are good to go!
Another one is basic organic pasta with red sauce or butter and parmesan cheese and then a stir fry of frozen vegetables. It's not only about simplifying, but to save time and money as well. It works for our family.
6. It Never Ends
We are always simplifying our lives more and more. Just last week we donated 4 big garbage bags full of stuff. It felt so good to free up more space. We are always doing this and don't think it will ever end if we want to keep living a simplified life.
The reason it never ends is that we still accumulate things. Not at the rate we did when we were in a house, but we still get stuff now and then. Our twins recently had birthdays and with Christmas just a few months ago, we added quite a few toys to the mix.
We go through everything with the kids and decide together what we should keep and what we should donate. It's a process, but our kids are getting better at letting go of things they no longer need or play with.
7. Helping Kids Agree To A Simplified Lifestyle
We do run into the challenge of our kids wanting either big things (a gymnastic beam), more toys, more clothes, etc. And it is an ongoing conversation to help them see why we don't always buy more. We did however find a foldable gymnastic beam that we got for my daughter for Christmas. So there are times we just buy big things and make it work.
Overall we are consistently having the conversation with the kids around why we don't have more and why that is a good thing. It means Mommy and Daddy can work less, there is less cleaning, we have more space. And it has been amazing to watch them accept it and embrace it.
I am interested to see if as adults they keep their lives simplified or if they will be people who go out and buy a lot of things. But hey whatever makes them happy. At this point we feel we are showing them a lifestyle that could work for them as adults. While also showing them why we are choosing to live this way.
In Conclusion
It really comes down to us having 1 and if at all possible only 1 of the things we need per person. So 1 towel, 1 sweatshirt, 1 pair of sunglasses, 1 backpack, 1 cooler, etc. We do all have 2 maybe 3 pairs of shoes but we are very conscious of not getting more then that.
It isn't always easy to keep things simplified, but the more we do it, the easier it gets and we definitely feel like we are going in the right direction for our family. It has also gotten easier to walk through Target and Walmart and not pick up 15 extra things! I have it down to about 5 and hope to be at 0 soon!
Keeping our life simplified allows us to focus more on each other versus all of our things. Having a lot of things takes a lot of energy to maintain, clean, buy, etc. It works for us and we will keep pushing ourselves to simplify more and more.
Disclosure: This post contains one or more Amazon Affiliate links. Thank you for supporting us on the road!
DISCLOSURE: This post may contain affiliate links, meaning I get a commission if you decide to make a purchase through my links, at no cost to you. Please read my disclosure for more info.