Right down the street from where we stayed in Orlando they had Orange picking! We were super excited to go to check it out and we had heard that they had AMAZING orange slushies too.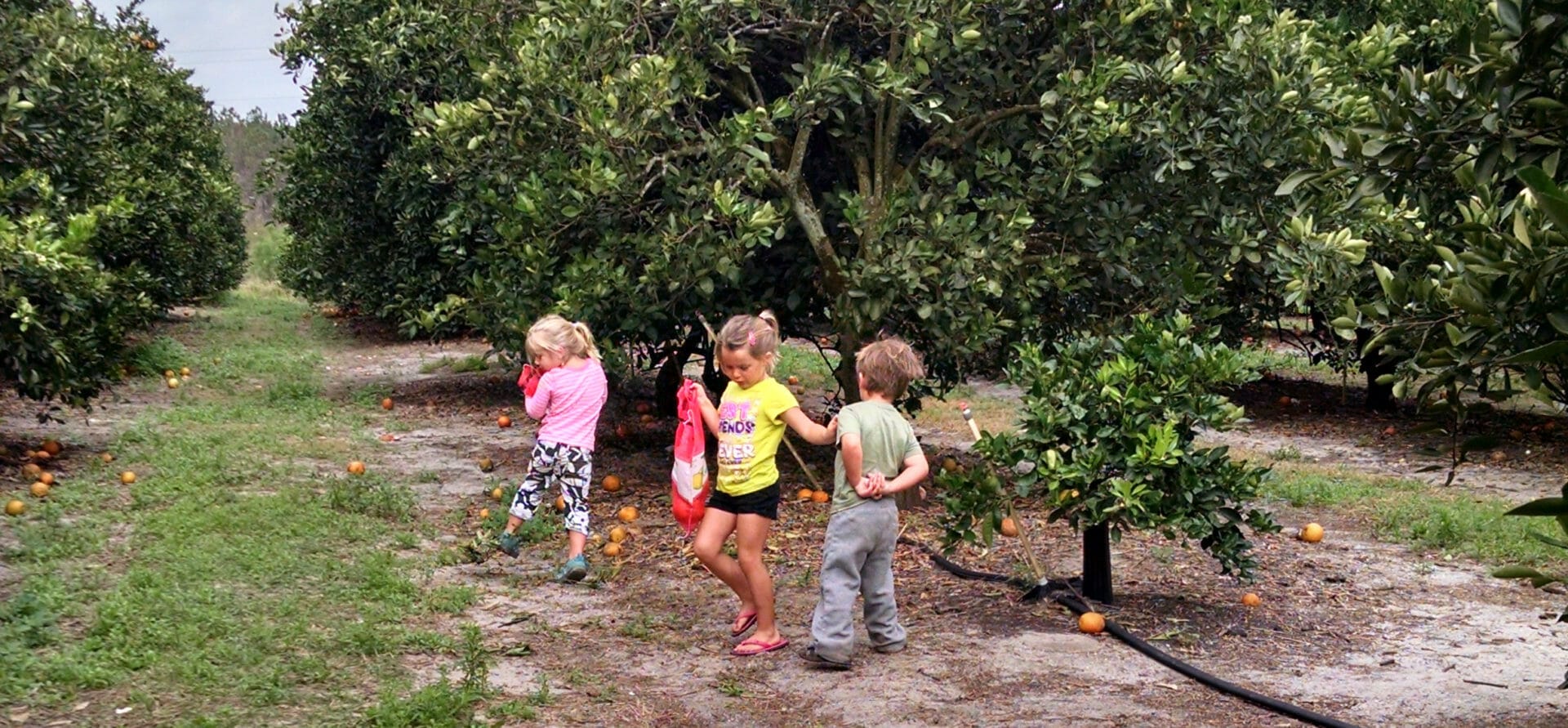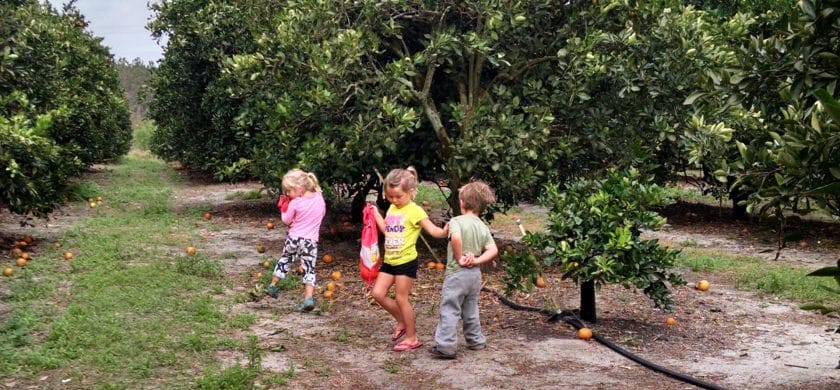 They have some great photo ops right by the parking lot. A giant shark you can stick your head into and a pier you can walk out on where it looks like there are alligators and birds. But if you look closer you will have to decide for yourself if they are real or not! The kids swore they were.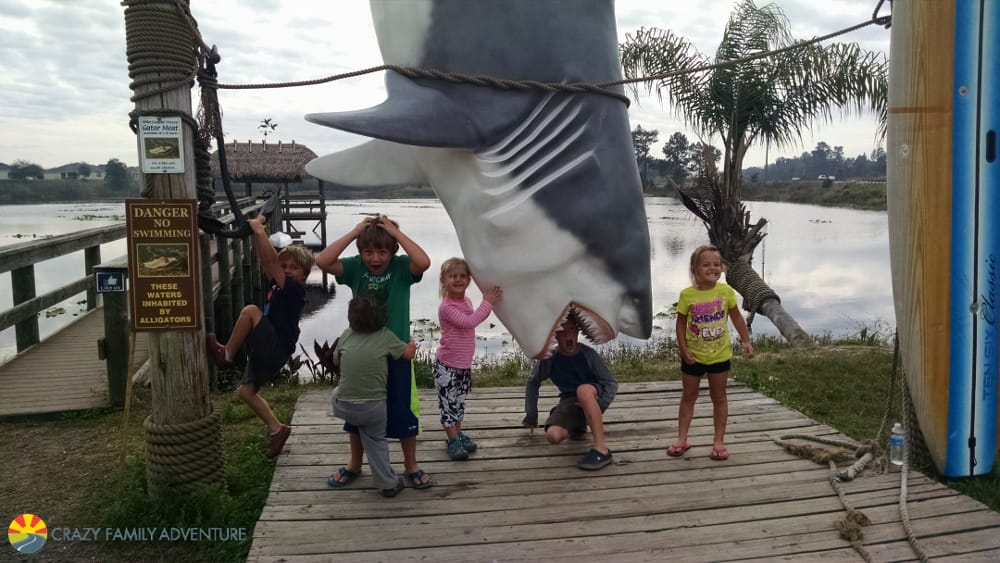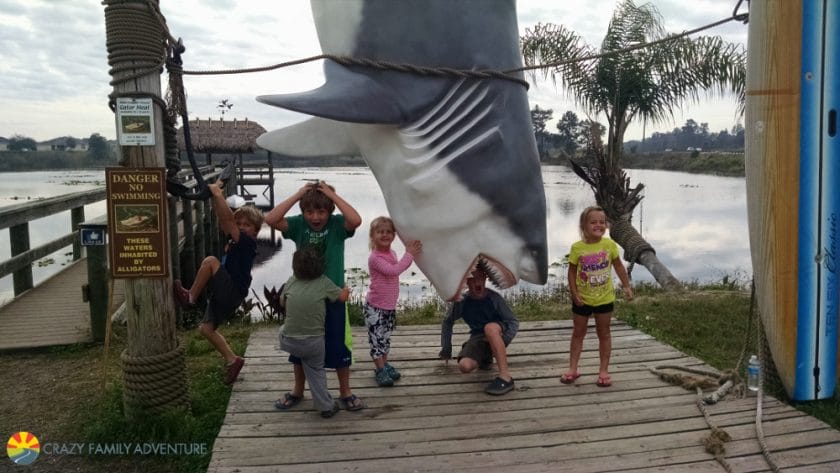 The entrance is a store that has all sorts of things like: oranges, limes, lemons, homemade jams, candies, and chocolate shaped alligators. You also get to sample the oranges which was very helpful for us to know which ones we wanted to pick.
When you are ready to pick Oranges you can choose the size of bag you want. You can also grab an extra bag just in case. Then if you don't fill one of the bags you can return it. Or you can fill from the pre picked fruit that they already have.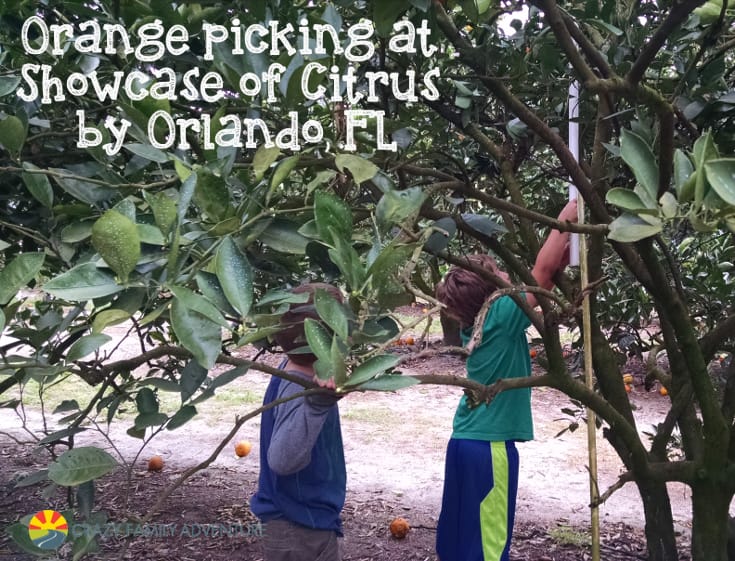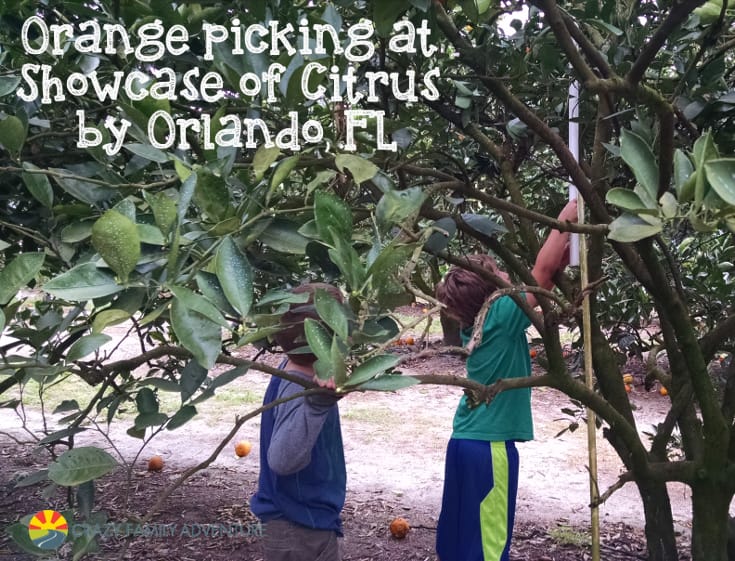 They have wagons so we grabbed one and headed out. If you have ever been apple picking it is very similar. Except the oranges take a little work to get off of the trees. They also give you orange picking sticks. But they take some skill to master! You have to reach way up and then twist it into the basket to get the orange off of the branch.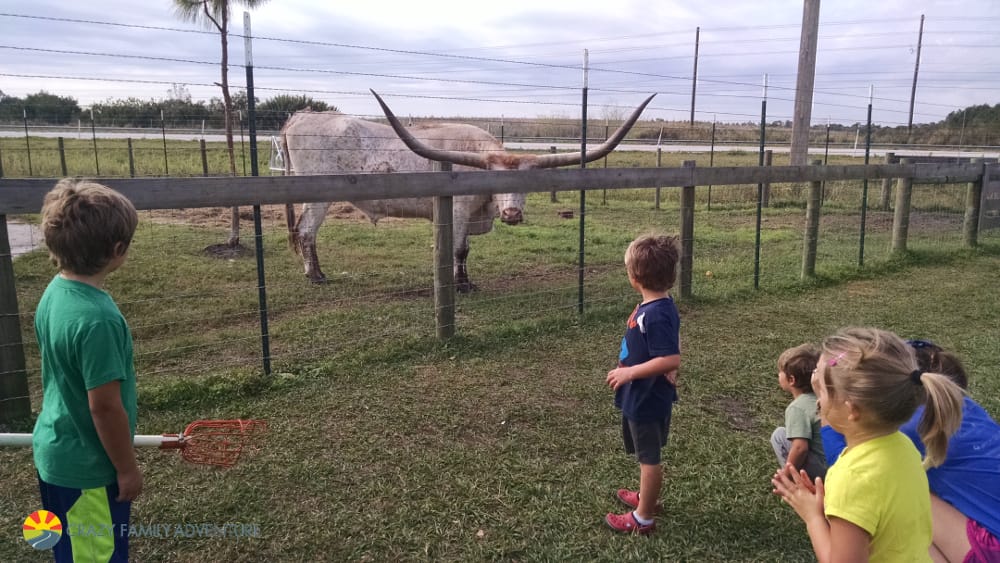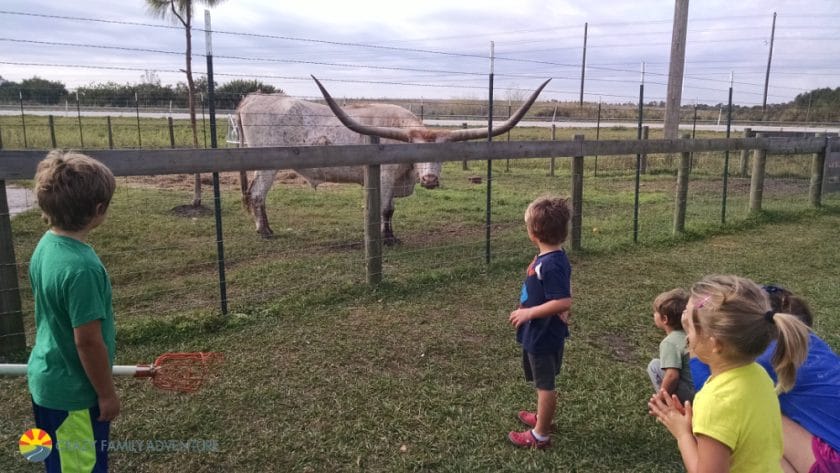 Once we were done we headed back and made a stop by the animals. They had a huge longhorn bull. Tip: Don't try to pet the bull. He seemed really friendly and kept following us around and snorting for us to come back by him. But when I tried to go closer he almost got me with his horns!
Next stop was the Orange Slushies!! They were yummy – but they were a little tart for the kids. I would recommend getting one for everyone to split. The kids barely drank half of theirs. We also stopped to play at the park there before we left.
They have a swamp safari/eco tour that takes you on a huge 4X4 truck through their 2500 acre property. You can see animals, plants, trees, and learn about the history of their citrus estate . We chose not to do that this time. But it looked really cool!
Showcase of Citrus: www.showcaseofcitrus.com
Cost: FREE – you only pay for what you pick/buy. And you would pay if you did the monster truck tour.
Hours: Open 365 days a year from 8am until 7pm
What to pack: I recommend bringing wipes and napkins! You get really sticky if you sample any of the oranges while you are picking. Wear shoes that can get dirty/sandy.
Family friendly: Yes! This would be a great trip for any age.
Busy: We were the only ones out picking. But I heard if you want to do the swamp safari/eco tour you should make reservations – especially if going on the weekend.
Length of stay (how long did we stay there): We were there a couple of hours. If we did the swamp safari/eco tour it would have been longer.
Money: Cash and Credit Card
Stroller: It is stroller accessible. However there are wagons you can use when picking so you don't need to bring your stroller.
Food: They had some food you could buy – including the yummy orange slushies! They did have a picnic table out back by the playground and I am sure it would be fine to bring snacks or lunch in. Or else you can just sit down and enjoy the oranges you just picked and bought.
Bathrooms: They only have one stall inside the shop and then another one out back.
Discount: There was a groupon going on for the swamp safari/eco tour and I was told they had other coupons in fliers that you could get locally (however I did not look for one).
Breastfeeding: There is a picnic table by the playground which would work well since you could watch other kids while you were nursing.

RV accommodating: Parking lot was a decent size with bus parking. So a RV/Trailer would fit.
Recommend: Yes! The oranges we sampled were yummy! The one's we picked were ok. I don't think we really knew which ones were best to pick so I recommend asking.
DISCLOSURE: This post may contain affiliate links, meaning I get a commission if you decide to make a purchase through my links, at no cost to you. Please read my disclosure for more info.