After 8 years of living, working and traveling full time in an RV we have moved back into a house. We could sense this was coming over the last year or so. The kids are now 15, 12, 12 and 10. They were 6, 4, 4 and 2 when we got on the road.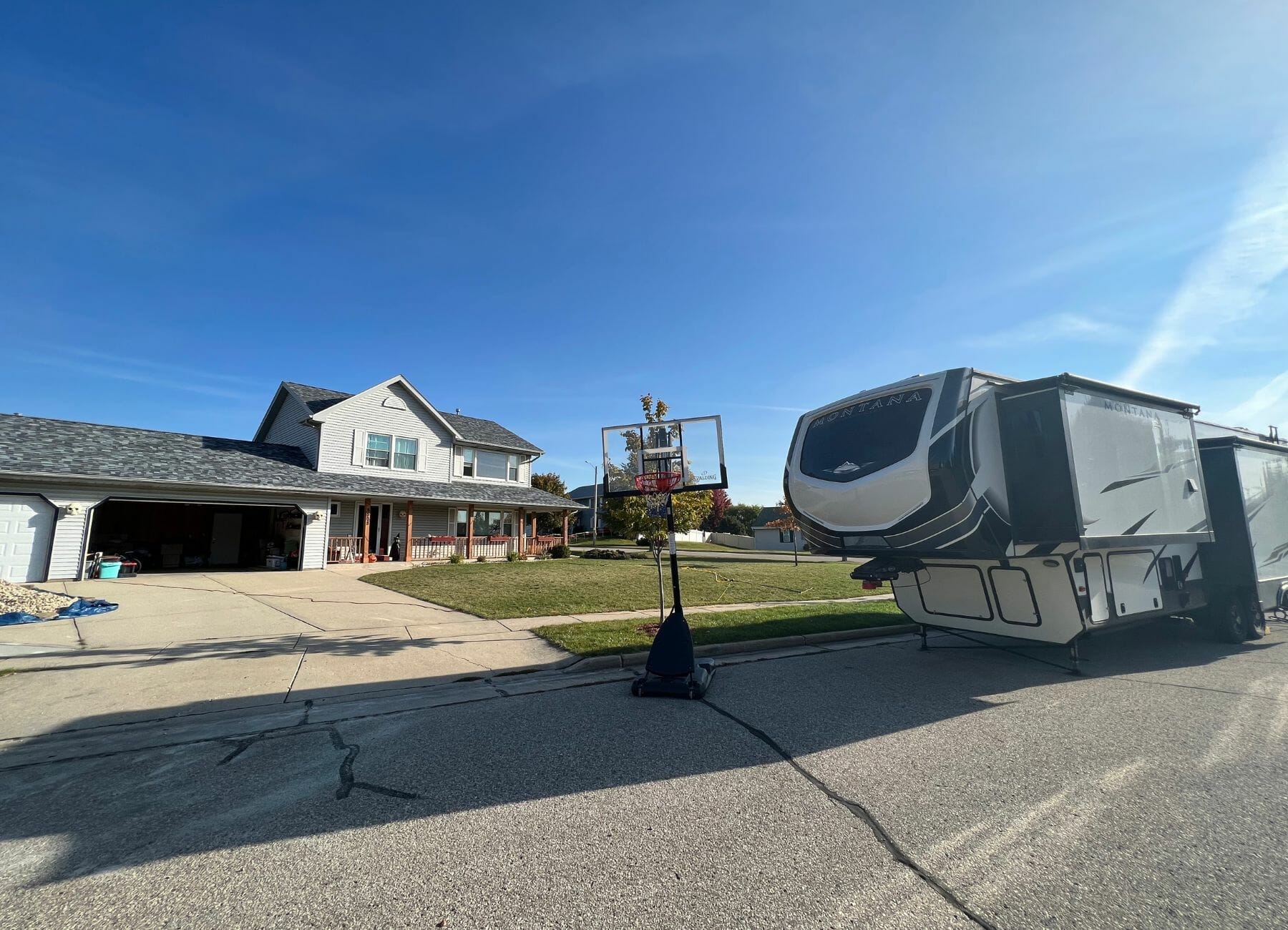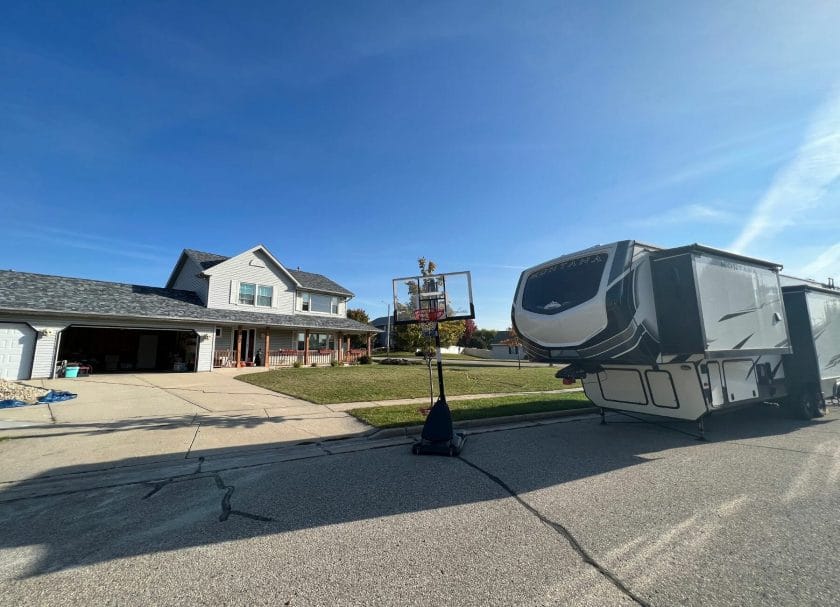 Making The Decision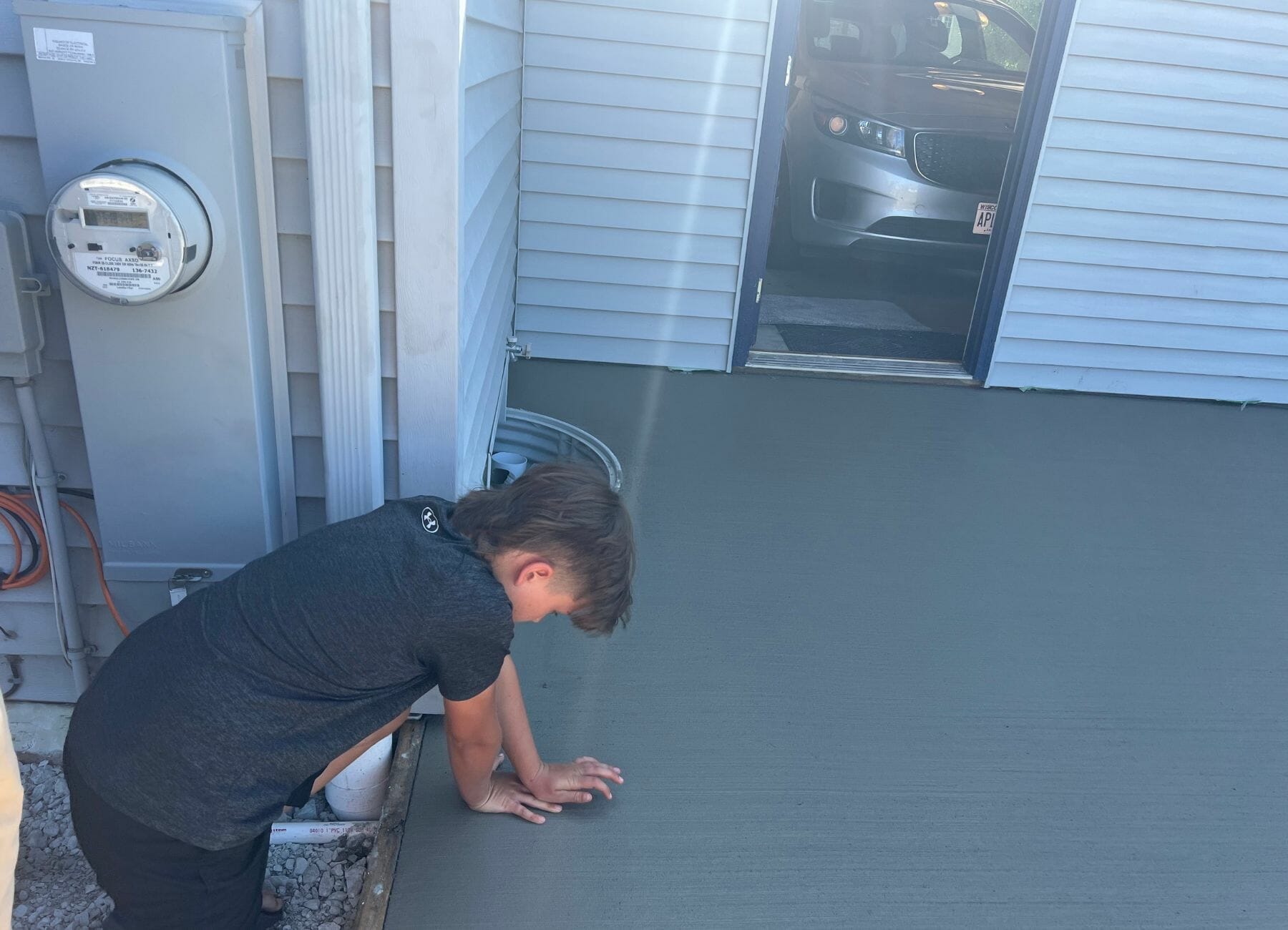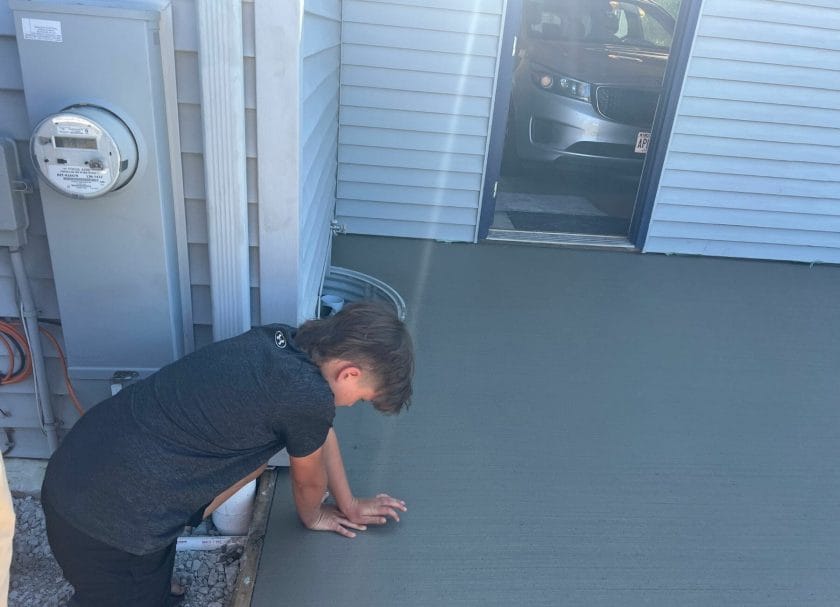 Our oldest came to us about a year ago and said he really wanted to play High School football. Having never played football on an organized team before we knew he should start as a freshman and not as a sophomore. That set a date in our head of when we needed to be somewhere that he could play.
We waited to ask him again until about 4 months before he would start summer training for the football season. He said yes he still wanted to play. We knew he meant it and that he would be disappointed if he didn't try it.
All of that got a lot of these thoughts in motion. Our kids were also losing their love of travel. They weren't excited about the places we were going and were more interested in being where friends were. We get it, we were these ages before, we understand how important friends are. They wanted friendships that were there all the time – not just when we were traveling with families. They were over making friends at a campground and those friends leaving and they would never see them again – because the family settled back down in a house or their families travel plans were totally different than ours.
They also wanted to try a "normal" childhood. Have a "normal" summer. No matter how much you try to tell someone normal is over rated 🙂 they just won't listen and want to experience it for themselves. We understood that too. Craig and I had amazing "normal" childhoods.
We had also been feeling for a while that we did want our kids to experience a childhood like Craig and I had. We were never trying to break free from the life we had lived before we hit the road. We hit the road for the experience and excitement. Our life before getting on the road was pretty amazing. I always felt homesick for parts of that life.
We wanted the kids to get the experience of playing on sports teams (year round – or coming back to the same team year after year), going to school socials, going to school football games, visiting the same festivals or events every year, having neighborhood friends. Not focusing our life so heavily on traveling to new places all the time but instead these more "normal" things.
The kids also started asking for more space. Not just a bed or a small desk, but actual space. A room they could decorate. A place to put all of their legos up that they had made and not having to put them away every time we moved somewhere else. Being able to setup a makeup desk or a gaming station and not having to take it down and set it back up over and over again.
Craig and I were also starting to want things like a big couch where the whole family could comfortably watch a movie together. A huge kitchen table we could all sit at. A big kitchen where we could all bake or cook together more. More bathrooms and more showers.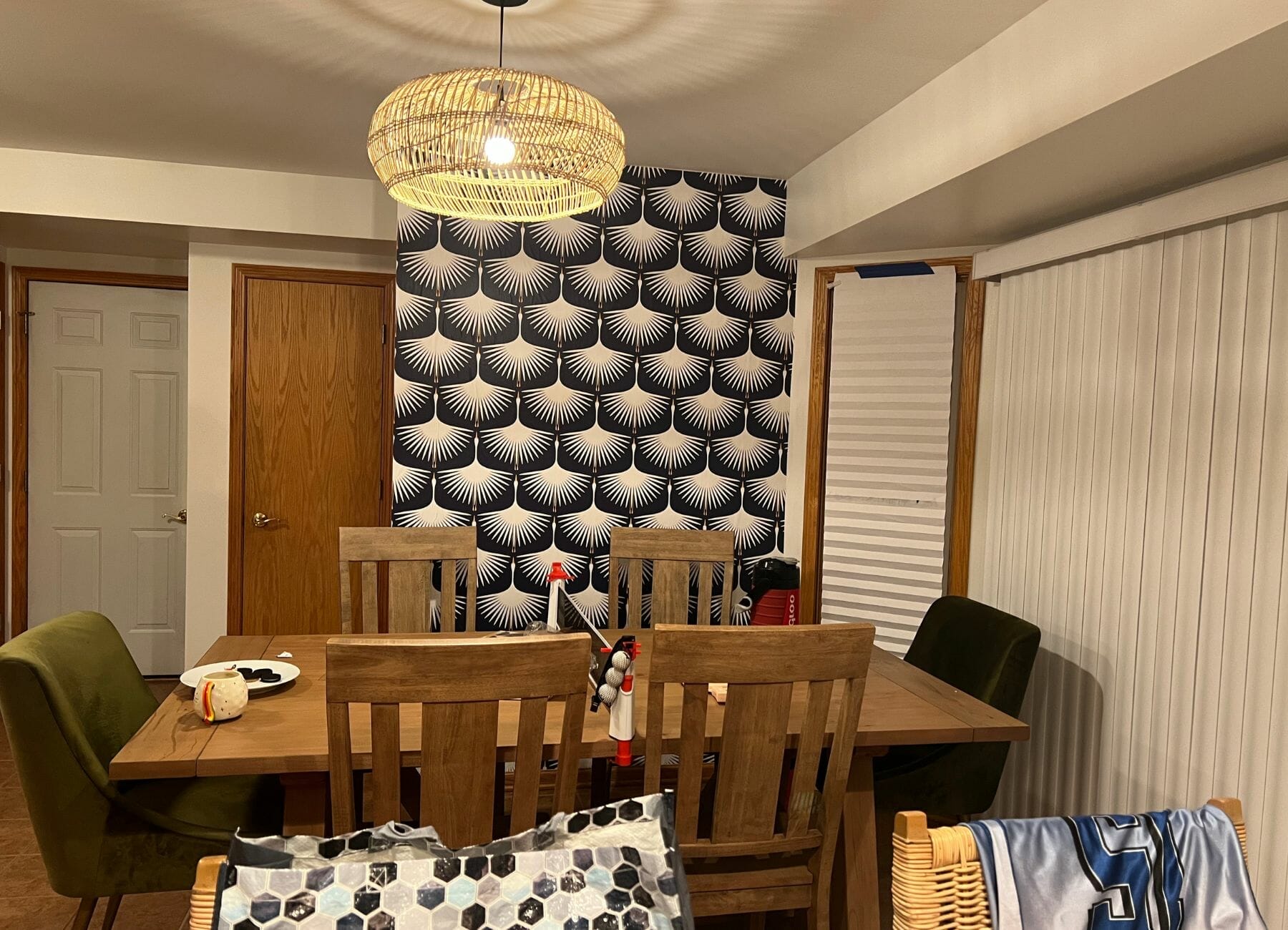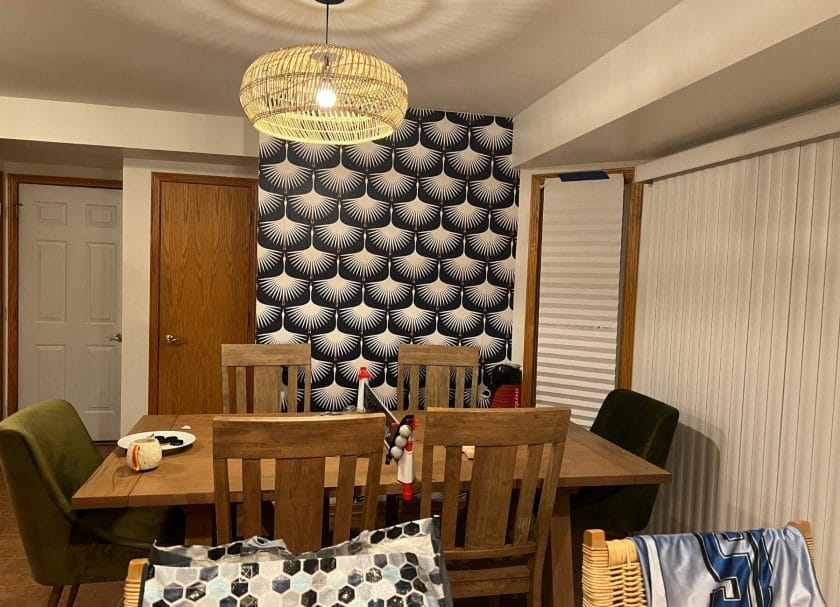 We also started to feel like our family was spending too much time together. We were all getting annoyed with each other, frustrated and angry. We knew we needed a change.
There have been other times over the years where we have had this itch to get back into a house. But this was the first time it really felt like it was right and what we needed to do for all members our family. We are lucky we got to make this choice on our own. Not because something made us do it but because we knew for our family it was the right choice at this time.
Moving Into A House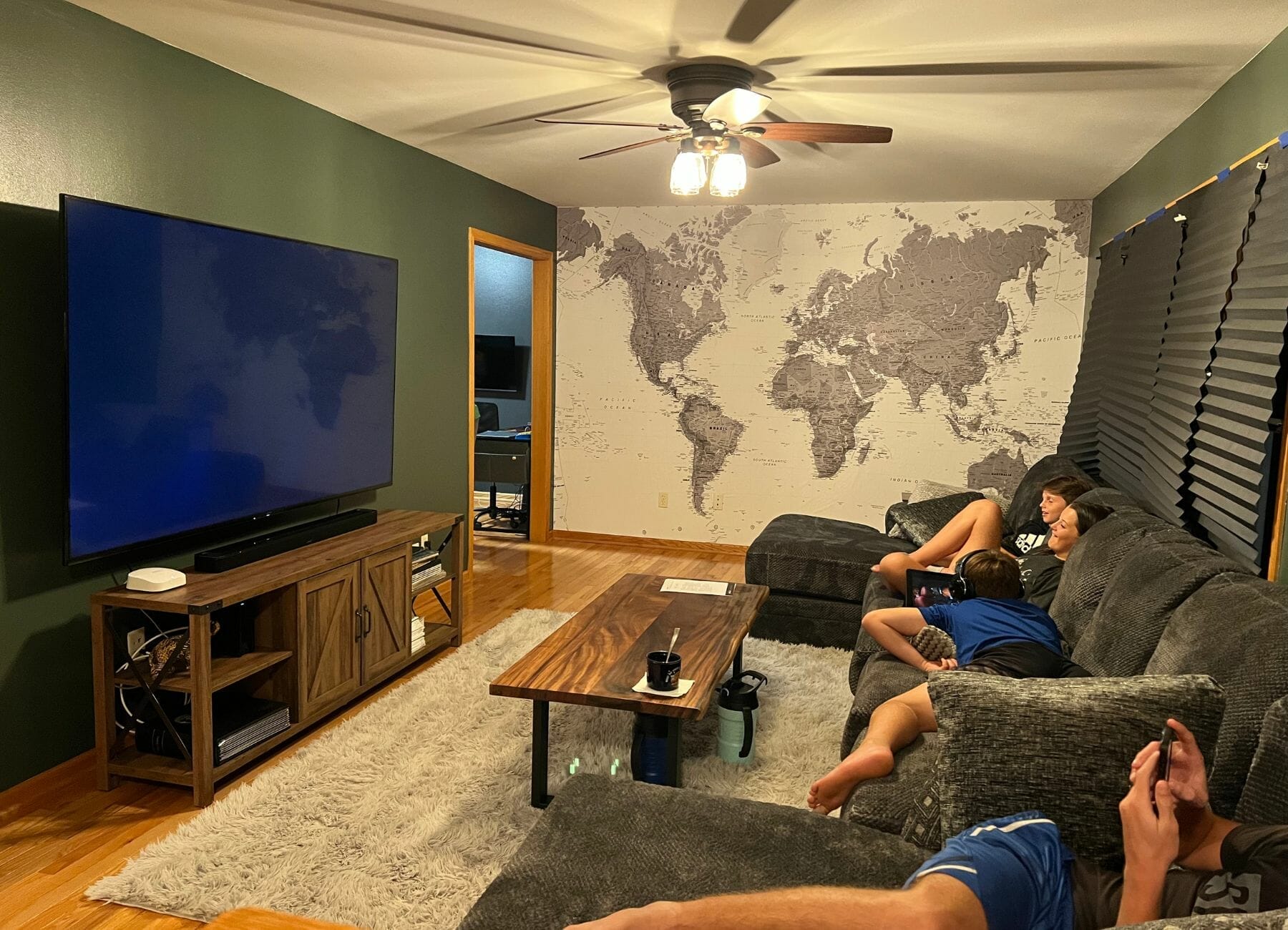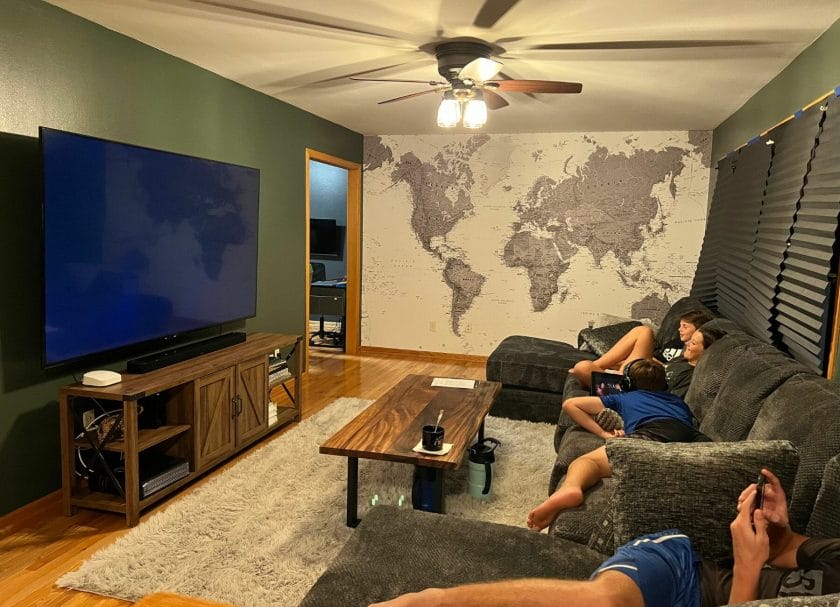 That doesn't mean it was easy. We bought a house right when interest rates were going up and house prices were still high… we have noticed this trend that we don't always do things the "right" way we just do them the way we want to. Not sure if that is good or bad :).
We know we could have rented a house but we couldn't bring ourselves to be paying thousands of dollars a month for something that wasn't ours. We were ready for an actual home again. We wanted to give our kids this kind of childhood too.
We decided to come back to our hometown that we had launched from and set up our homebase here. We have family here, we have friends here plus we knew the sports scene so it would make it easier to help our kids get into that. We also love being midwesterners 🙂 and will rethicken our skin to a midwest winter soon!
Bringing our travels into our home!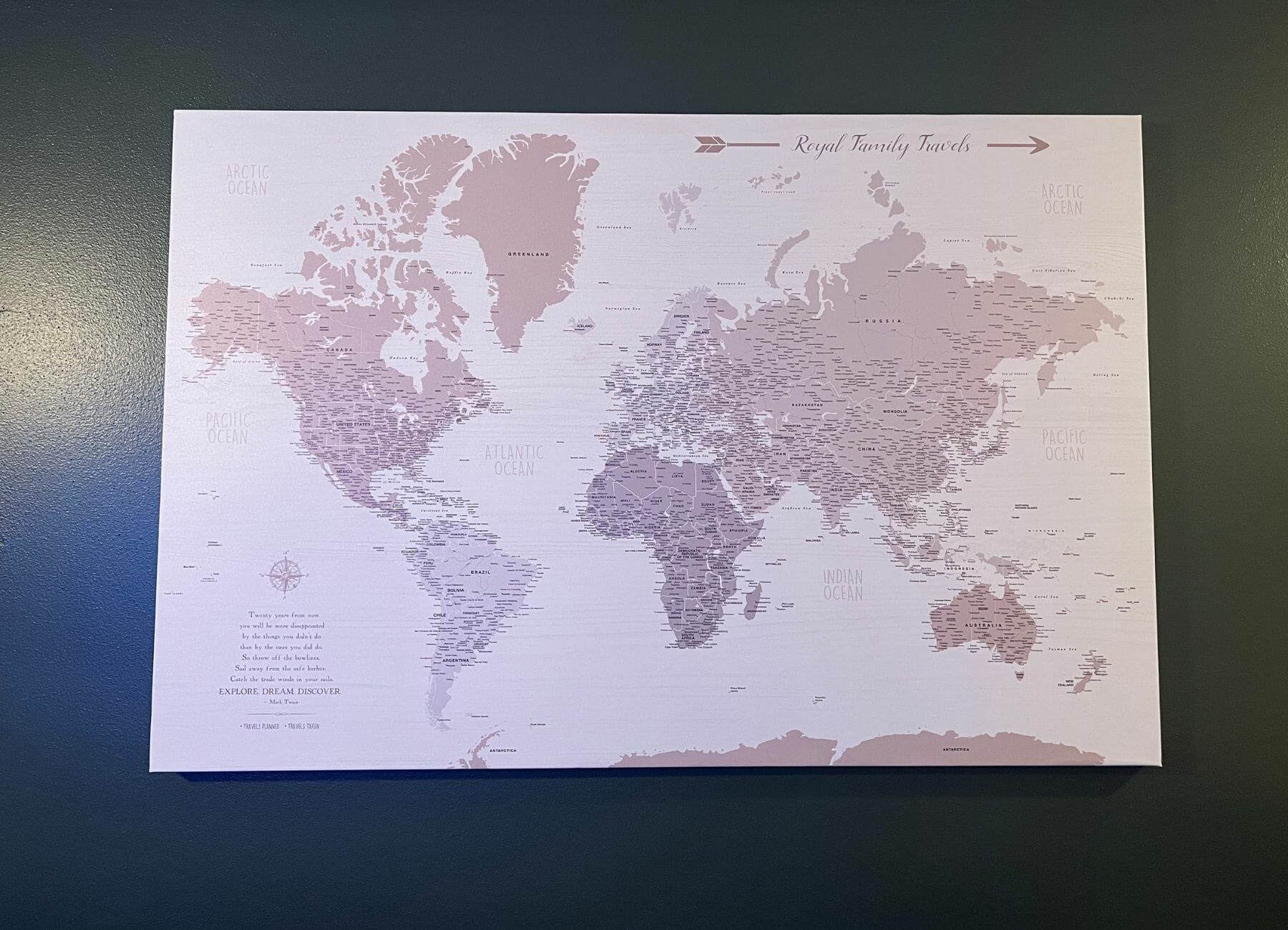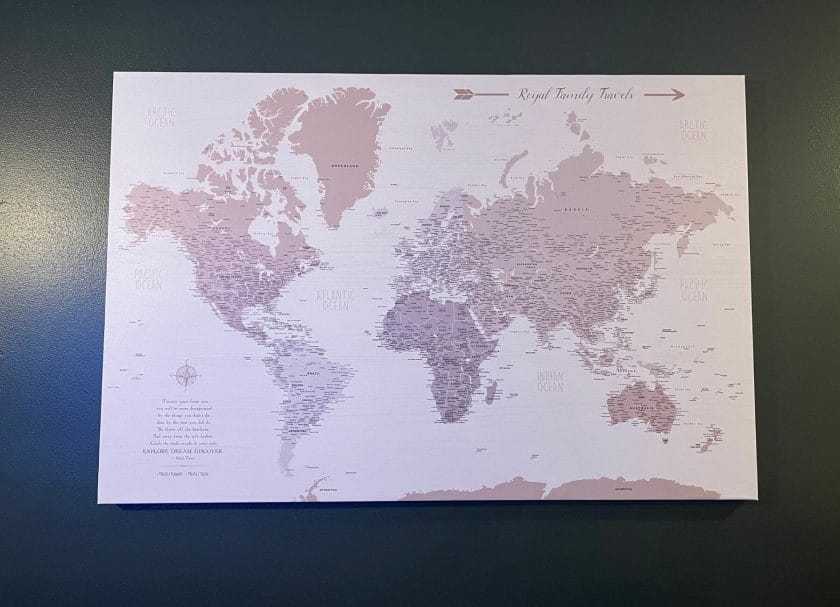 We just got our personalized world map (see our name in the upper right hand corner: Royal Family Travels) from Holy Cow Canvas up on the wall in the living room and will be adding push pins of all the places we have gone and all the places we still want to go!
Playing Sports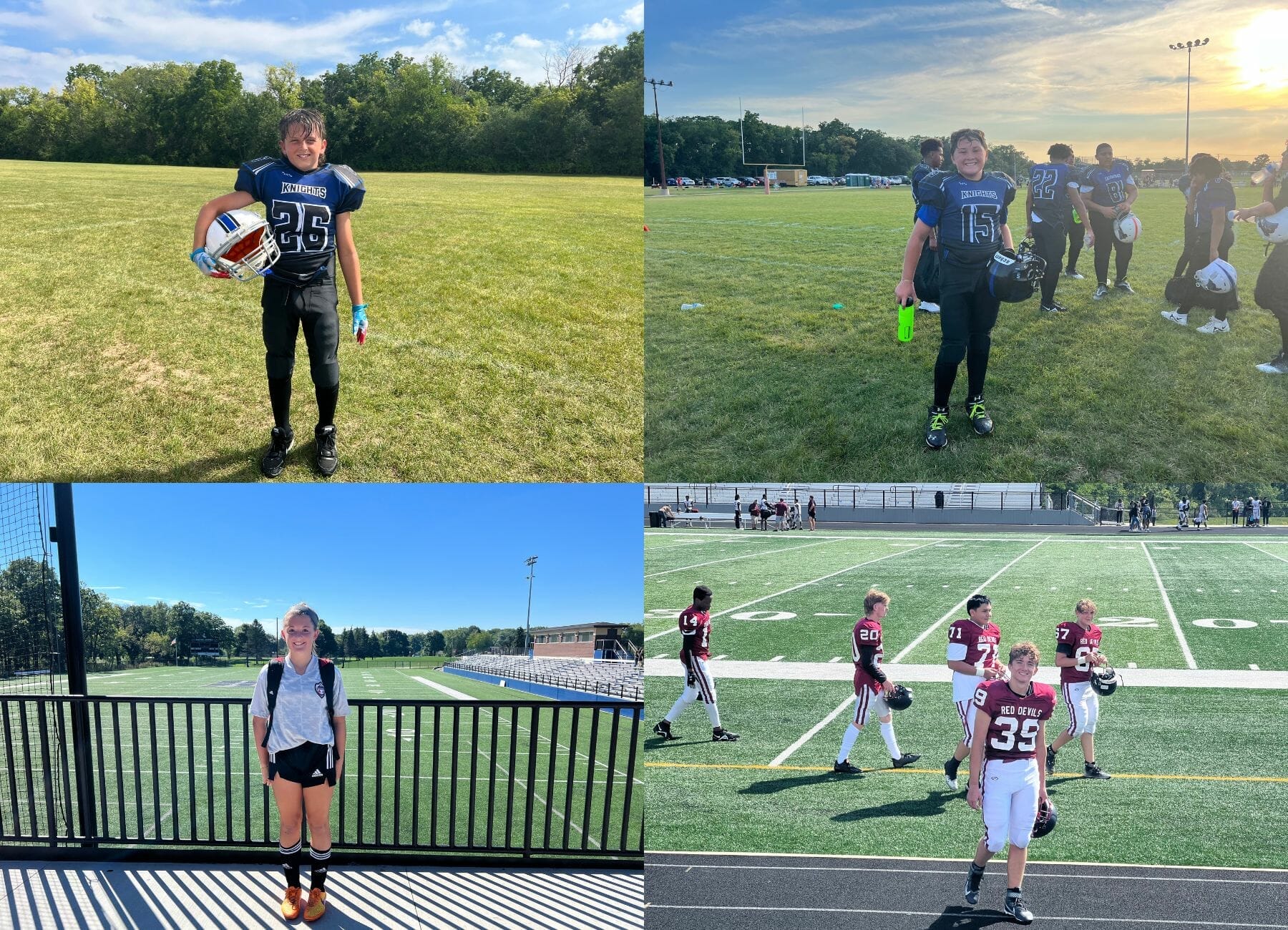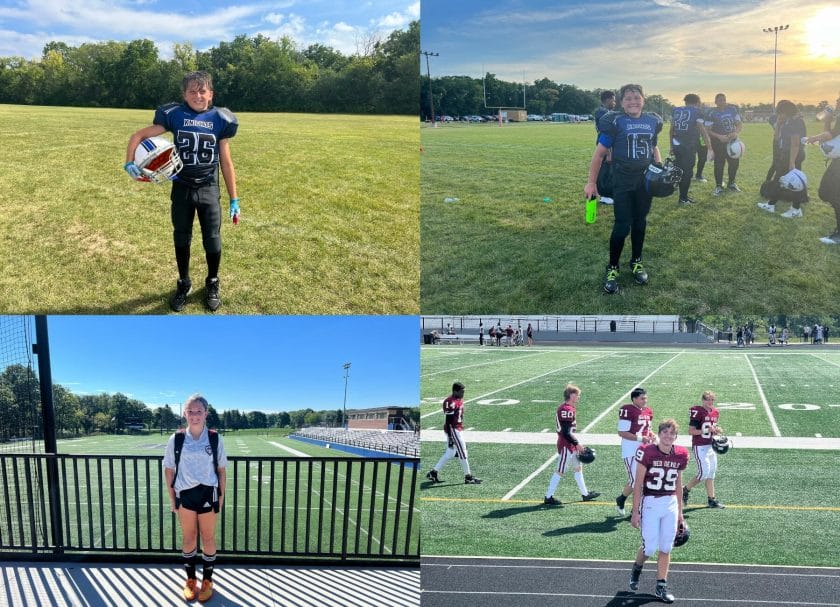 We talked to the other kids about joining sports teams as well. Cannon and Knox started doing basketball right away and went to a football camp and a soccer camp. Melia did a soccer camp and took dance lessons.
We went from the kids having one pair of shoes and a pair of sandals to needing football cleats, shoulder pads, helmets, practice jerseys, soccer cleats, shin guards, soccer balls, basketballs. Thank goodness for Play It Again Sports!
Cannon and Knox picked to play tackle football with Boys and Girls Club and Melia joined the Red Star traveling soccer team. Carson joined the high school football team. All of a sudden our schedule was full and busy! There were a few bumps along the road as everyone got use to being on a team and having a coach. But overall everyone loves it!
I was really excited to get into the house and make it our own. That part has been fun and expensive – we needed to buy everything! We didn't have any furniture or anything like that in storage.
Transitioning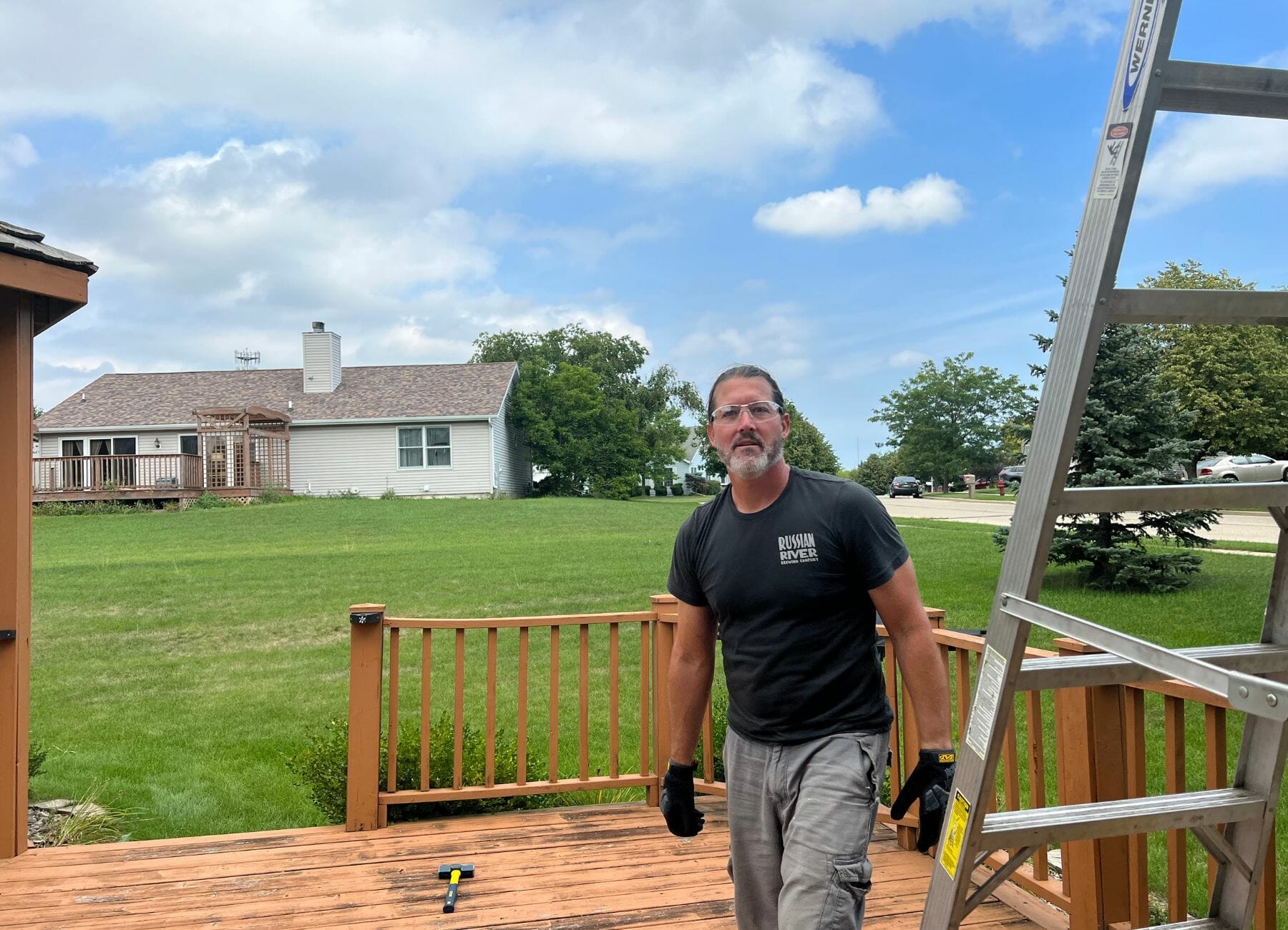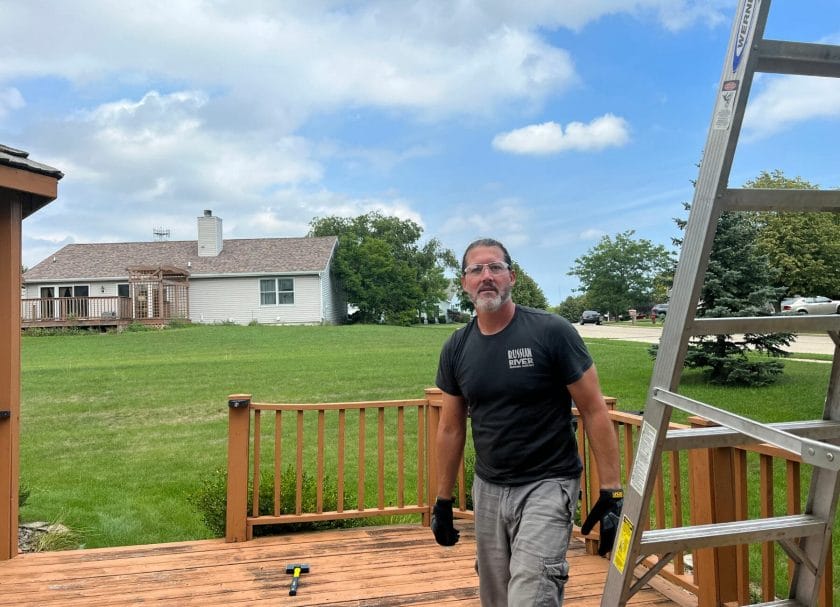 Once that excitement started to ware off it got a bit harder for me. I was ready to get back in the RV and go boondock in the middle of nowhere or to go explore somewhere new. We had been back to our hometown at least once a year since we hit the road. But never this invested into day to day live. Instead we would stop in, do all the things and leave.
Now we were here and trying to figure out how to fit into a normal life. Our kids are still going to be homeschooled. We still want to stay up late and sleep in. We still want to travel and do what we want when we want.
That doesn't fit in well with a society that most people go to school, are on a work schedule and live a more structured life. That was hard for me. I had to process all of this and how to still shape our life to be the life we want not the life society makes it seem like you should have. We are working at it. It is feeling better. It will take time. But I still don't want to grow up 🙂 and I am going to fight hard for that!
I cried for a few days, talked to Craig, put energy into evaluating all of the good things about doing this. Watched the joy in the kids faces when they played sports or ran around the neighborhood with friends. Started to think of things I wanted to do now that we were in one place.
I came to terms that this is what is right for our family – even if Craig and I may want to be out traveling full time right now – it doesn't make sense for our family. We have always said we would check in with our kids and if full time travel wasn't right for them we would stop. We pushed it and pushed through at times when one of us may have wanted to stop. But this time was different. It was all of the kids. It is the right choice.
Future Plans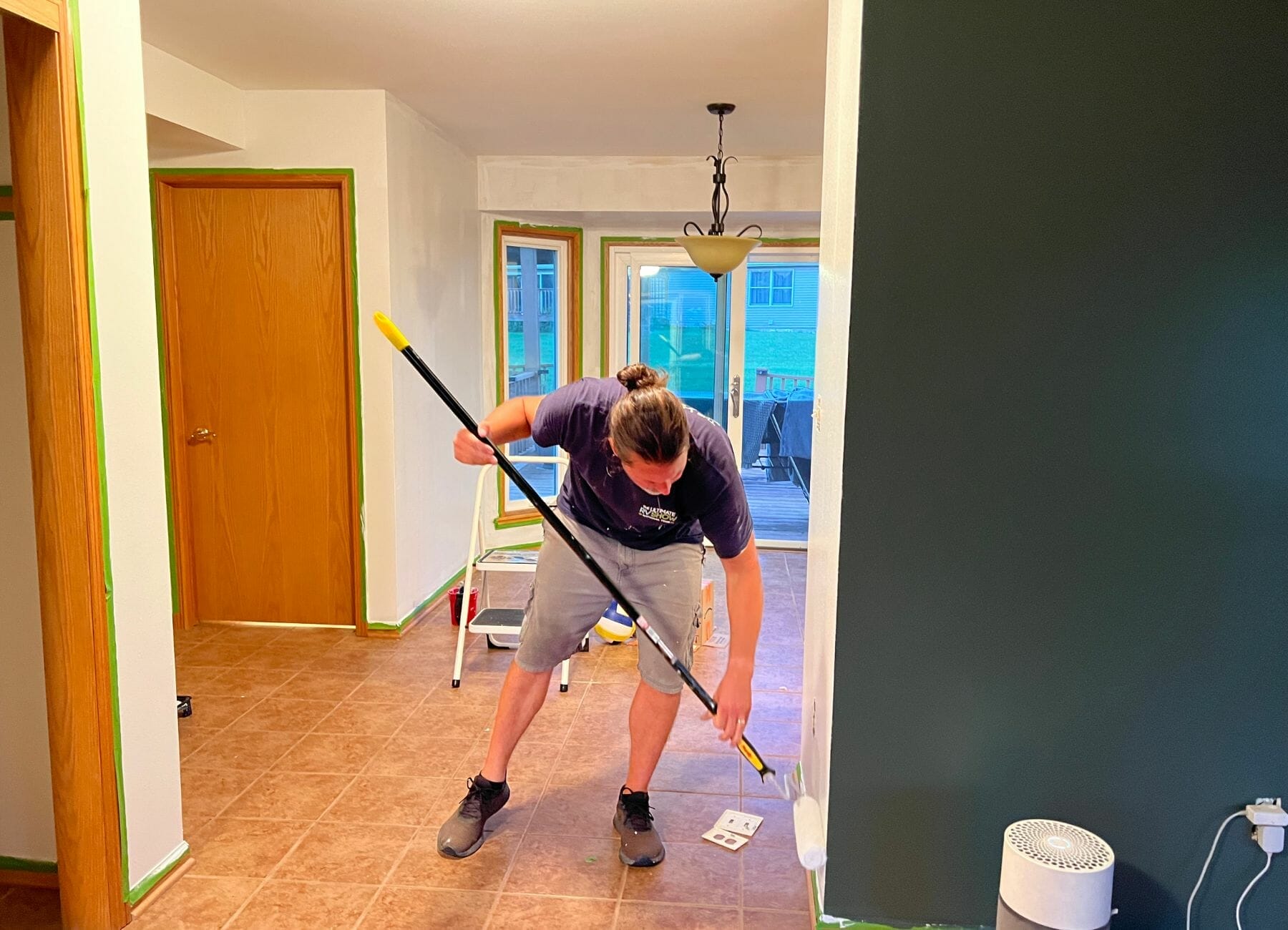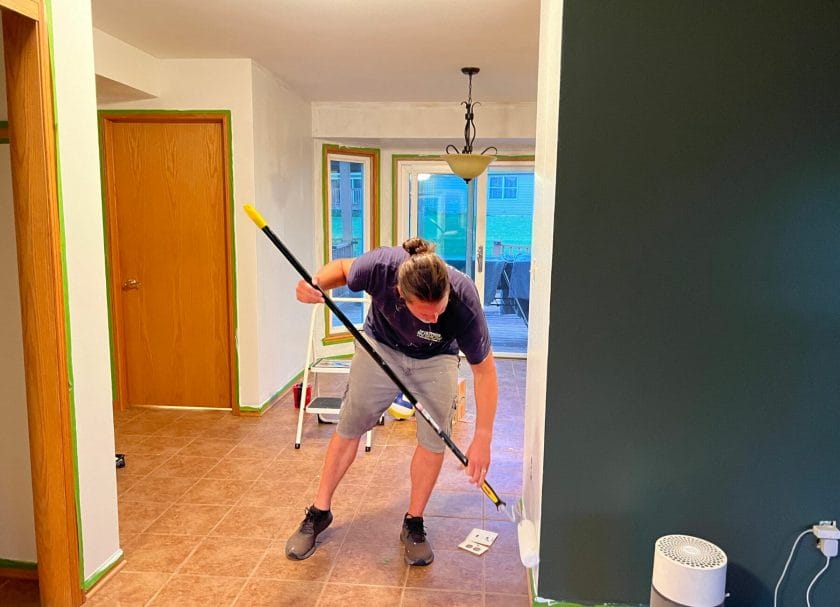 We do plan to still travel. Ideally we would like to go somewhere once a month for 2-3 nights and 3 times a year go somewhere for 3-5 weeks. I am not sure how this will work around sports schedules but we will see what we can do and we still want to make travel a big part of our life – just in a different way.
We have decided we will sell the big 5th wheel. We can't imagine not having an RV and not traveling that way so we plan to get something smaller. We have lived in a 21 foot travel traveler and have also stayed in hostels for a month while in Europe so I know we can travel small!
Click here to check out the listing for the rig on Facebook Marketplace. It is an awesome rig ready for adventure and boondocking!! Please share with anyone you know who may be interested.
I am processing the loss of not being full time travelers anymore. It was an amazing adventure and something we highly recommend – especially when your kids are younger and just want to be with you all the time!
We are adjusting to our new normal and figuring out what that looks like for our Crazy Family Adventure. But what I do know is the adventure is not over, we have a lot more to share, a lot more traveling to do, and are excited about this next chapter in our adventure!
Questions/Observations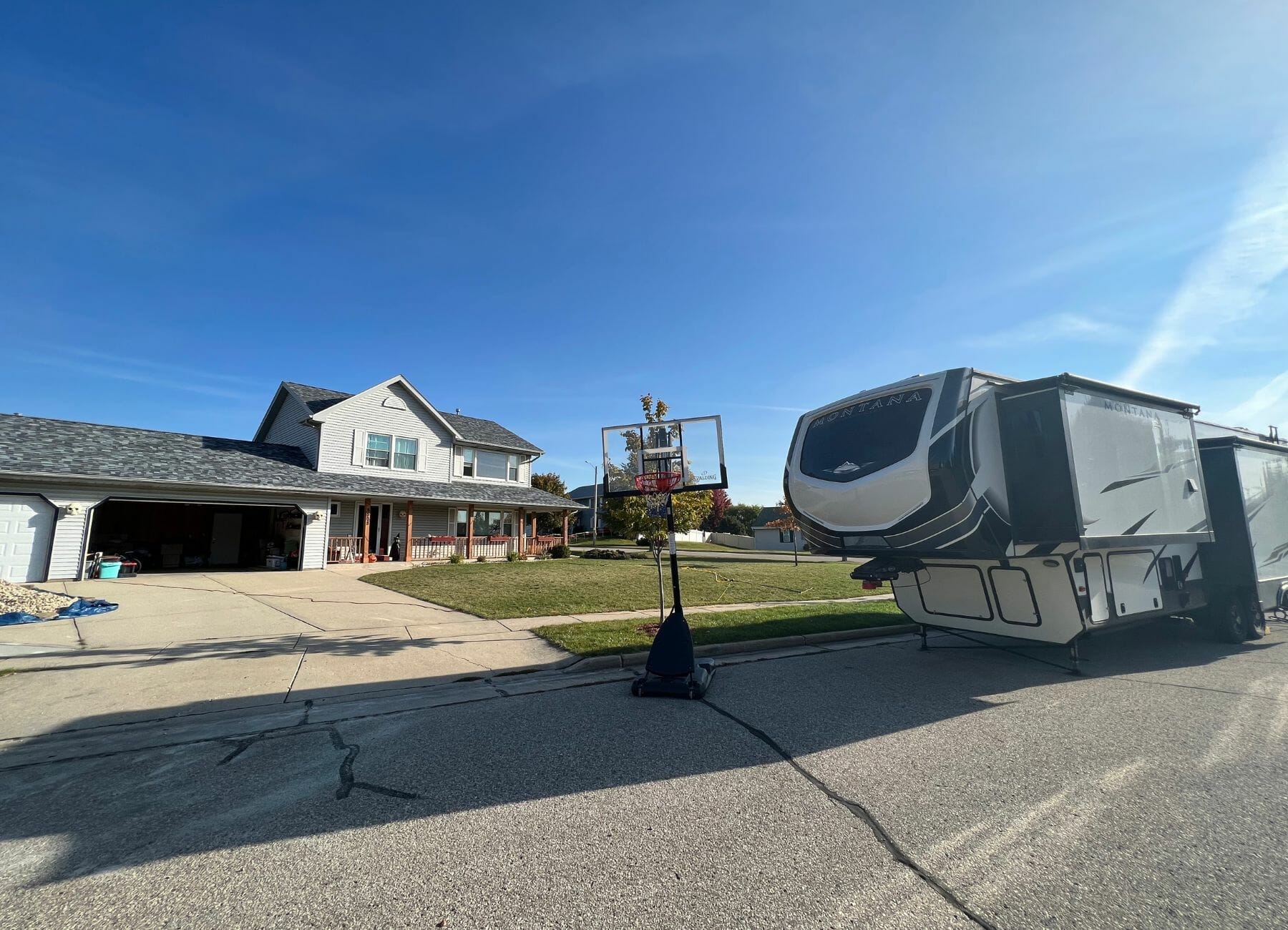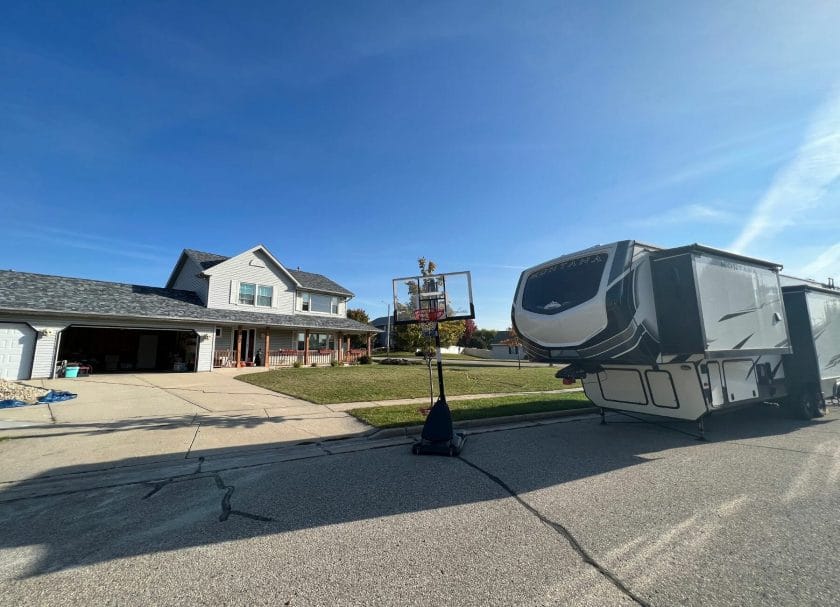 Below I share a few questions I think may be helpful for anyone reading this and considering life on the road. Or for anyone that is on the road and wondering what their next step is.
Do We Wish We Had Things In Storage?
I asked Craig this the other day. We both said no. It was fun to start over again! Yes, it was expensive – but not crazy expensive when most of furniture is from Ikea :). Had we had a storage place we might have been paying $1000 a year for that – which would be $8000 over the course of 8 years.
If we only went for 1 – 2 years it would have been worth it. But we knew when we hit the road it was for a long time. So no we don't wish we had kept anything in storage.
Are You Glad You Went On The Road?
110%. Going on the road opened so many doors for us. It allowed us to be together 24/7 as a family and build unbelievable bonds. It allowed us to visit all 48 states and 15 countries.
It allowed us to become entrepreneurs and have control over our money and time.
It allowed us to meet amazing people on the road that we would not have met.
It allowed us to see the world, see people from all different places and appreciate and love all of those differences – not be afraid of them.
I could go on and on but 110% we would not change the fact we went on the road.
One Piece Of Advice
If you are considering going on the road do it when your kids are young. I am so glad that we started when the kids were younger.
It is fun to travel with older kids – but traveling full time with teens has a lot of challenges. It doesn't mean people aren't out there doing it with teens and their kids are loving it. I know they are and I know it works for those families!
My take is when they are younger would seem to work better for everyone. At those younger ages your kids will go wherever you go and they want to be with you where ever you are. There are less opinions about that at the younger ages :).
If you have any other questions you would like answered send us a message on Instagram or Facebook or reply back to our weekly newsletter!
DISCLOSURE: This post may contain affiliate links, meaning I get a commission if you decide to make a purchase through my links, at no cost to you. Please read my disclosure for more info.