There were a few things that gave us problems when we headed to Universal Volcano Bay in Orlando, Florida with our 4 kids that we want to highlight right away so you can avoid them and enjoy your time at Volcano Bay. Things like how to get there, where to park, can you bring food, where do we put our stuff when we are on the rides (do they have lockers and storage), when should we go and what is this TapuTapu watch all about??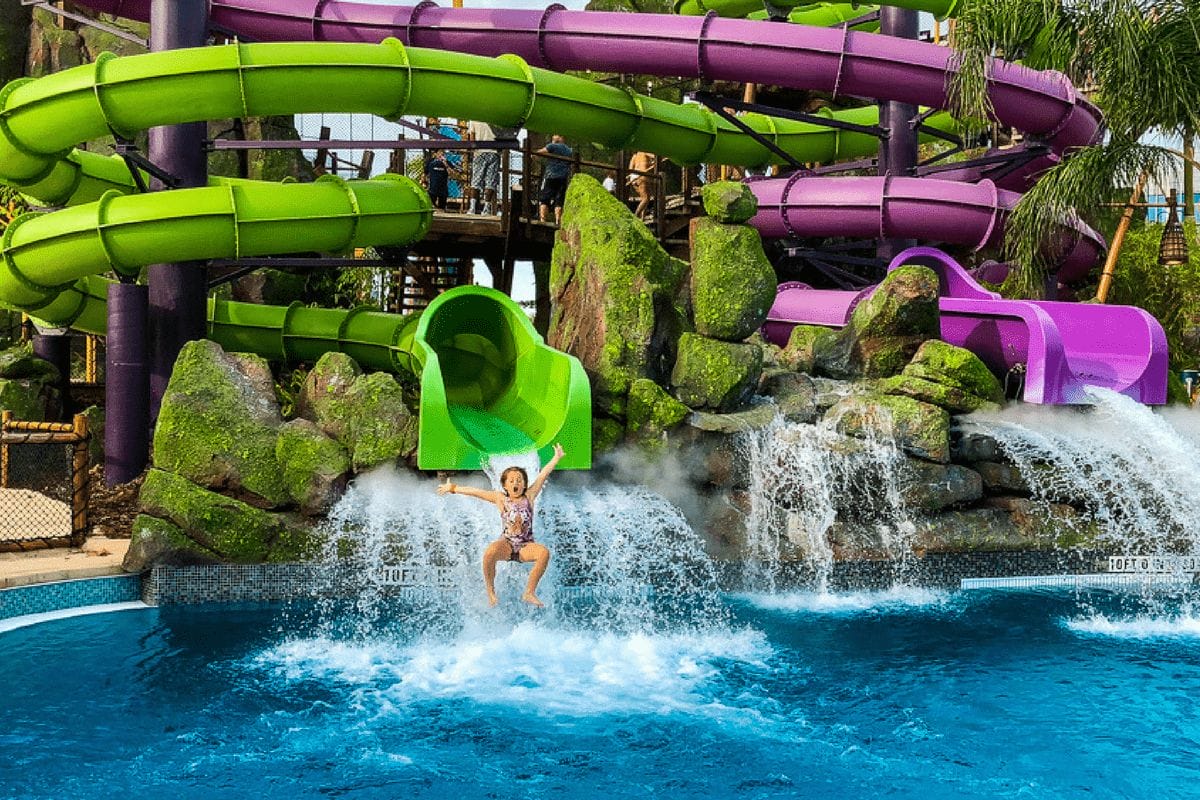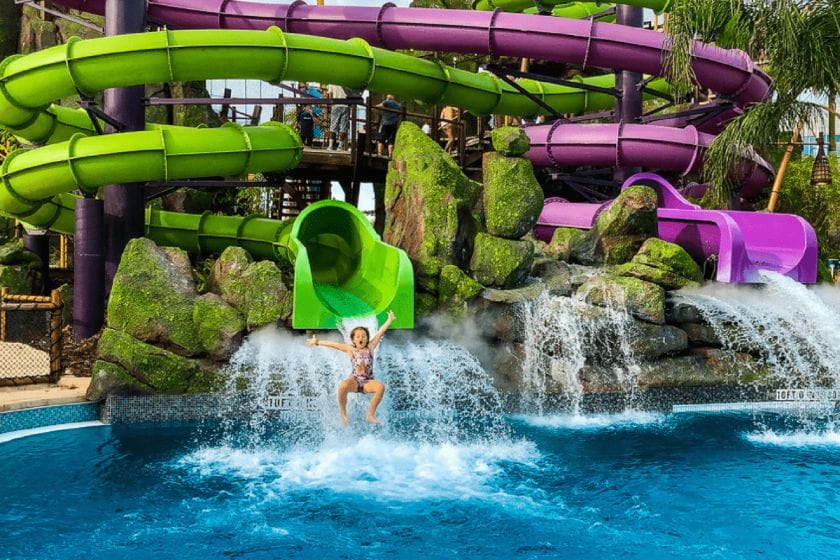 Then we will jump into all the coolness and some tricks we learned from spending the day there with 4 kids, one who doesn't like scary rides, two that are up for almost anything and one that was only 5, so wasn't sure about the bigger rides.
We love Universal Orlando Resort so we figured the new Volcano Bay had to be amazing. We weren't disappointed! This water theme park gives you an overall vacation vibe with the scenery and all the sand. You wouldn't believe you are right smack in the middle of a city.
Things To Be Aware Of
Parking
Yup, we started the day arguing since we tried to follow the directions on our phone instead of following the signs. The address is:
6000 Universal Boulevard
Orlando, FL 32819.
If you follow this in Google Maps it will take you to the wrong place. Instead when you get close, look for the signs and follow those for Volcano Bay or Cabana Bay (the hotel attached to Volcano Bay).
Then once you turn onto the street you will see signs for where to go for Volcano Bay. You will have to make a turn so drive slow and look for the signs. Don't follow your map on your phone – darn Google Maps!
Parking is in a parking structure and then you will have to take a bus to get to Volcano Bay. A hassle, yes, but they do a pretty good job with the setup. They offer regular parking, prime parking and RV parking. Don't forget to take a picture of where you parked so you remember when you leave.
Food
I am not sure what the official rule is, but we brought in food and only bought a snack for the kids. We didn't bring in a big cooler or anything, but instead had a bag in our backpack with a cooler pack and put the food in there.
With 4 kids it just makes sense to bring in your own food. Plus they are all pretty picky so hate to spend money on food they won't eat. In any case they inspected our bag and no one said anything.
We kept the backpack with us at all times and just discreetly ate when the kids were hungry sitting by our lawn chairs. No one seemed to care.
When To Go
I have heard lots of reviews about people waiting in line and only getting on a couple rides all day. I would have expected that when they first opened – and wouldn't have gone then. Same thing for major school holidays. No thanks.
Like with any amusement park, they are going to be busy in prime time. Want to enjoy yourself more? Go in the off season. Yes, I am saying take your kids out of school and go. The memories are more important than missing a few days of school.
Plus the lines are way better and everyone will have a much better time. We were just there in November the week before Thanksgiving and there was barely anyone there. It was awesome! We also went in January and timed it so we could visit on the warmest day that we were there.
It was not open every day in January – so be sure to check the schedule! It was cold for Mom and Dad but the kids loved it and they didn't have to wait in line more then 10 minutes for any rides!
**Take note that sometimes in the off season rides are closed and it is hard to predict or know what will be closed.** They may also shut down early in the off season. So you take a chance but if you get a good day and it is open and most of the rides are open it is awesome to be there with less people!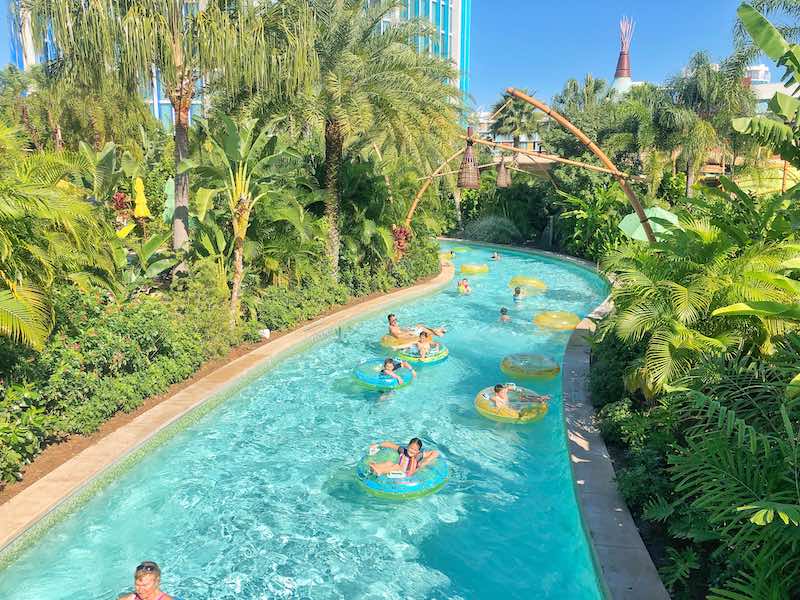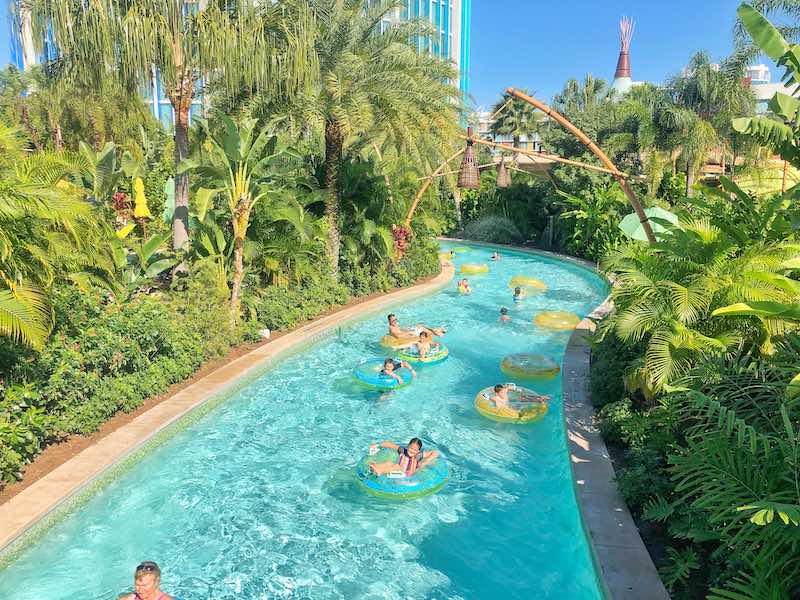 Weather
We went in the middle of November. We had 3 days to pick from and purposely picked the day that was in the mid 80's. Had it been in the 70's and cloudy it would not have been as an enjoyable. I recommend sunny and 80's if possible.
We have gone when it was 60 and sunny in January. The kids didn't mind and were in the water all day. It was a little cold for my husband and I. The biggest benefit was there weren't many people there when it was 60 degrees out! For that reason we would go on a 60 a degree day again.
Florida weather fluctuates day to day so try to set it up to give yourself some choices on what day you go when you get to Orlando. Or if you can handle being cold, go on a cooler day and the crowds are usually better.
What To Do With Your Things
We have done this 2 ways. The first time we didn't use a locker. The second time we did. See below for more details.
Not Using A Locker
I was totally stressed about this . . . We brought towels, a swim bag and a backpack. Just like any waterpark you go to, they have lockers. But I hate having to go back and forth and I wanted my phone for pictures and videos.
What we did was find a spot to claim as ours. Basically grabbed a view lawn chairs by the rapids lazy river (I will get to what that is). We put our bags down and our towels and reserved these seats for the day. We were there with our friends so between all of us, someone was normally by the stuff or close to it.
Did we take a risk leaving our stuff sitting out? Yes we did. Before you go you can set your credit card up on the TapuTapu wristband (more on this later) you get when you go in. So technically we could have done that and put our wallet into a locker. Probably would have been smart, but we still would have had our phone and camera.
In any case that is what we did. It was nice to have a "spot" as a home base that we kept meeting at as people went off and did their own thing.
Using A Locker
The next time we went we did get a locker. This time we didn't bring food with us and just planed to eat in the park (a lot more expensive this way but also a lot easier). We just had towels, a change of clothes and our wallets/purse.
I took videos and pictures for the first hour and made sure our credit card was set up on our TapuTapu's (more on this below). Then we put everything – minus our towels and shoes – into the lockers. Your TapuTapu is your key for your locker. It really was great! Now that we have done this I would highly recommend it. Especially if you have older kids so everyone is going to be going on the rides.
Towels
Volcano Bay does have towels to rent but you will be paying for them. For this reason we brought our own towels. Also note that the Universal hotels do NOT want you bringing their towels to Volcano Bay. We of course saw people doing this . . . but if you like to follow the rules know that the rule states you can't bring them into Volcano Bay.
Getting There
Like I mentioned above you park in the parking structure, take a bus for about a 5-minute ride then walk into the park. It is all a pretty simple and quick process and they keep things moving.
If you stay at Cabana Bay you can walk right over to Volcano Bay. Yes, I was jealous of people that could do this. Plus, they got in an hour early to the park. Something to keep in mind for next time.
You can also stay at the Endless Summer resorts and take a quick shuttle over and get in to the parks early on certain days. If you aren't going to have a car and are just coming to do Universal this is a great option and may end up being a cheaper hotel option compared to staying at another hotel and renting a car.
If you are thinking you could park there and walk over don't do it. A friend of ours tried and she was denied since you need to show your room key to get into Volcano Bay.
If your pet travels with you, they do have a kennel by the parking structure. We didn't look into it but thought it was worth noting especially if you travel with a pet in your RV.
TapuTapu Wristband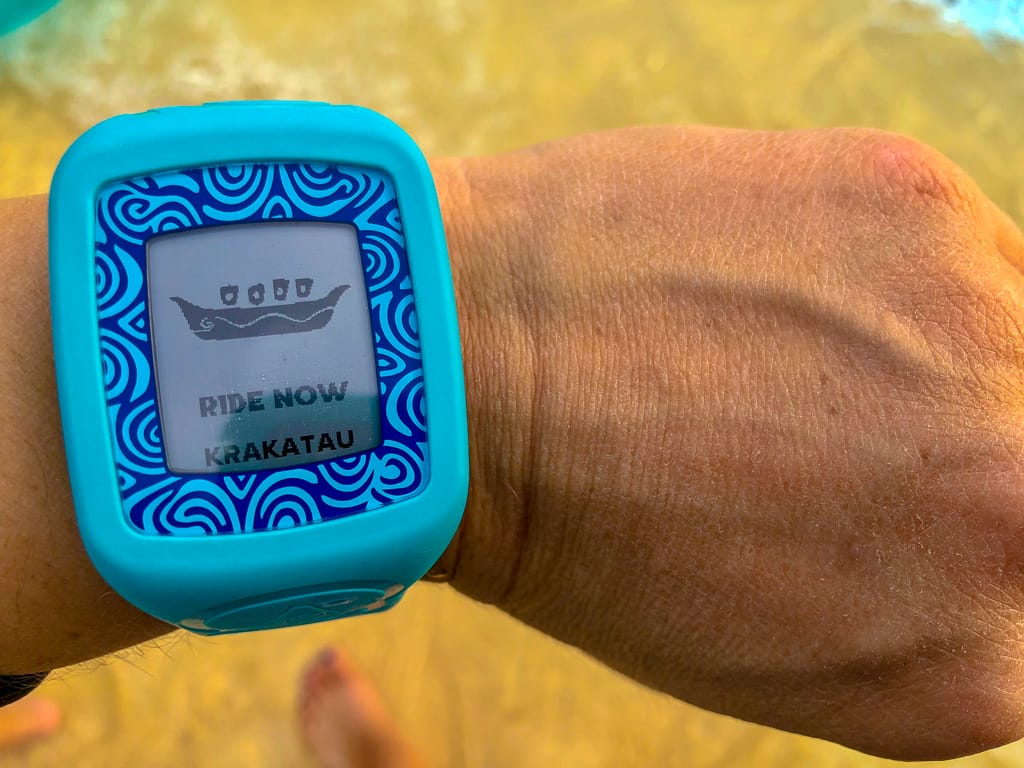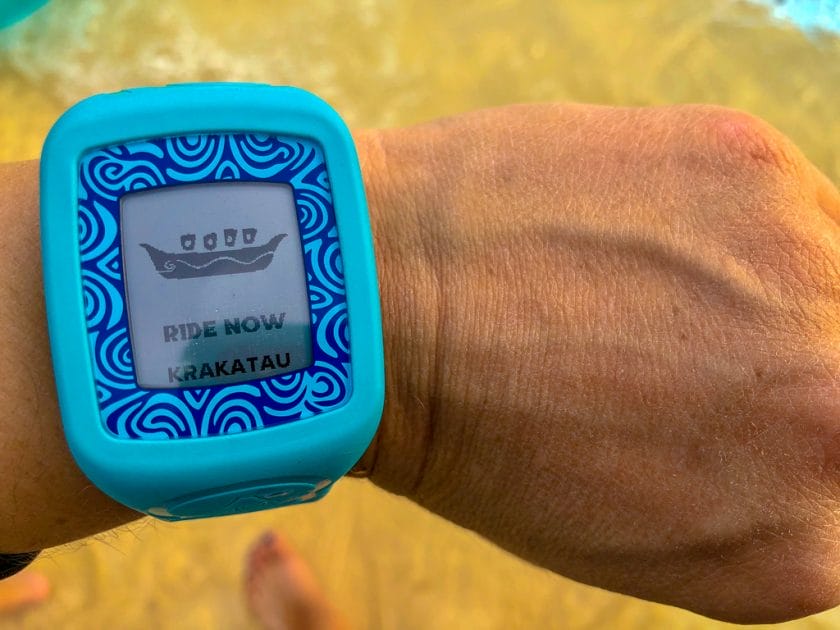 When you give your ticket to get into the park they give you a TapuTapu wearable wristband. The wristband is connected to your ticket. You can then use your ticket number to setup your TapuTapu account on the Universal App so you can add your credit card.
I was able to do this for all 6 of us in the time it took us to get on the bus and into the park. If you have your tickets ahead of time you can set this up then.
You can set limits on your wristband based on the ticket. So for the kids I set it that they had $15 each to spend. In order to access it they needed to remember a code/pin – which you setup yourself.
You also use your TapuTapu to access your locker.
The TapuTapu is what you use to reserve your spot in line for the rides where there is a line. You walk up to the ride scan your wristband and it give you a time – 30 minutes, 90 minutes, 100 minutes. It then counts down for you and eventually says Ride Now. It is like you are in a virtual line!
When it says Ride Now, you head over to the ride to get in line. In our case we waited about 15 – 20 minutes in line once we got the Ride Now notification. The Ride Now doesn't expire so if you are doing something else you don't have to rush over. Just go when you are ready.
If you buzz in for one ride and get a time set you can't add any more rides until you use that one or delete it. So basically for 100 minutes or whatever the time is you have to find other things to do. But don't worry there are plenty of things to do.
We lost 3 TapuTapus during the day we were there. Yup 3 . . . I lost one off of my wrist in the rapids of the lazy river and then 2 kids lost theirs at some point. Probably at the same place.
I was a little worried about the whole credit card thing being attached to the lost wristband. Then was reminded about the code needed to use it. So it was all good. We walked over to a customer service desk and they asked for our name and then gave us a new wristband. Good to go! *Update* It seems like they were annoyed with this happening so they have added a rubber band piece to help hold the watch latch in place.
Buying Volcano Bay Tickets
If you have to pick up tickets at will call or are planning to buy them that day the best place to do this is at the parking structure. Instead of going straight to the bus, head over to the ticket booth and get your tickets there. We didn't wait in line at all and the lady was super helpful.
Or to make it even easier and cheaper buy tickets online from Undercover Tourist – they are the cheapest tickets we have found for Volcano Bay and Universal. You can't buy Volcano Bay on it's own but will instead have to buy multi day tickets – just make sure the ones you get include Volcano Bay!
Alright, now that we have those things out of the way lets get into all the fun there is to have here! And there is a lot. Seriously when we went to Universal the next day I wanted to just leave and head back to Volcano Bay. We LOVE Universal, but Volcano Bay was so relaxing and fun!!
On To All The Cool Things
The Volcano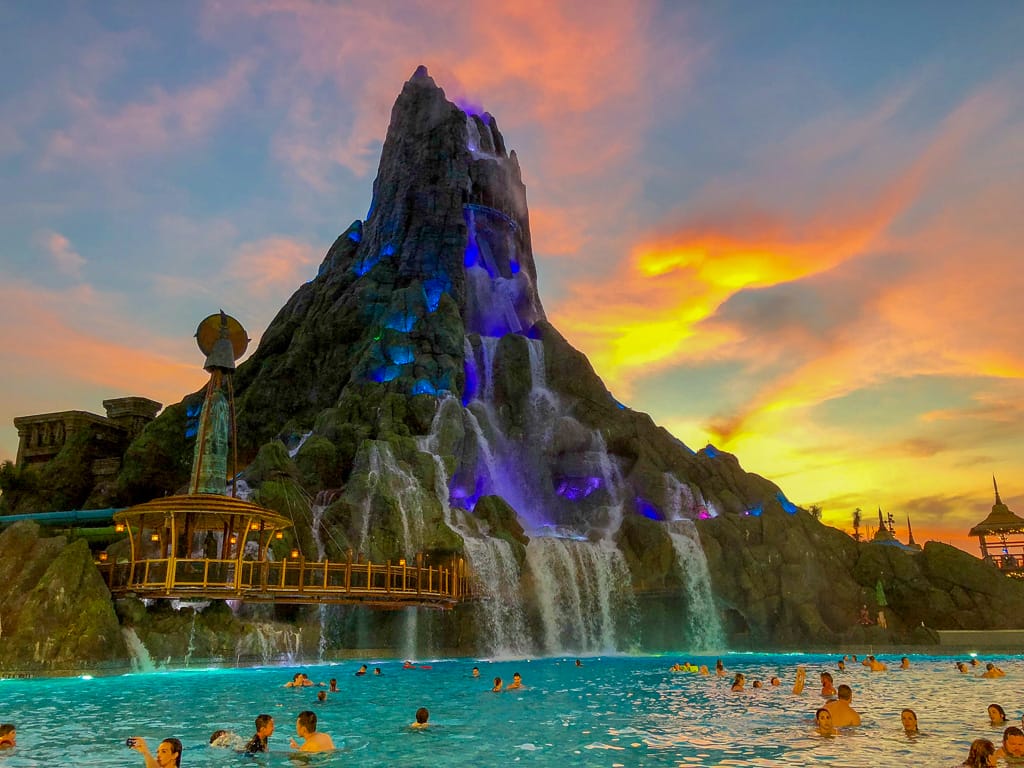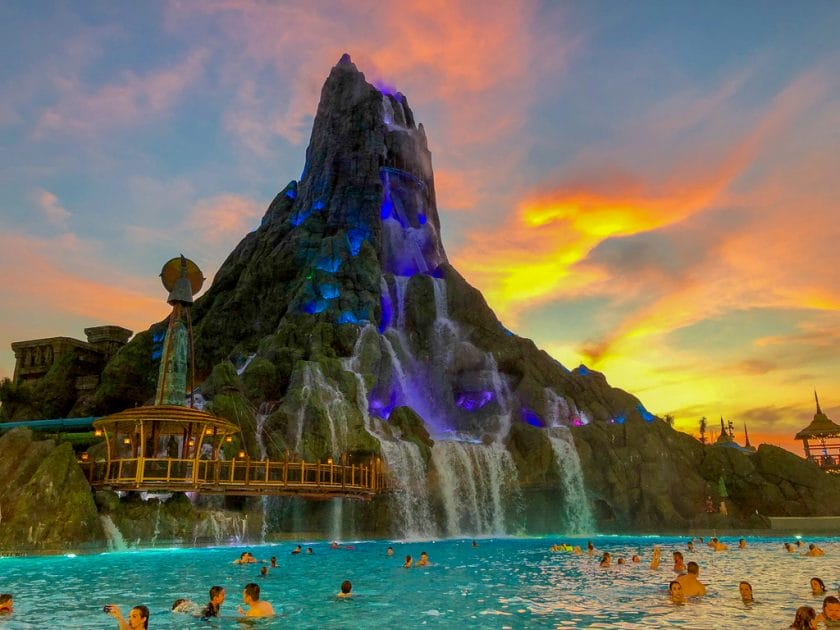 By far the coolest looking thing in the park is the Volcano. It is massive and is the center piece of the whole park. It really is quite the sight and sets the ambiance right away for being at Volcano Bay. This is also called the Wave Village area and the beach is called the Waturi Beach.
The wave pool is located right below the Volcano and there are a couple of rides inside of the volcano. We didn't get a chance to try any of them this time . . . umm yeah that is why we didn't do them . . . I wasn't scared, I swear . . .
Ok I was a little scared. These rides are the ones you go into a tube and they drop you straight down the Volcano it is called the Ko Okiri Body Plunge. Sound fun to you?! If it does then go for it and leave a note in the comments about how it was. Maybe I will try it next time. . . .
Ok I tried the Ko Okiri Body Plunge the last time we were there! It was scary and fast and I won't do it again but I am glad I tried it. Getting up there and standing in the tube and having the floor drop is a crazy experience! As you are rushing down the slide water is getting in your face and you better not open your mouth or it will get filled with water. It was a rush that's for sure.
There is a walk you can take through the Volcano and there are a variety of buttons for kids to push from shooting water out at the wave pool to pushing a button and seeing a lights display appear on the wall. A fun thing to do while you are waiting for a ride or just looking for something else to do.
Where We Spent A Lot Of Our Time
This is the ride we spent most of our time on: TeAwa The Fearless River™
It is a lazy river with rapids and quick moving water. So, no, it isn't lazy – you have to put a life jacket on then you just float/bob down the river. It was a lot of fun and everyone in our party enjoyed it. But be aware the current is strong!
We went around the river multiple times and multiple times throughout the day. The entrance to the river is where we grabbed our chairs for the day so some of the time the kids just hung out in the water out of the current and other times we all headed into the current to go on a ride around the river!
My Daughters Favorite Ride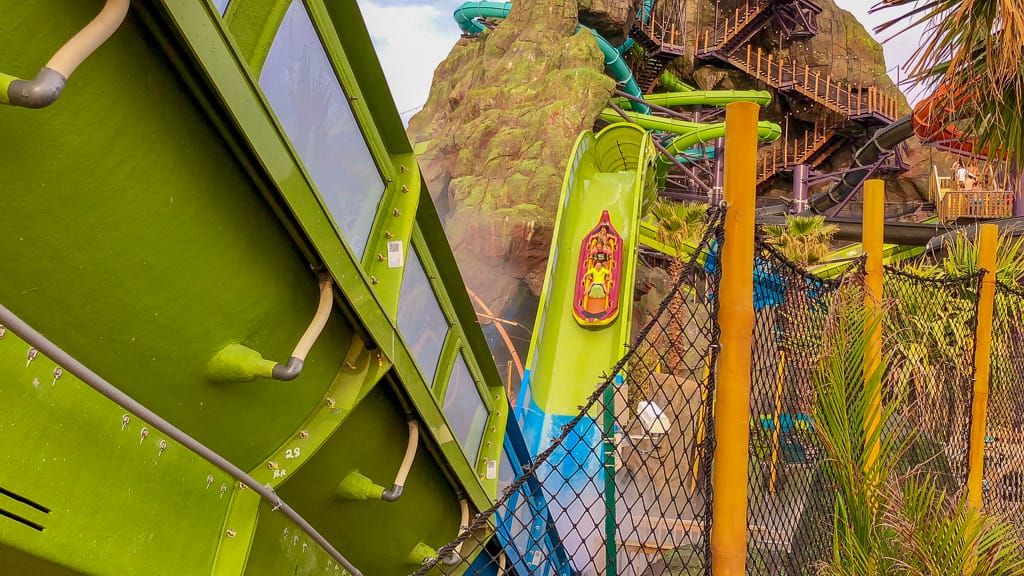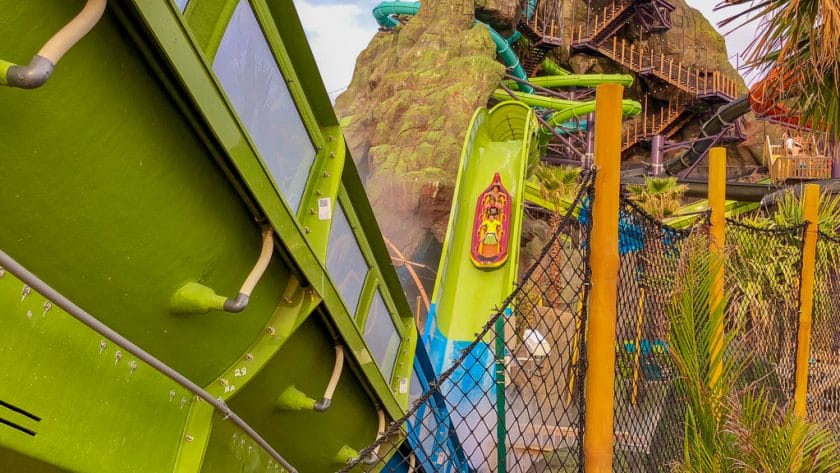 This was Melia's favorite ride. It was also the one with the longest line. But even with 100 minute waits she went on it about 4 times while we were there. The ride times fluctuated throughout the day.
*Note on the 60 degree day there was NO LINE for this ride. The kids road it like 10 times that day!
The Krakatau™ Aqua Coaster. This water roller coaster goes into the volcano and out and splashes down a big drop! She loved it. The rest of us – minus the 5 year old liked it too.
A Fun One – Ohno Drop Slides
The ohyah and ohno drop slides are so much fun! Just be sure you can swim as at the bottom of the slide you fall into a deep pool. We saw someone go on that couldn't swim. . . hmm . . . we don't recommend that!
A single person goes down the twist and turns slide just like you would at an outdoor park and when you come to the bottom you drop a good 10-15 feet – depending on which color slide you choose!
The kids did this one over and over again.
We learned a trick on this ride. I wanted to head to the ride, because in all honesty, I thought I could get a good picture to use on Instagram of the kids coming out of the slide . . .
We got there and it said a 20 minute wait. Since we already had rides saved on our wrist band so we didn't want to scan them. Then all of a sudden the ride display popped onto RIDE NOW.
That meant we could get right in line. Sweet!! We jumped in and everyone went down and I did get some great pictures and video.
Not everyone was with us when we went so we went back to get the others who hadn't gone on. When we came back the time was back at 25 minutes. What I noticed is there weren't a lot of people going into the ride . . . hmm does that mean it will change to Ride Now again??
We stood there and waited for about 5 minutes and no one was really coming to go onto the ride and guess what it turned to Ride Now – score!
Tip: If a ride is under 30 minutes, stand there and keep an eye on it if it doesn't seem busy there is a chance it will turn to Ride Now and you can jump on right away.
Just be aware it will only say Ride Now for a little bit so don't go run off to find someone because by the time you come back it probably won't say Ride Now anymore.
Rides Our 5 Year Old Liked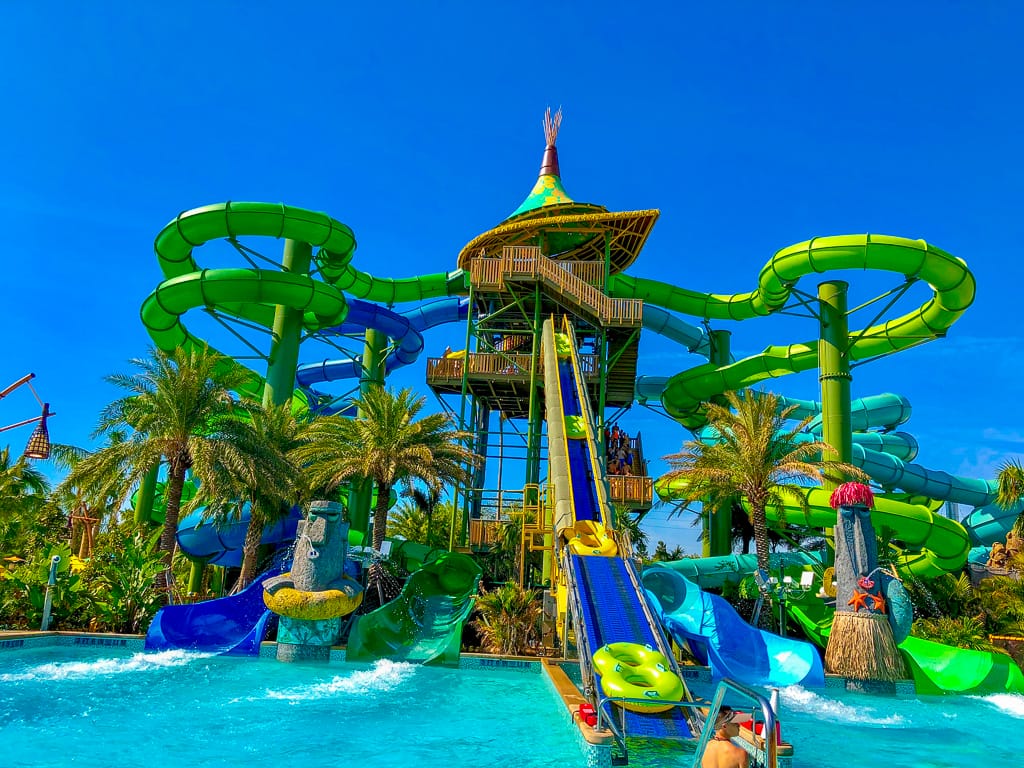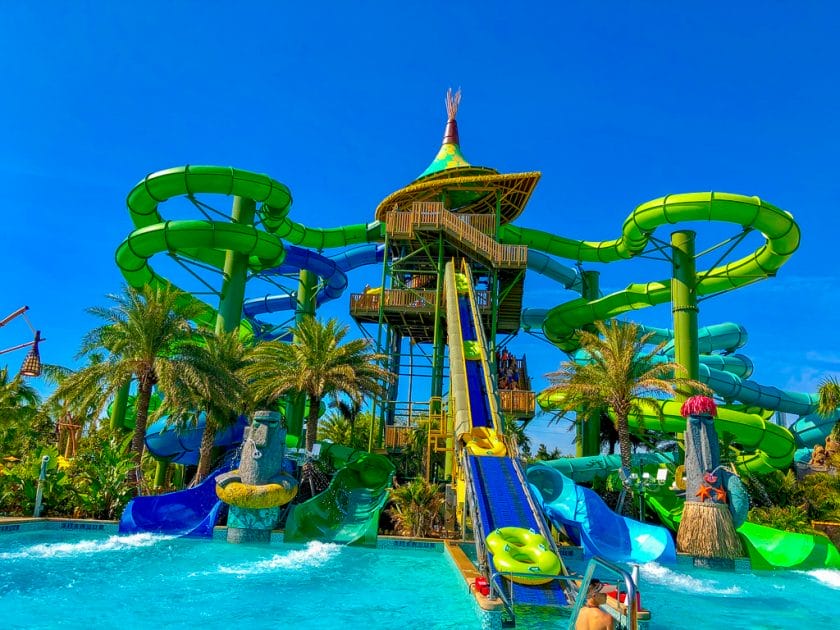 Our 5 year old really enjoyed the Taniwha Tubes. They weren't too fast or crazy and you go on with someone. There are 4 slides to pick from. It was the perfect ride for him.
We went on this one multiple times as it normally was in Ride Now mode. Want more on visiting with young kids check out: 6 Tips On Visiting Volcano Bay With Young Kids.
Other Rides
There are water slides, body slides and rides with large circle tubes like the Puihi of the Maku Puihi Round Raft Rides™ located at the back of the park. The Punga Racers were you go down with a mat. And the Honu of the Honu ika Moana™ that takes you flying up the side of the slide. And if you are looking for a crazy ride check out the Kala Tai Nui Serpentine body slides! There is a trap door involved in this one . . .
Fun "Ride" at night rides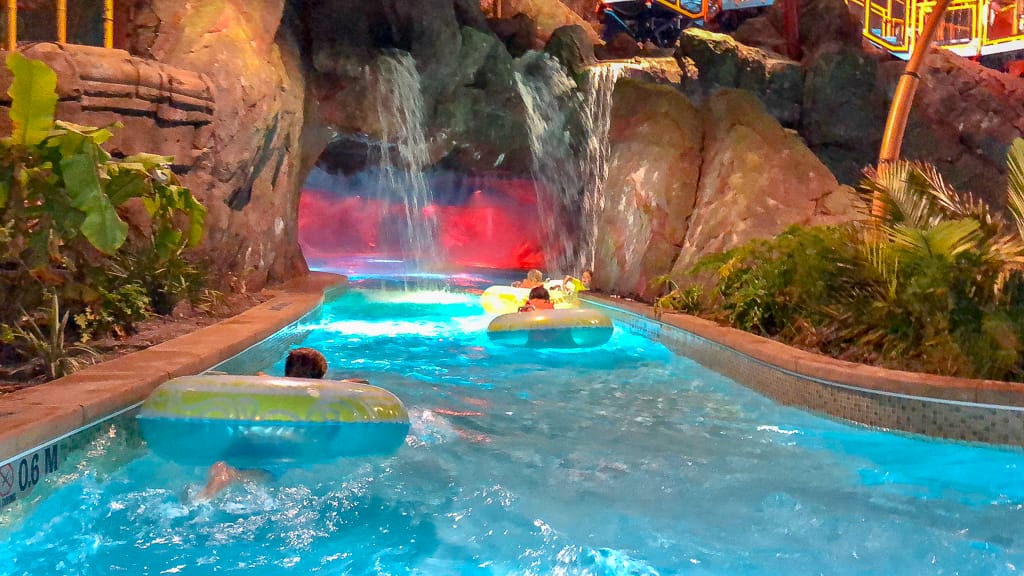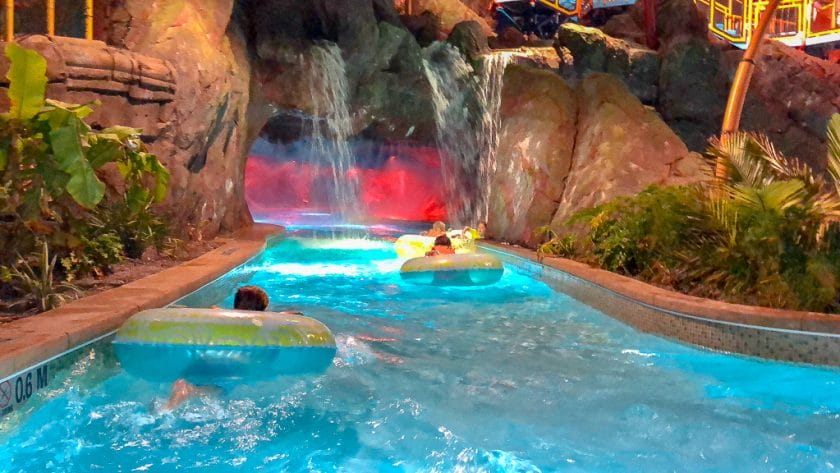 The kids loved going on the Kopiko Wai Winding River™ in the River Village at night when everything was lit up. They had fun running/swimming and sometimes floating on a tube around the river. This was not a rapids river, but more a traditional lazy river.
The Waturi Beach is where we ended our day and it was perfect. As it started to get dark out the Volcano lit up and the kids played in the sand and heading out into the wave pool.
Beware, they do close down the wave pool to check the chemical levels multiple times a day. So if you want to do the wave pool, don't save it for the last thing in case it is closed.
Where To Get A Drink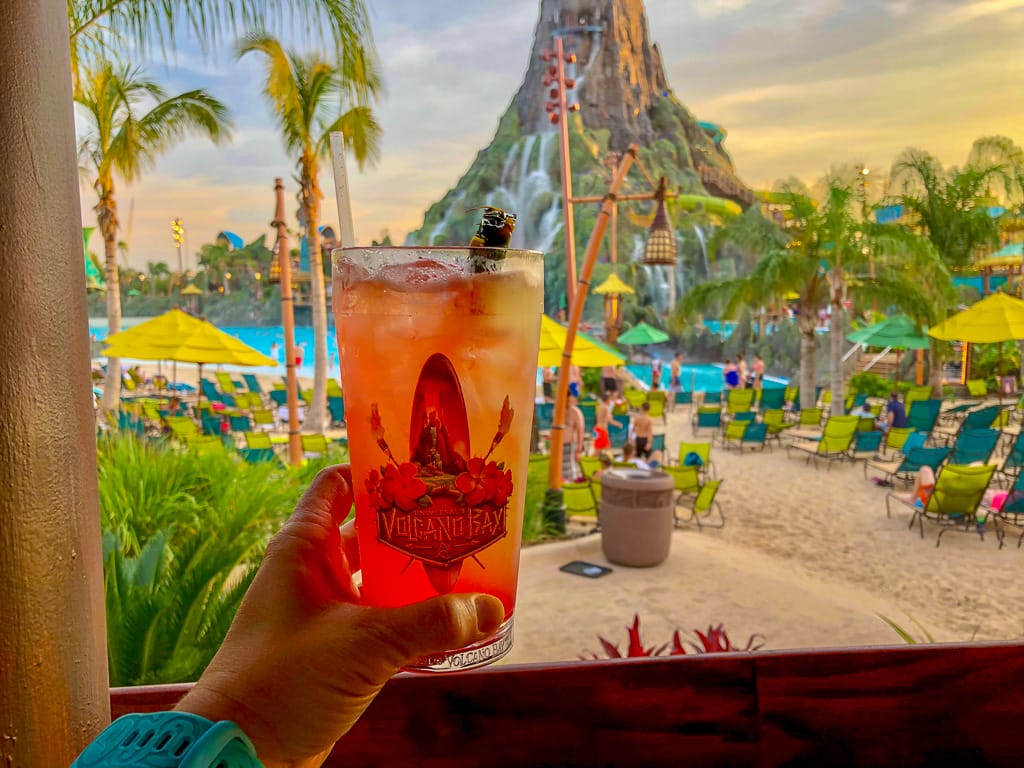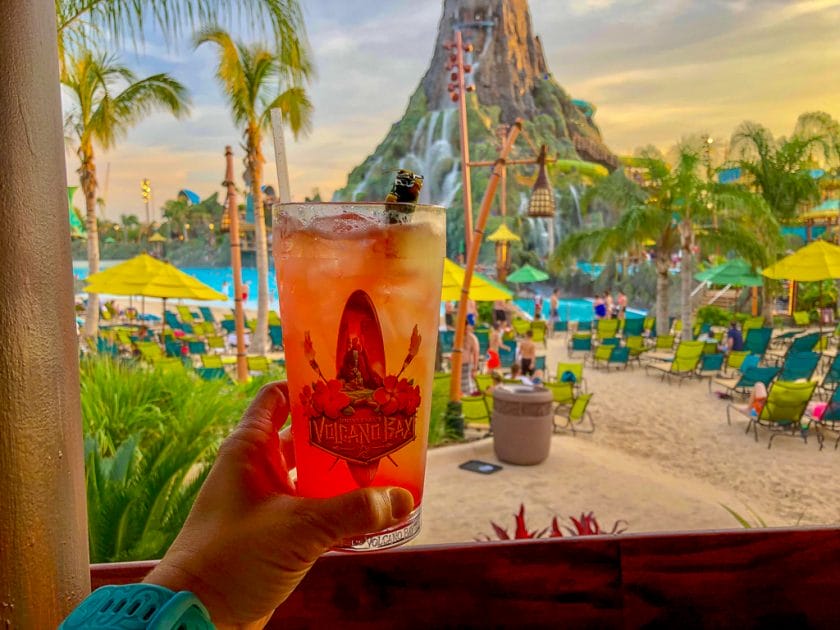 While the kids were at the Waturi Beach we headed over to the Dancing Dragons Boat Bar to get a beer and specialty drink. It was such a fun tiki bar and overlooked the beach and the volcano. We felt like we were on vacation at a tropical island!
Where To Get The Kids A Treat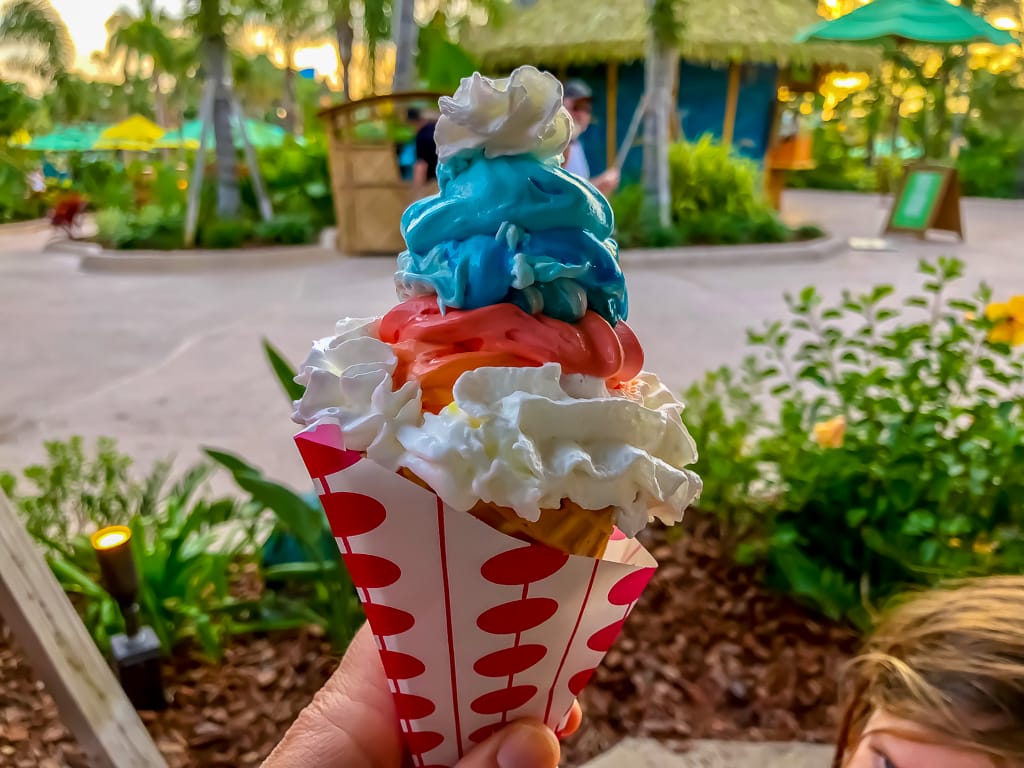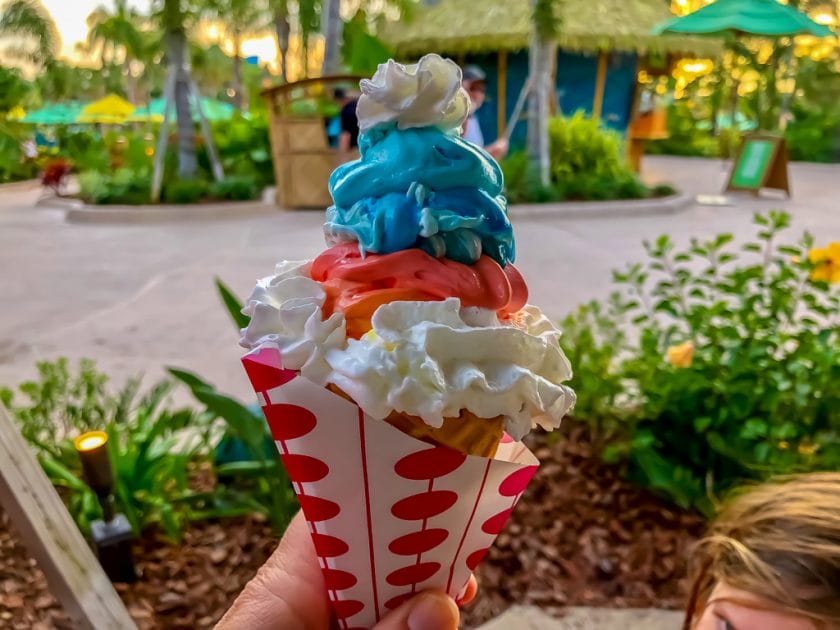 We had heard about the delicious ice cream so we headed to Koka Poroka to get the kids an Ice Cream Kona. You can pick whatever flavor you would like but if you are looking for the signature colorful one go with the Waturi Fusion – a mixture of banana, blue raspberry, orange and strawberry.
When 7pm rolled around we were not ready to leave. We really enjoyed our time at Volcano Bay and would highly recommend that you add it to your list of places to visit in Orlando. Dare I say skip Disney World and head here instead. Yup I said it. You can thank me when you are drinking your cocktail watching your kids play in the sand and water at the end of the day at Waturi Beach.
Where To Stay
Cabana Bay
No doubt the best place to stay would be Cabana Bay. Volcano Bay is on the same property and you're just a short walk from your hotel room to the waterpark and vice versa. If you need a break in the middle of the day, head back to your room for some rest.
The hotel is amazing and has a great waterpark of it's own. It has a cool teal and orange decor with a retro style to it!
Universal's Endless Summer Resort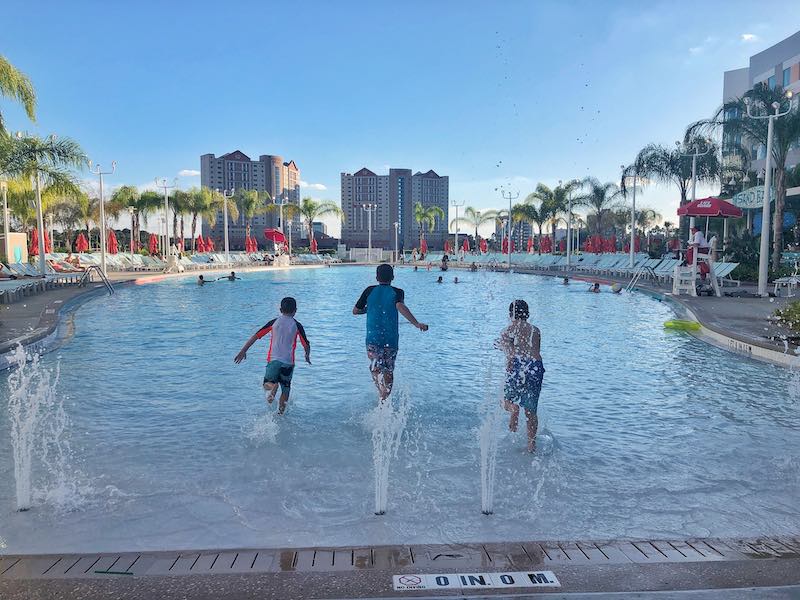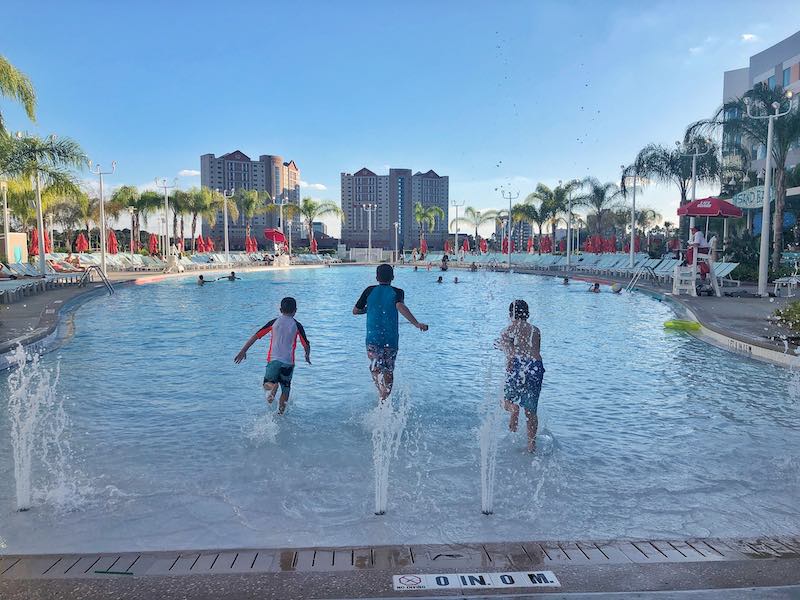 We stayed here for 3 nights and it was great! It is considered one of Universal's discount hotels so prices should be less than other Universal properties. They have large rooms with 3 beds so our family of 6 had plenty of room. Plus there is a second bedroom so Craig and I had our own room!
They have fridges and microwaves in the room and a fun picnic table for eating on. Plus there is a grill downstairs where you can order breakfast, lunch and dinner. And a Starbucks on site as well.
We really enjoyed the Endless Summer Resort and want to go back again!
Benefits of Staying At A Universal Resort
It is always a tough call to decide if it is worth it to spend money on a on property hotel. I use to think it didn't really matter. But now that we have done it a few times I am changing my tune. If you can stay on site. It is worth it. Here is a list of things you get:
Early admission to parks. Be sure to ask at customer service which parks you can get into early.
Bus access to and from the parks that run every 15 minutes.
Additional Hotels
There are definitely other options nearby as well. It is Orlando after all. Some others include Best Western, and The Enclave. Here are some great deals on Orlando hotels from Undercover Tourist!
Campgrounds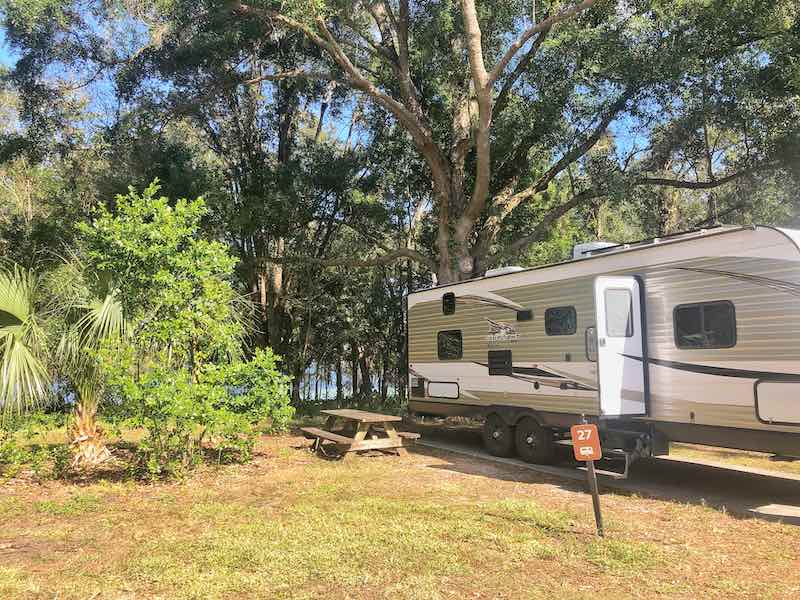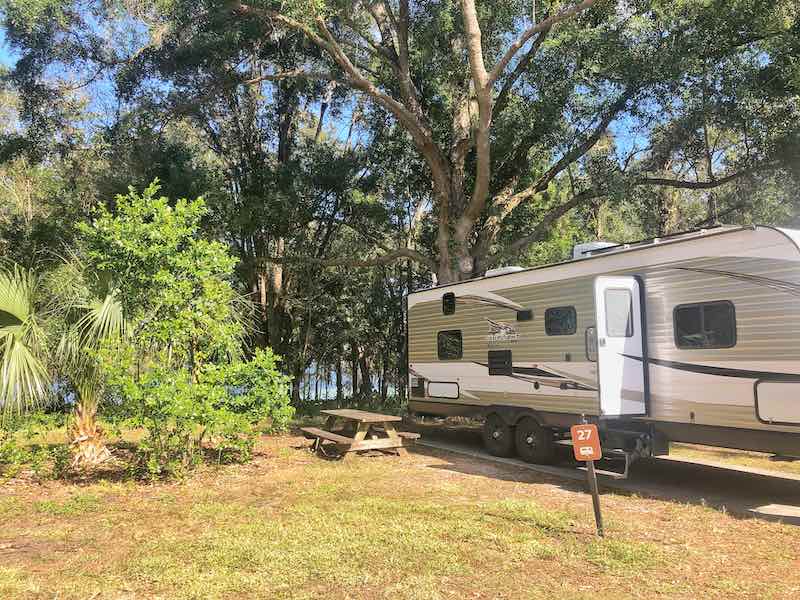 If you plan to come to Orlando in an RV we have the perfect spot if you plan to visit Universal Studios. It is just a few miles from the parks and you don't even have to go on the highway (which means you can avoid some of the traffic!). It is called Bill Fredrick Park At Turkey Lake. The reservations are a bit of a hassle – but it is worth it.
Mill Creek RV Resort in Kissimmee is about 30 minutes from Volcano Bay and offers over 150 full hook-up sites. Elite Resort at Citrus Valley in Clermont is also about 30 minutes from Volcano Bay and would be a good option if you're not looking for a bunch of amenities.
Want even more tips? Check out this post from our friends at Global Munchkins: Ultimate Guide To Volcano Bay Rides, Food, Cabanas and More!
Universal Studios Orlando
If you are looking for the fun to continue be sure to check out Universal and Harry Potter World! There is so much fun to be had at the parks and we had a blast visiting both Universal Studios and Islands of Adventure. Here are our 16 Tips For A Magical Visit To Universal Orlando Resort!
If you are here in October don't miss Universals Halloween Horror Nights!
More posts on Florida to check out:
27 Awesome Things to do in Orlando With Kids
The Ultimate Florida Road Trip: 31 Places Not To Miss
Florida Keys Road Trip: 29 Amazing Places To Visit [Map Included]
21 Fun Things To Do In Port St Joe Florida
11 Tips For Enjoying Magic Kingdom In One Day
Tubing By Orlando The Best Non Disney Experience
26 Epic Things To Do In Key West [Including Where To Stay]
7 Things To Do In Miami With Kids
17 Exciting Things To Do In St. Augustine With Kids
Pin This Post: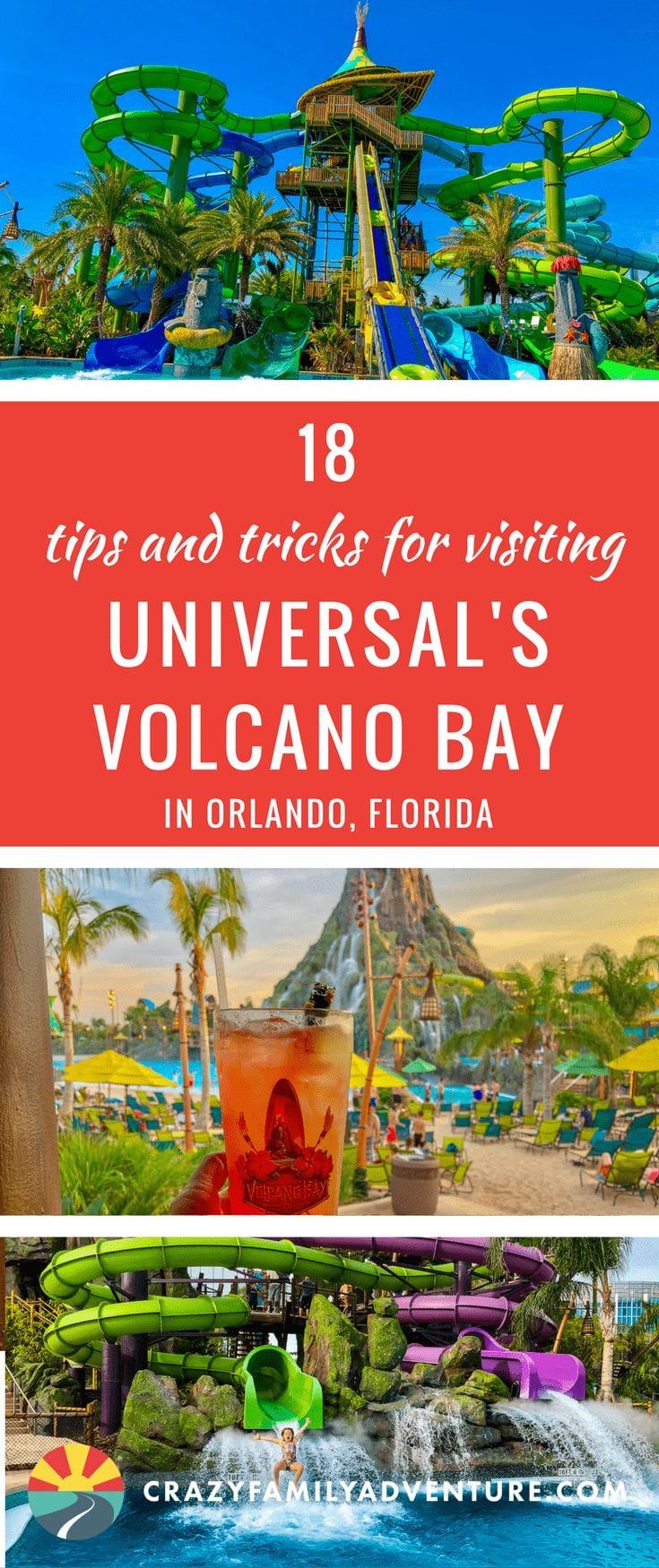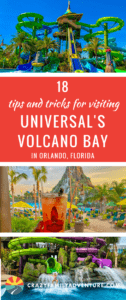 DISCLOSURE: This post may contain affiliate links, meaning I get a commission if you decide to make a purchase through my links, at no cost to you. Please read my disclosure for more info.